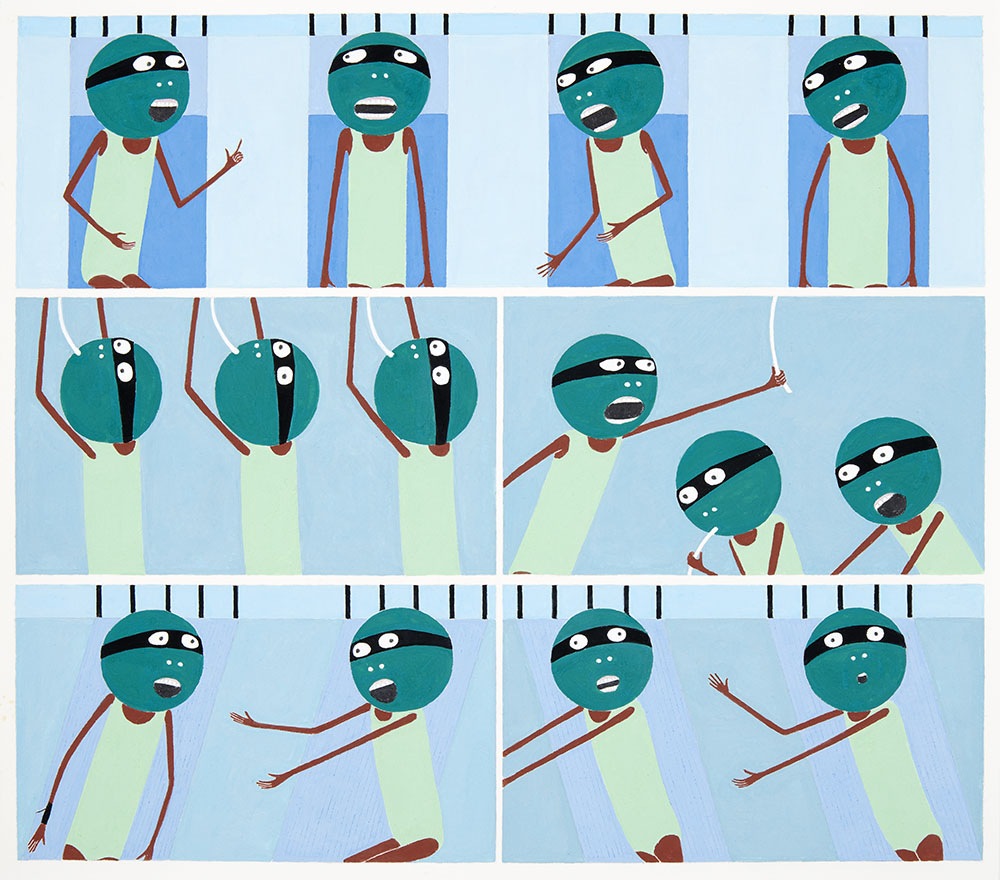 In honor of Pride Month, SAM Blog features reflections by SAM voices on artworks from the collection that explore LGBTQIA+ art and artists. Queer lives matter every day of the year, but this month is a particular opportunity to celebrate histories of joy, advocacy, and resistance.
Many of us have seen T-shirts or bumper stickers that say "the first Pride was a riot," referring to the 1969 Stonewall uprising when LGBTQ+ patrons of a small bar and queer space in the NYC neighborhood of Greenwich Village fought back against persistent police abuse and discrimination. This sentiment—meant to serve as a reminder to those of us who gather each June for parades, drag shows, Betty Who concerts, and all-night parties—reinforces the truth that the oppression of LGBTQIA+ people in this country and around the world is still something to fight against.
In considering the history of Pride, I was reminded of the work of Laylah Ali, a contemporary American painter whose artwork is in SAM's collection. Her painting Untitled (1999) is a part of her Greenhead series. While it might not seem like the most obvious choice to reflect on in honor of Pride Month, it felt appropriate for 2023 given all that it says about conflict, aggression, violence, and uncertainty—especially when perpetrated against the vulnerable populations of our society.
This painting, like many in the series of more than eighty gouache paintings, poses more questions than it answers. The figures are of indeterminate gender identity; their dress, skin color, and size are basically identical; and the series of actions enacted by the figures are merely gestures, leaving it up to the viewer to interpret exactly what is going on.
Much of the action in this particular artwork is about conflict, social pressure, disagreement, and the inherent risk those difficult experiences pose to our health, bodies, and feeling of safety. Ali's figures are in one frame arguing with one another, and in another, one figure dominates the others, and in the final panel, the two figures look up, off into the distance, awaiting what appears to be some powerful force that has come to threaten or destroy them.
Gay Pride means different things to different people. As I've been out of the closet longer and longer, I've recognized that while there are certain constants—Dykes on Bikes, very loud house music, so many crop tops, and desperate corporate merch just to name a few—still, each year the celebration exists in its historical context. I remember particularly poignant Prides in the '90s when AIDS was still ravaging the community and also in 1999, the year after Matthew Shepard was murdered and people marched in support of hate crime legislation and violence prevention. In the mid-aughts, queer people serving openly in the military was on everyone's minds and workplace discrimination was a major issue. Then there was the fallout of the Pulse nightclub shooting in 2016 when violence against LGBTQIA+ people took center stage and when repressive state-sponsored "bathroom bills" tried to limit trans people from using the restroom of their choosing. Each year, there is something specific to fight for, and 2023 is no different, which is why this work by Laylah Ali seemed so timely to share.
It is not an understatement to say that the issues facing the queer community are existential. In many states across the country, trans people, non-cisgendered people, LGBTQ-identified educators, gay parents, drag queens, and even artists, teachers, librarians and health care professionals wanting to speak honestly about queer life, are under threat from state and local governments attempting to legislate away our existence. The level of rancor is at an all-time high; the discourse is no longer just about difference or personal freedom, but about criminalizing our choices, bodies, and speech.
Laylah Ali's Greenheads series speaks directly to these threats. Look at the anguish in the figure's faces: the fear and the fury. These figures remind us that the disagreements and discord that can cause us to attack one another and attempt to limit each other powerless are in the end likely to harm us all.
I don't mind the language of violence as it applies to Stonewall; it's a useful way to discourage complacency and inspire activism, especially for those people who were long left out of queer history. And maybe it's the most appropriate descriptor for this year's Pride—to call it a riot or a battle, to remind members of our community and our allies that we are, in fact, in a fight for our lives. But Pride, which may always be about the fight, is also about the simple act of visibility: riding the float in a parade, waving your rainbow flag, holding your loved ones' hands while walking down the street, or presenting the gender identity that makes you feel whole. Our very existence may be the most powerful fight of all. The efforts to curb our speech, to make it impossible to get health and mental health care for trans people, especially kids, and the regulation of books in our schools is all a part of a plan to make LGBTQIA+ people go away, to be quiet, to disappear. Since those are acts of violence, maybe it's appropriate that we meet it with a fight.
– Jason Porter, SAM Kayla Skinner Deputy Director for Education and Public Engagement
Celebrate Pride Month in Seattle with these suggested events and resources.
Fri Jun 23
Trans Pride Seattle
Produced by Gender Justice League, this event in Volunteer Park will feature music, performances, food trucks, and educators.
Sun Jun 25
Seattle Pride Parade
The official 49th annual Pride Parade! Join in the fun or grab a spot in the grandstand. Say hi to SAM's LGBTQIA+ affinity group who will be marching together.
Aug 17–20
Pacific Northwest Black Pride 2023 in Columbia City
Celebrate the sixth year celebrating the Black LGBTQIA+ community with workshops, a health festival, music performances, parties, and more.
Image: Untitled, from the Greenhead series, 1999, Laylah Ali, American, born 1968, gouache on paper, 10 x 11 1/4 in. (25.4 x 28.6 cm), Gift of the Seattle Art Museum Volunteers Association and P. Raaze Garrison, 99.92 © Laylah Ali, photo: Scott Leen.