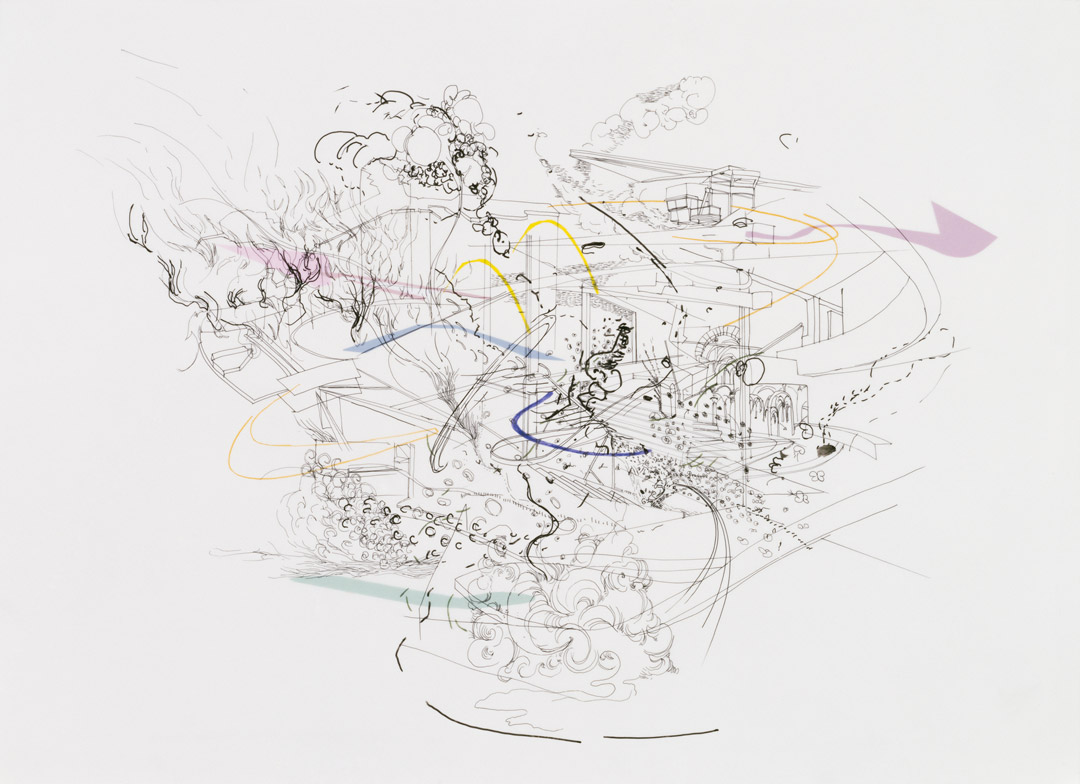 "One of the most modernist gestures of the last century was the effort of liberation. Creative work is not just about representation, or creating a cultural mirror. . . . Creation, whether in writing, music and visual making, has also been about inventing a form or space to exist, especially if the world didn't let one be free."[1]

– Julie Mehretu
For over two decades, Julie Mehretu (born 1970, Addis Ababa, Ethiopia) has produced a body of work defined by a commitment to the politics of abstraction.[2] Through mark making, layering, and other techniques, Mehretu's drawings and paintings are built up of complex symbols and historical referents—architectural fragments and art/historical citations—that are celebrated for their articulation of the contemporary moment in which we live.
Mehretu's drawing in SAM's collection, Untitled, is an earlier work by the artist, created in 2001. A palimpsest of frenzied marks—seeming to emerge from nowhere—is interspersed with arching lines of yellow and blue and muted forms of mauve and mint green. Both abstract and representational, the contoured forms at once advance and recede, creating a visually dynamic composition that teems with energy. As the eye moves, one can make out architectural elements from various perspectives: a hall of arcades, industrial posts and beams, wide stairways, and cantilevered balconies; however, just as these elements come into focus, they morph and blend into the geometric forms and marks around them (rubble? fire? explosions?)—all mutable and contingent.
The topographical nature of this drawing connects it to Mehretu's larger practice, which engages, among many things, in a form of mapping "of no location."[3] Collapsing time, space, and place, Mehretu creates new cityscapes and narratives that encapsulate the tensions between evolution and destruction, growth and dissolution, stability and entropy. Her personal biography and experiences, too, inform her investment in these themes, exploring the complexities and possibilities inherent in forces such as globalization, migration, diaspora, capitalism, political conflict, and climate change.[4]
Perhaps best articulated by art historian Julia Bryan-Wilson: "[Mehretu's] canvases, richly layered and replete with visual incident, evoke a number of urgent themes: the simultaneous decentering and consolidation of power, the frenzied temporalities that cannot be captured by simplistic narratives of progress or regression, the continuing ascendance of ethnonationalism, and the possibility that many small, accumulated gestures might gather momentum and propel change."[5]
– Elisabeth Smith, SAM Collections and Provenance Associate
---
Image: Untitled, 2001, Julie Mehretu, Ink and pencil on Mylar, 21 1/2 x 27 3/8in., Gift of the ContemporaryArtProject, Seattle, 2002.30
---
[1] Mark Benjamin, "An Interview with Julie Mehretu: The Mark of an Artist," in Rain Magazine, September 3, 2000, rain-mag.com/julie-mehretu-the-mark-of-an-artist.
[2] Julia Bryan-Wilson, "Julie Mehretu," in Artforum, February 2020, http://www.artforum.com/print/reviews/202002/julie-mehretu-81917.
In her review of the current mid-career retrospective organized by the Los Angeles County Museum of Art and Whitney Museum of American Art, Bryan-Wilson contends that Mehretu's abstraction is an "abstraction that is insistently Black, insistently feminist, and . . . insistently queer."