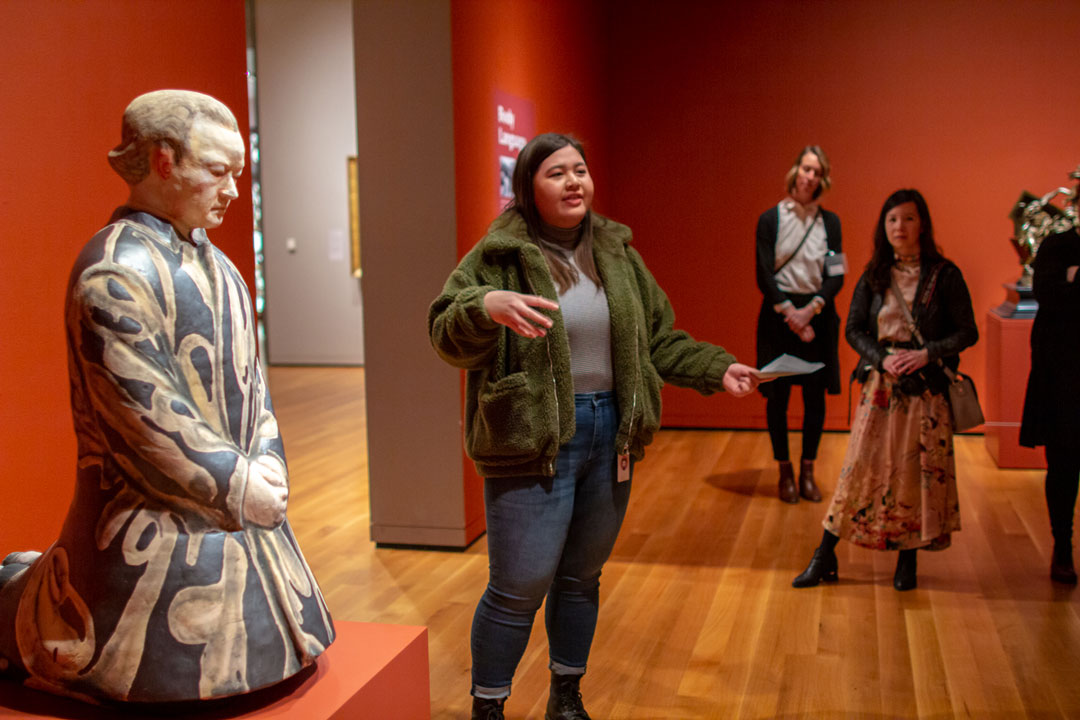 Every January, SAM honors Dr. Martin Luther King, Jr. with a week of spotlight tours led by museum staff, focused on artists and artworks currently on view in SAM's galleries that speak to themes of race and social justice. Free and open to the public, the tours are also a big draw for SAM administrative staff, who step away from their desks on the fifth floor and head down to hear from one of their colleagues. Grounded in a love for, and knowledge of, the collection, the tours are often deeply personal, as the speaker finds resonances in the art with their own experiences of race and social justice.
Since launching the series in 2015, there have been many memorable tours. In 2017, Public Engagement Associate David Rue danced his tour in front of Robert Colescott's Les Demoiselles d'Alabama: Vestidas, a major work by the Black artist that had been recently been brought into the museum's collection. He moved to the sounds of The Shirelles' "Will You Still Love Me Tomorrow," simultaneously celebrating the increased visibility of Black artists and wondering whether it was just lip service—or the beginning of a new future of true equity.
Actress and performance artist (and SAM Visitor Services Officer) Adera Gandy led a tour in 2018 that visited the current show Lessons from the Institute of Empathy. Anchored by an immersive installation by contemporary artist Saya Woolfalk, the show includes works selected by the artist from SAM's African art collection. Adera focused on Fulani and Ghanaian gold jewelry, reminding us that just as practitioners of alchemy attempted to find a universal elixir by turning base metals into gold, we must work towards equity not only with external steps—measurable policies and practices—but with internal shifts to transform the collective mind and create authentic and sustainable change.
In 2019, Social Media and Communications Coordinator Nina Dubinsky visited the current installation Body Language and discussed Akio Takamori's ceramic sculpture Willy B. It's inspired by a famous 1970 photo of German Chancellor Willy Brandt kneeling down and silently bowing his head at a monument to the thousands of Poles killed in the Warsaw Ghetto Uprising of 1943. Nina connected Takamori's interest in this evocative gesture as a political statement to her generation's use of social media to unite in social movements, such as #BlackLivesMatter, #MeToo, #TransRightsMatter, and #MuteRKelly.
Also this year, we expanded the series beyond staff to include tours by Dr. Cherry Banks, a SAM trustee and Professor in Education Studies at the University of Washington Bothell, and Celeste Ericsson, a SAM docent who participates in the SAM docent corps' Equity Working Group. The Art and Social Justice Tours continue to change the way we all experience the works in our collection. Including more perspectives only deepens their impact. Join us next year when we continue this tradition of honoring the radical and loving legacy of Dr. Martin Luther King, Jr.
– Rachel Eggers, SAM Manager of Public Relations
Photo: Natali Wiseman