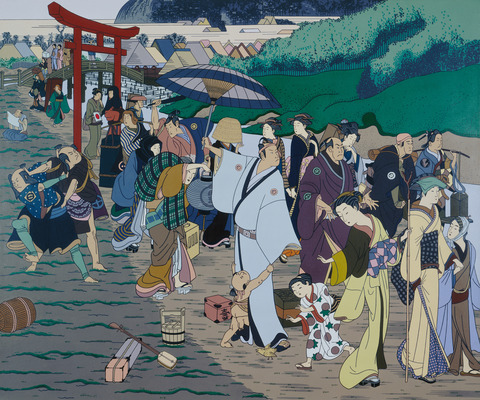 SAM News
"Grapples with the institution's past and reaches for a new vision of its future": Online and in the new print edition of Seattle Met, Sophie Grossman previews American Art: The Stories We Carry, the major reinstallation of SAM's American art galleries opening October 20.
The Stranger team is out with their fall arts preview, AKA the "fun, sexy, weird, and smart things you need to do this fall." In it, Jas Keimig highlights the work of two "photography titans" headed to Seattle, AKA Dawoud Bey & Carrie Mae Weems: In Dialogue, the touring exhibition that opens at SAM on November 17. 
"Both are artists of world renown who have meticulously told stories of Black people, Black history, and Black subjectivity in the United States since their careers began back in the 1970s. And, on top of it all, they are friends."
ICYMI: The Seattle Times' Vonnai Phair spotlighted Legendary Children, the celebration of queer and trans Black, Indigenous, and people of color communities held this past Friday, September 23, for which SAM is a partner. And Alex Garland captured its beauty for South Seattle Emerald. It's back to an annual event, so start planning your outfit for next year's celebration now!
Local News
Seattle news from New Haven: Seattle-artist Barbara Earl Thomas recently unveiled stunning new stained glass windows she created for Yale University residential building Grace Hopper College. The story includes a link to an artists' conversation about the project.
"Is there a North Bend arts scene?" asks this Seattle Times package, with stories about the town just outside of the city.
And Crosscut knows that fall arts isn't just later in October and November, it's…right now.
"Adieu, summer. We're ringing in the arrival of fall with a slate of intriguing concerts, shows and installations."
Inter/National News
The New York Times' Aruna D'Souza on a new MoMA exhibition exploring the important legacy of another New York arts space: Just Above Midtown Gallery, or JAM.
Via Chelsea Weathers for Hyperallergic: "In Santa Fe, Artists and Retirees Join Hands to Combat Loneliness."
Via Artnet's Sarah Cascone: "'I Had Never Seen Anything Like It Before': Steve Martin on Becoming One of the Top Collectors of Australian Indigenous Art." SAM frontline staff have spotted Martin at the museum over the years, checking out our impressive galleries of Australian Aborginial art; right now, you can see Honoring 50 Years of Papunya Tula Painting.
"'I think it's such a fascinating story,' Martin said. He also appreciated collecting in an area where there wasn't a huge amount of established scholarship. 'It's fun to have something to study, to try to understand, to apply your critical eye to without any outside pressure,' he added. 'There's not a lot of promotion about [these] artists. You just have to find it out yourself.'"
And Finally
– Rachel Eggers, SAM Associate Director of Public Relations
Image: Minidoka Series #2: Exodus, 1978, Roger Y. Shimomura, acrylic on canvas 60 x 72 in. Gift of Mr. and Mrs. Ofell H. Johnson, 79.5 © Roger Y. Shimomura.