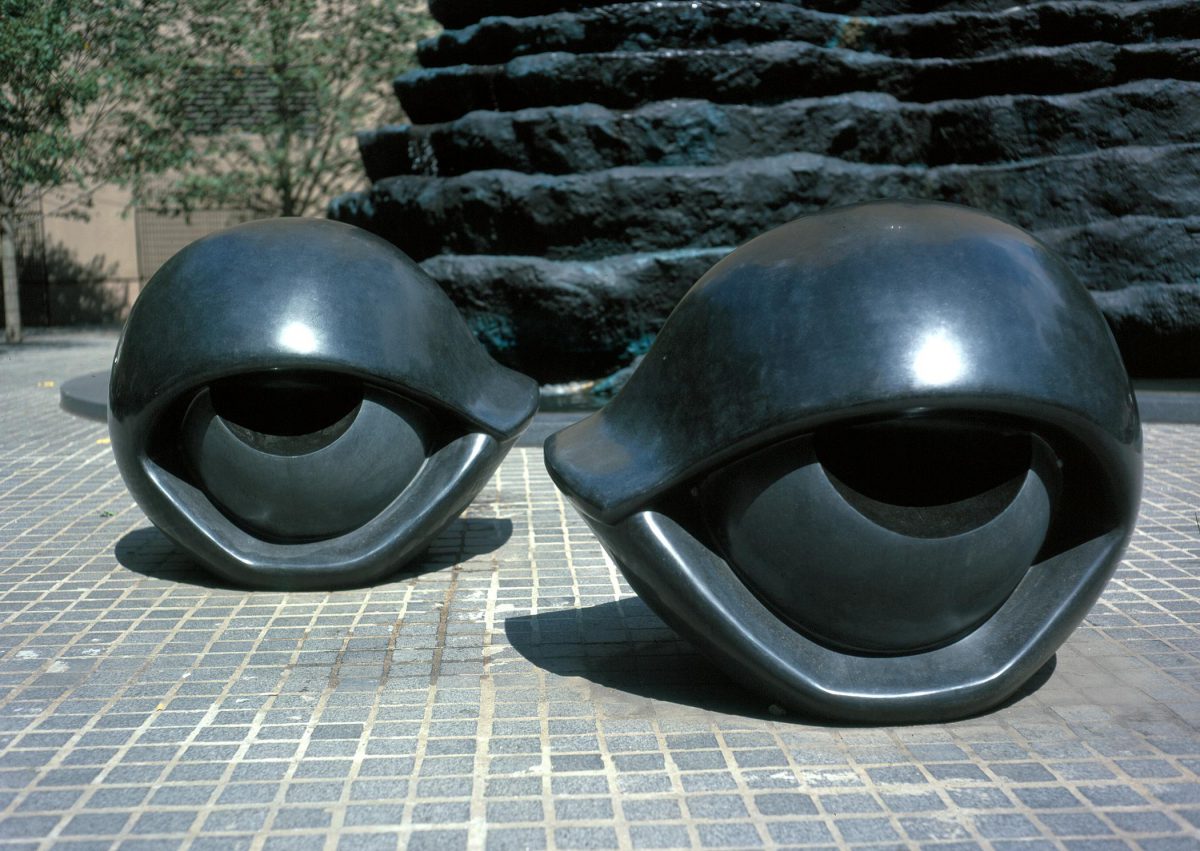 SAM News
Looking out from a place that looks out: The Stranger's Jasmyne Keimig considers Louise Bourgeois's Eye Benches at the Olympic Sculpture Park.
"It's a dreamy experience to sit on the back of an eye. A surreal proposition that makes your observations of people, sky, park, and mountain so literal."
Last week, the Seattle arts community received very welcome news: The Friday Foundation has gifted $9 million to nine organizations in the Seattle arts community, including the Seattle Art Museum. The foundation honors the lives and legacies of the late Jane Lang Davis and Richard E. Lang, inspired collectors and supporters of the arts. The Seattle Times and KUOW both announced the news.
Local News
For International Examiner, Danielle Quenelle reviews two Pioneer Square shows: Lakshmi Muirhead at J. Rinehart Gallery and Humaira Abid at Greg Kucera Gallery.
Crosscut's Agueda Pacheco Flores reflects on how the pandemic has changed her role as an arts writer, and how she's witnessed the resiliency of Seattle's arts scene.
Intiman Theatre has a new home after eight nomadic years; it will become theater-in-residence and leader of a new program at Seattle Central College. The Seattle Times' Brendan Kiley reports on the unique arrangement.
"'If you look at the mission of the Seattle colleges and the mission of Intiman, they are so well aligned,' [Sheila] Edwards Lange said. 'I hope this will change the face of theater not only in our city but across the country.'"
Inter/National News
"A work you may not know—but should." Artnet's Katie White with a close reading of an oil pastel by Hollis Sigler. Another work by the feminist artist is currently on view at SAM in the installation, On the Edge.
Deana Lawson has won the Guggenheim Museum's Hugo Boss Prize, reports ARTnews. She is the first photographer to win the $100,000 award.
Thrilling news: One of the five missing panels from Jacob Lawrence's Struggle series has been found. Visitors will be able to see the newly discovered panel along with the others when SAM presents The American Struggle next spring.
"Last week a friend of mine went to the show and said, 'There's a blank spot on the wall and I believe that's where your painting belongs,' " she continued. "I felt I owed it both to the artist and the Met to allow them to show the painting."
And Finally
– Rachel Eggers, SAM Associate Director of Public Relations
Image: Eye Benches I, 1996-1997, Louise Bourgeois. black Zimbabwe granite, 48 3/4 x 53 x 45 1/4 in., Gift of the artist, in honor of the 75th Anniversary of the Seattle Art Museum, 2005.113.1-2 © Louise Bourgeois, photo: C.E. Mitchell