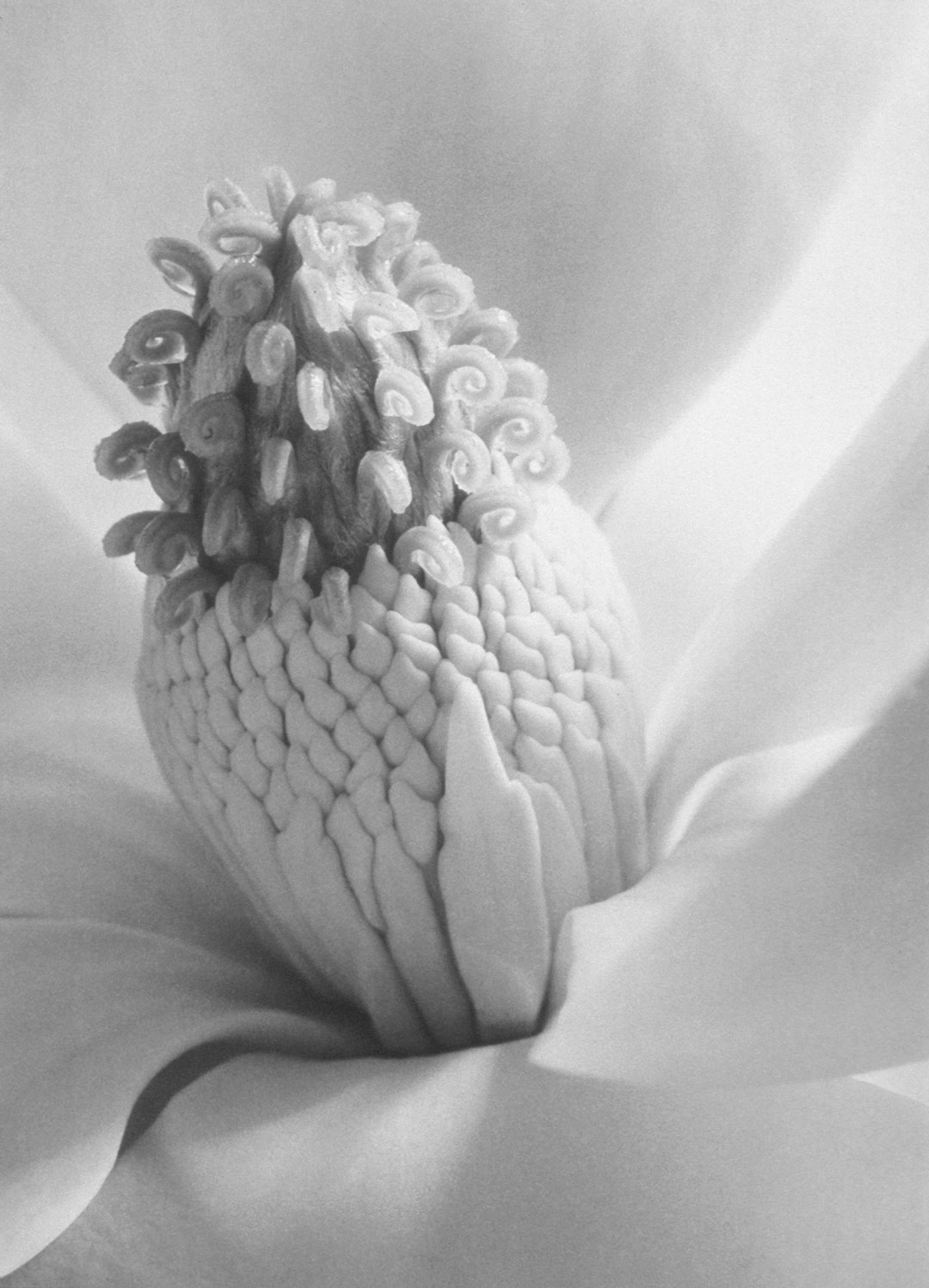 Photographer Imogen Cunningham was not naturally inclined to stay home. Throughout her long and prolific career she travelled and exhibited widely, was celebrated for her portraits ranging from the rich-and-famous to the anonymous citizens of San Francisco, and even became a minor celebrity late in her life, appearing on the Tonight Show with Johnny Carson and easily identified walking her hometown's streets with her iconic black cape and peace sign pin.
For a brief period in between all of this activity, Cunningham was more-or-less bound to her home. In 1917, she moved with her 18-month-old son from Seattle to San Francisco to join her husband; less than one month later, she gave birth to twins. As the mother of three young children, her life was suddenly largely circumscribed by the boundaries of the family's Oakland home. But Cunningham did not allow these circumstances to impede her work—her ambition and drive would, simply, not allow for it. Instead, she turned inward to subjects within her home—or more accurately, created subjects within her home—by cultivating a garden in her backyard.
In a 1959 interview, Cunningham recalled: "The reason I really turned to plants was because I couldn't get out of my own backyard when my children were small."[1] And later, with her characteristic sharp wit: "I photographed the plants in my garden and steered my children around at the same time."[2] True enough about the circumstances, but these direct statements belie the care and attention with which Cunningham shot her celebrated botanical works, such as Magnolia Blossom, Tower of Jewels (1925).
Tightly framing her composition, Cunningham makes the subject of this work not the plant as a whole, but rather the innermost folds and stamen of the blooming magnolia flower. The luscious gradients of white in the petals, the play of shadows on the stamen, and the sharpness with which these details are captured serves to abstract the blossom, allowing us as viewers to see this familiar subject in a new way. This technique was at the heart of a new form of modernist photography, and Cunningham's experimentations in her own garden were at the forefront of this aesthetic shift. It would not be until 1932 when a group of artists—including Cunningham, along with Ansel Adams, Edward Weston, and others—would formalize this style of photography under a collective they dubbed Group f/64, named for the smallest aperture setting that captures the kind of sharpness we see in Magnolia Blossom, Tower of Jewels.
Years later in 1957, after her children had grown and she'd long-since left the garden to experiment with other techniques and subjects, Cunningham returned to her earlier themes by capturing another artist and mother, at home and at work, in her portrait of Ruth Asawa with four of her children. The scene must have been familiar to Cunningham, and it was no mistake that she framed Asawa's biomorphic, hanging sculpture at the center of the composition: at the heart of it all, she seems to suggest, is the work that drives us.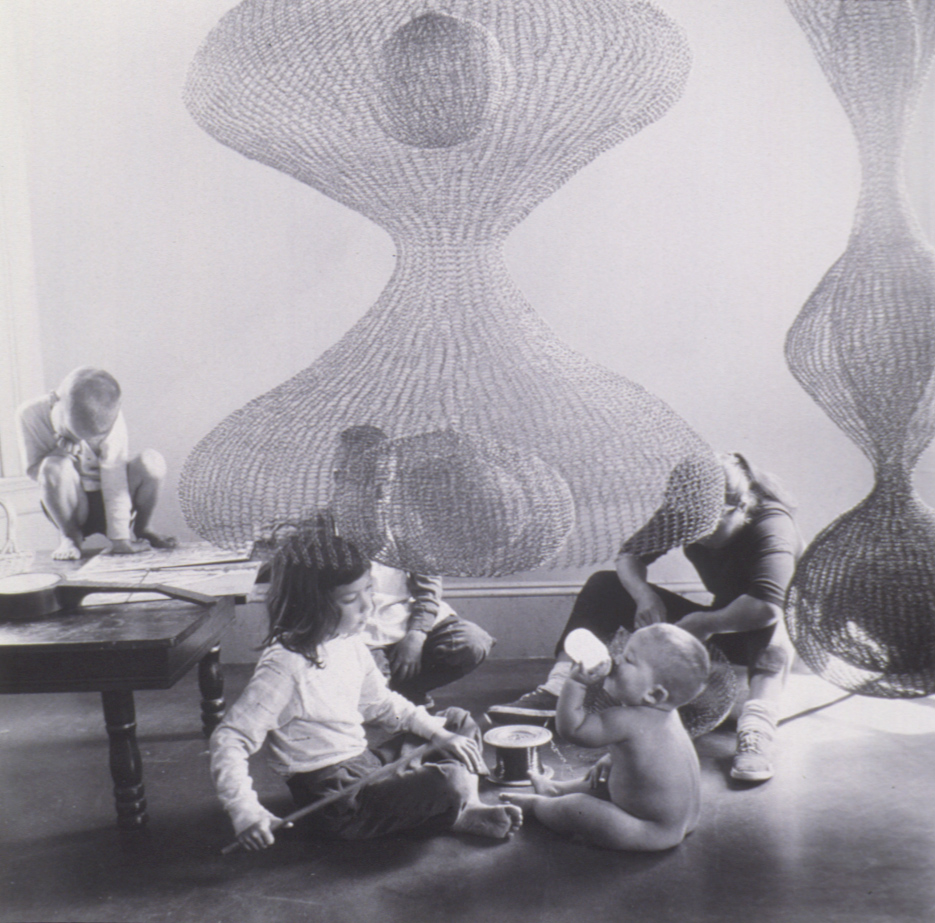 When SAM reopens its doors, you will be able to find Ruth Asawa Family and Sculpture in the exhibition Exceptionally Ordinary: Mingei 1920-2020. And November 2021 will bring together nearly 200 of Cunningham's photographs, along with sculpture by Asawa, in the exhibition Imogen Cunningham: A Retrospective. Until then, as we all stay home, may their work inspire you to continue the work that drives you, whatever that may be.
– Carrie Dedon, SAM Assistant Curator, Modern and Contemporary Art
If you value the ways SAM connects art to your life, consider making a donation or becoming a member today! Your financial support powers Stay Home with SAM and also sustains us until we can come together as a community and enjoy art in the galleries again.
[1] Imogen Cunningham and Edna Tartaul Daniel, Imogen Cunningham: Portraits, Ideas, and Design (Berkeley: University of California Regional Cultural History Project, 1961), 26.
[2] Imogen Cunningham, in Brooks Johnson, ed., Photography Speaks: 150 Photographer On Their Art (New York: Aperture, 2005), 120.
Images: Magnolia Blossom, Tower of Jewels, 1925, Imogen Cunningham, gelatin silver print, 11 1/4 x 8 1/4 in., Gift of John H. Hauberg, 89.67 © (1925), 2009 Imogen Cunningham Trust. Ruth Asawa Family and Sculpture, 1957, Imogen Cunningham, Gelatin silver print, 10 3/8 x 10 3/8 in., Gift of John H. Hauberg, 89.43
Stay Home with SAM is supported in part by