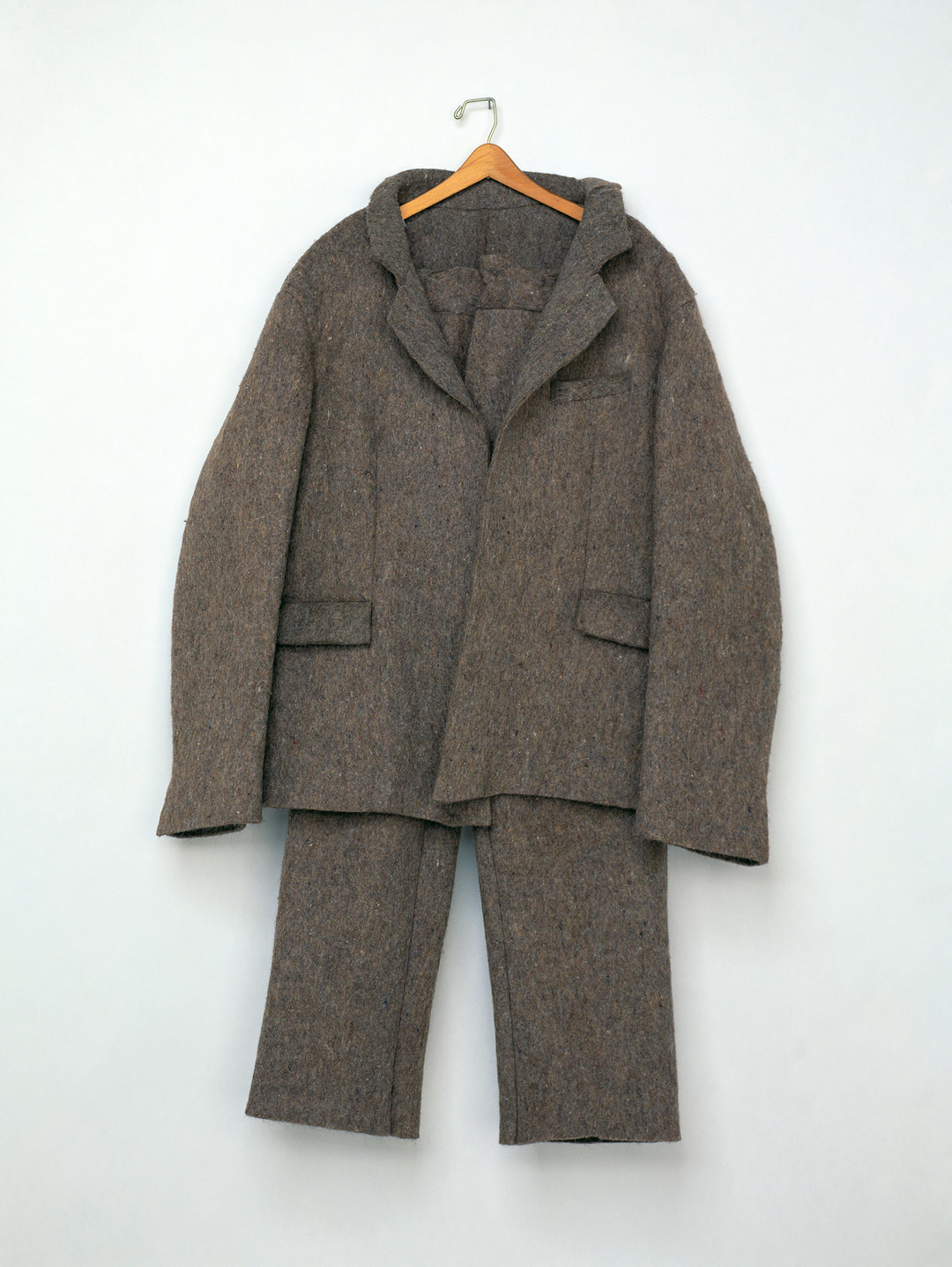 Inspired by the election year and conversations around art and politics, Grace Billingslea, SAM curatorial intern, wrote this blog post on Joseph Beuys's Felt Suit as her final project. See Felt Suit on view now in the latest iteration of Big Picture: Art after 1945. Big Picture presents vibrant developments in painting and sculpture in the decades following World War II as an ongoing and evolving exhibition. The November re-install introduces works by European artists grappling with their unique experiences and concerns in the wake of World War II, centered more strongly on the figure and the environment. As the galleries change, new connections and points of departure will be uncovered. There's always a reason to return to SAM!
Felt Suit, modeled after 20th-century German artist Joseph Beuys's own, appears to be nothing more than a slightly frumpy, plain grey, felt suit. With sleeves a little too wide and a collar one itches to fold down properly, it is the kind of art piece that makes even an avid museum-goer wonder: Why does a felt suit have a place on a gallery wall?
Beuys's Felt Suit carries a fascinating story complete with adventure, political strife, and fame.
Joseph Beuys was born in 1921 near Kleve, Germany. His great artistic success came from humble and rambunctious beginnings. Beuys was always adventurous and eccentric and memorably ran away with the circus a year before his high school graduation. His character translates strongly to his art, which elicited intense reactions, both positive and negative, over the course of his lifetime and through to today. The artist's unique blend of sculpture, performance art, and installations dealt with broad themes of social activism, inclusivity, creative freedom, and energy.
Beuys's choice of materials often informed the meanings of his works—and this feature of his art-making helps explain his notable and frequent use of animal fat and felt. By the artist's own telling, Tartar tribesmen used those two substances to save his life when, as a member of the German Airforce during World War II, his plane was shot down on the Crimean Front. From this experience (whether myth or fact, no one knows) the Joseph Beuys we celebrate today was born, along with his ideas of felt as a protective and life-giving fabric. Felt Suit can be partially understood through the choice of material but, in this case, the history of the piece plays an especially important role.
One of sixty nearly identical suits, Seattle Art Museum's Felt Suit was worn with its brothers in the 1978 Fat Tuesday parade in Basel, Switzerland. In the event, sixty felt-clad men, all wearing their suits accessorized with animal masks, marched together to protest the sale of Joseph Beuys's piece Feuerstelle to their local art museum for $159,000. In their view, this was an exorbitant amount for their city to spend on art. Upon seeing the demonstration, Beuys donned a long felt coat and his iconic hat and raced out to join the protest himself. After the event, the artist collected the suits and included them in an installation titled Feuerstelle II, which he then donated to the same local museum.
Felt Suit's role in political activism represents only a small fraction of Joseph Beuys's political inclinations. Beuys was just as much an activist as an artist, and in fact, he considered those two roles fundamentally linked. He famously stated that, "Every human being is an artist, a freedom being, called to participate in transforming and reshaping the conditions, thinking and structures that shape and inform our lives." This belief informed nearly every work of art he created.
Extremely progressive for his time, Beuys was a strong proponent of protecting the environment, effecting institutional change through referendums, and opening universities free of charge to any student who wished to attend. He argued that the government should recognize a woman's work in the home as an occupation and therefore assign wages to home-makers to help achieve gender equality. In 1967, while a professor at the Düsseldorf Academy, Beuys started the German Student Party. Evolving from class debates into a full-fledged organization, the group supported objectives such as increased access to education, breaking down barriers between the West and the East, eliminating nationalistic interests, and complete disarmament. Beuys went on to create the Organization for Direct Democracy through Referendum (People's Free Initiative) in 1971, which aimed to increase public participation in forming and shaping governmental policy and legislation. The artist also ran for numerous elected positions, notably running for the European Parliament in 1979 as a member of the Green Party. Although he was not elected, Beuys never weakened in his political convictions. Throughout all of this Beuys was creating and performing, with nearly all of his work political in some respect.
Utilizing his success as an artist, Beuys shared his progressive ideas with a huge audience. In a time before social media, art was an important vehicle for spreading political messages. By organizing public performances/protests, the artist drew attention to the issue of ecological preservation and effected change. In Sweeping out the Grafenberger Wald (1971), Beuys and fifty of his students occupied a tract of woodland set to be cleared and developed into tennis courts, sweeping it with birch brooms and painting white crosses with rings on all the trees. The protest was a great success, encouraging many citizens to join Beuys in the protest or write to city hall. Such a feat, at the time, was made possible through the collaboration of art and politics and Beuys's masterful melding of the two.
Joseph Beuys was a unique man who dedicated both his artistic and teaching careers to sharing his firmly-held political ideas with his students first, and then with the world. He worked at great lengths to involve students in his mission and even succeeded in opening Free International University in 1973, a tuition-free learning and research space. This, along with his other causes, pushed him to travel the globe and hold interactive performances in various galleries for up to 100 days at a time where audience members could question or debate him on his progressive stances—many of which are still contentious today. Beuys managed to retain the same audacious and original spirit as the boy who ran off to join the circus throughout his whole career, while also becoming an important political figure. Learning Beuys's compelling personal history, as well as understanding his art and symbolic use of materials, allows one to see his plain grey suit in an entirely fresh way. Felt Suit was created with the fabric that saved his life, worn in the spirit of how he lived his life, and hangs today to share the legacy of his life.
–Grace Billingslea, SAM curatorial intern
Joseph Beuys. Felt Suit, 1978. Wool felt. JACKET: 32 x 33 1/2 in. (81.3 x 114.3 cm). TROUSERS: 45 x 18 in. (85.1 x 45.7 cm). Gift of Joan and Roger Sonnabend, 97.48 © Artists Rights Society (ARS), New York / VG Bild-Kunst, Bonn