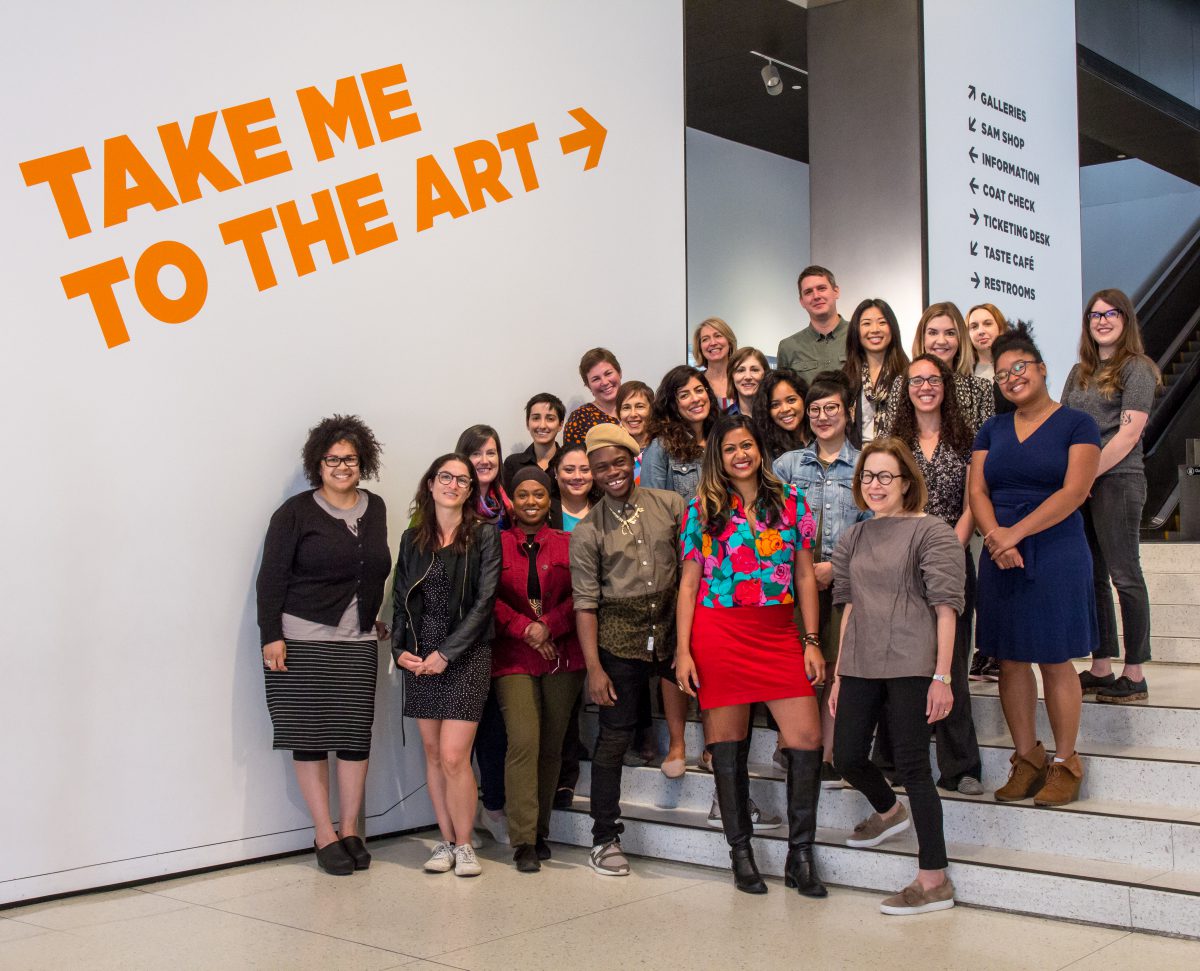 SAM News
Last week, SAM announced that Priya Frank, leader of SAM's Equity Team since 2016, has been promoted as the museum's first-ever Director of Equity, Diversity, and Inclusion. The Stranger's Jasmyne Keimig interviewed Priya about her "new, rare" position.
"'Real change is going to take time,' she said. 'We're not going to undo structural racism in a day or a year or within a strategic plan. It's an ongoing lifelong commitment. But it's amazing to see things we envisioned and dreamt of happening.'"
Local News
Jasmyne Keimig of the Stranger also spent some time this week taking in public art with a pocket beer in hand; consider following her "quick and dirty guide" to some of the best public art in Seattle, including Richard Serra's Wake at the Olympic Sculpture Park.
Kamna Shastri for Real Change on Student Art Spaces, a youth-led initiative whose mission is to "amplify student voices in art through gallery exhibitions and events," especially in terms of equity and accessibility.
Crosscut's Margo Vansynghel on Amp'Up Seattle, an augmented reality art show created by designers at architecture and design firm GGLO for the Seattle Design Festival.
"'The main aim was to have these locations have a new meaning to them,' [Gargi] Kadoo says. She hopes people will use the app and artworks as an opportunity to 'revisit the focus of the BLM movement,' she adds. 'Keep that heat and conversation going.'"
Inter/National News
Remember going places? Consider taking this virtual tour of Harlem, "New York's most storied neighborhood," led by the celebrated architect David Adjaye.
Sometimes a quick look at "the best and worst of the art world this week" is what you need to get caught up on all the news. Thanks, Artnet.
Artnet shares an opinion essay about the threat of climate change from Nick Merriman, chief executive of the Horniman Museum & Gardens in London.
"Museums must use their position as long-term memory institutions to look beyond short-term political and funding cycles and speak out about issues that are existential threats to all of us. This involves changes in two main areas: in museums and galleries' operating models, and in their relationship with the public."
And Finally
Hearken back to the days of innocently enjoying public transit with this breakdown of transit chimes by chord interval.
– Rachel Eggers, SAM Associate Director of Public Relations
Photo: Stephanie Fink