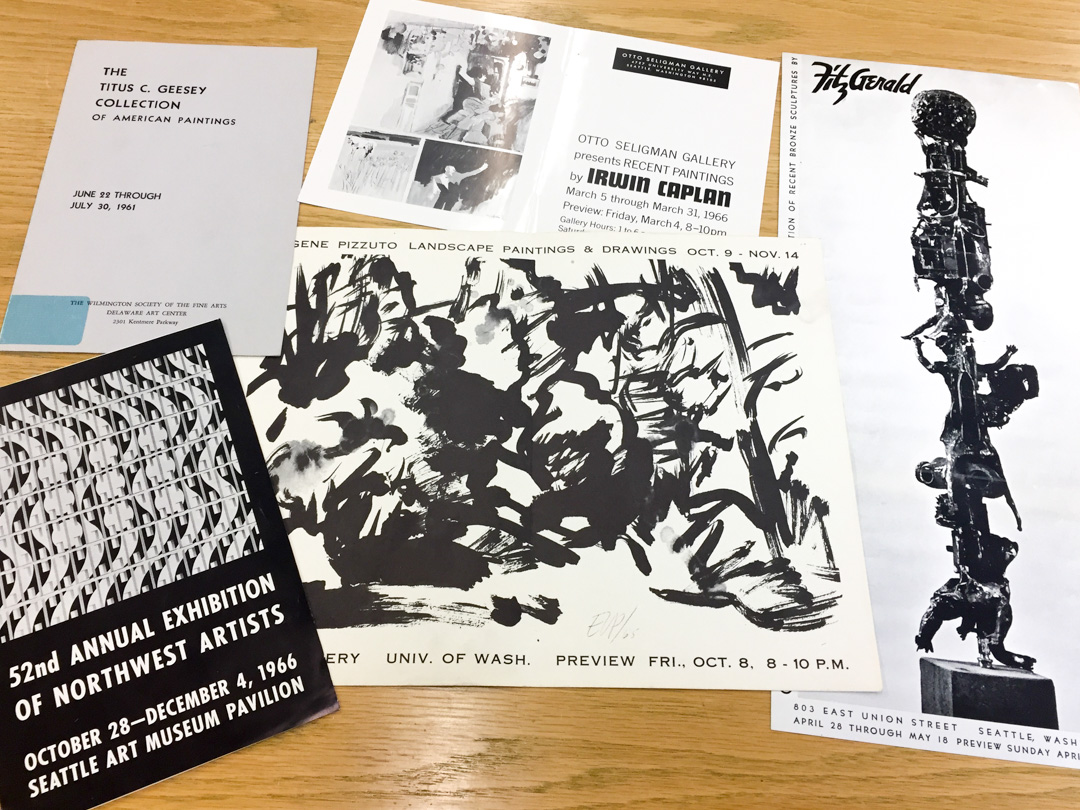 Library visitors might not expect materials like pamphlets to constitute a substantial place in the Seattle Art Museum Research Libraries' collections. In fact, reflecting on their own use of pamphlets and the fact that they are generally small in comparison to other published materials, many might even view them as disposable items. Yet, despite their small stature, they contain a powerhouse of information!
Pamphlets are relatively small, ephemeral publications which generally focus on a specific event, artist, or piece of artwork. Many pamphlets contain biographies, lists of exhibits and artwork, as well as artist or curator statements. In addition, they often contain reproductions of artworks illustrating the design preferences and artistic styles of an era. For many artists, particularly lesser known Pacific Northwest artists, pamphlets may be the only form of written material available making them incredibly important for the overall history of art in the Pacific Northwest.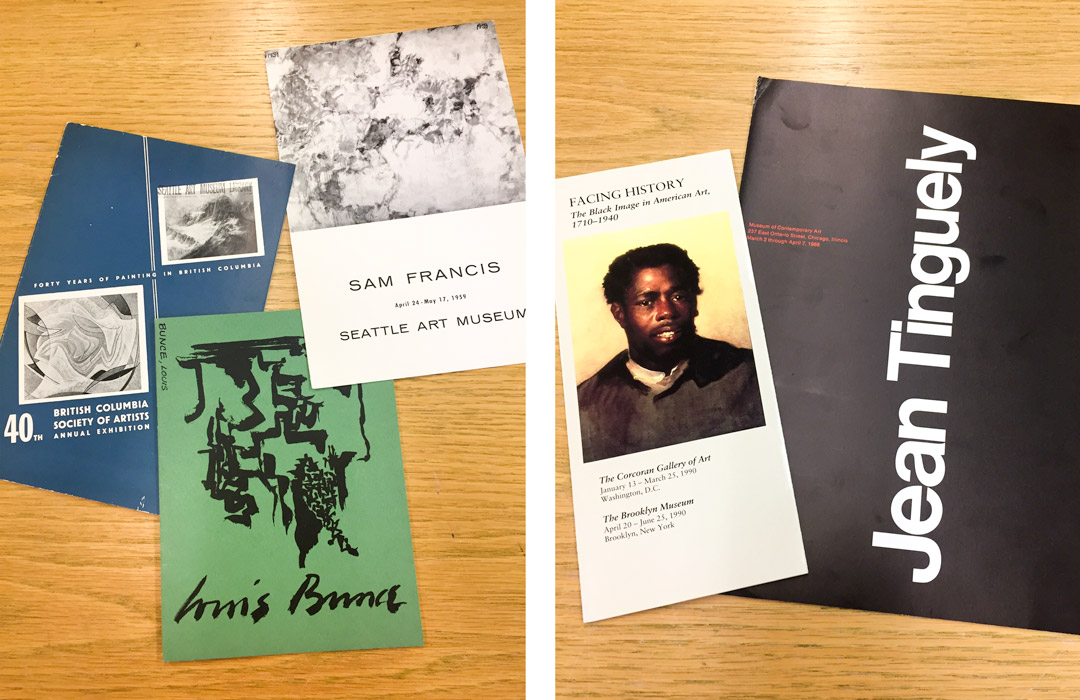 Pamphlets are generally published by the museum or gallery hosting the exhibition, and may have originally been intended as takeaway items for visitors. The Dorothy Stimson Bullitt Library at SAM, in particular, houses pamphlets from institutions large and small, and has been actively building its collection with items from smaller galleries throughout the Pacific Northwest. This collection of materials enables researchers to build a more complete picture of a gallery's history including locations, curators and directors, name changes, and more. The collection also includes pamphlets from around the world giving users a glimpse at the reach a particular artist might have at a given time. Following the progression of pamphlets through the years provides an interesting look into the changing views and portrayals of cultural issues such as race, indigenous rights, women's rights, etc. It's a great visual means of understanding the issues of importance to artists, museums, and the public at large.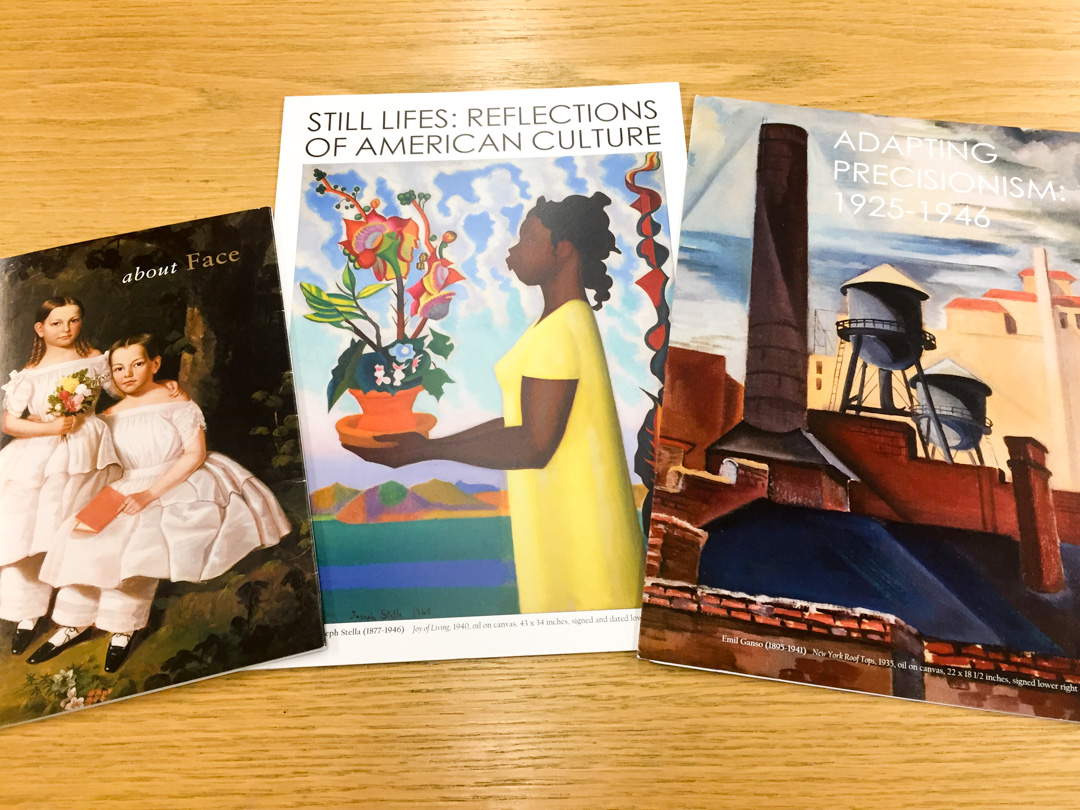 Over the past few months, we've created a more bona fide pamphlet collection, adding incoming pamphlets there, rather than into our general book collection (where we had been putting such things in the past). We've also begun the process of relocating pamphlets currently in our book collection to the pamphlet collection. Collocating all of the pamphlets provides better access to the materials overall and allows researchers to get a clearer picture of the type of information they might find. For example, if you were looking for critical theory on Picasso, you may not find the pamphlets particularly helpful given the amount of other materials pertaining to Picasso within our collection. However, if you were looking to put together a timeline of a lesser known artist, you would likely find pamphlets very useful.
We've made the pamphlet collection as easy to find as possible. When searching the library catalogue, just look for the term "pamphlet" either at the end of the title or in the call number to determine whether or not the record you are accessing is a pamphlet. To see a full list of the pamphlets we've acquired thus far, see the Pamphlet Collection title list.
–Terri Ball, Volunteer, Dorothy Stimson Bullitt Library
Photos: Terri Ball.