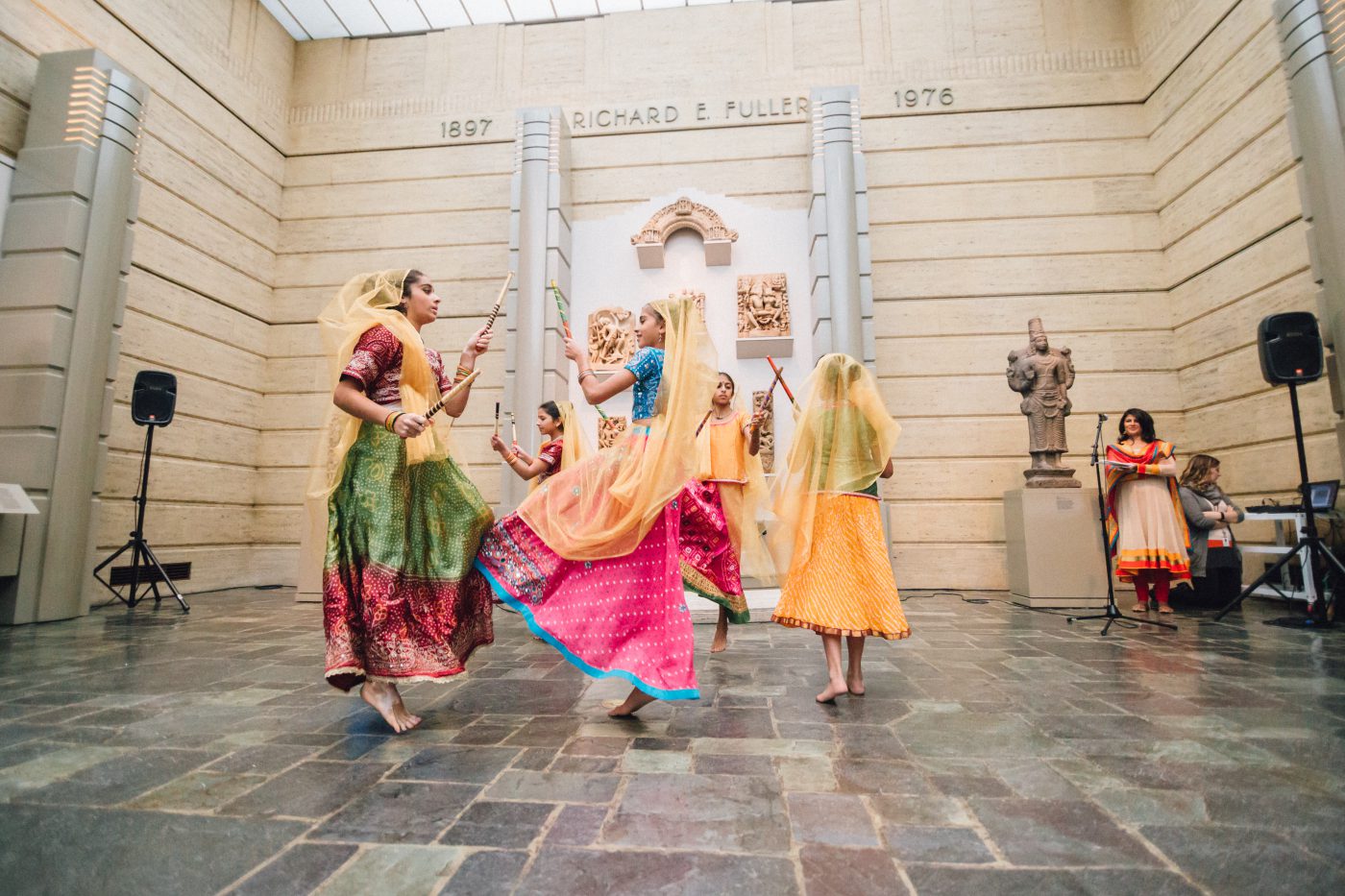 Family festivals at the Seattle Asian Art Museum connect families with performances, art activities, and other programming related to SAM's Asian art collection. While our Asian Art Museum remains closed, families at home can make art and learn more about Asian art, as well as our wonderful community partners.
Diwali is the Indian festival of lights, celebrated by many people throughout South Asia, as well as in Seattle. For the past 10 years, in collaboration with our community partner, Junior Asha, SAM has organized a Diwali celebration for families held at the Seattle Asian Art Museum each November. Junior Asha is the youth chapter of the Asha for Education – Seattle Chapter. Asha is a non-profit organization that is dedicated to bringing about socio-economic change in India primarily through education. In addition to raising funds for education, Junior Asha members also support the local community by volunteering at events such as the Diwali Family Festival at the Asian Art Museum.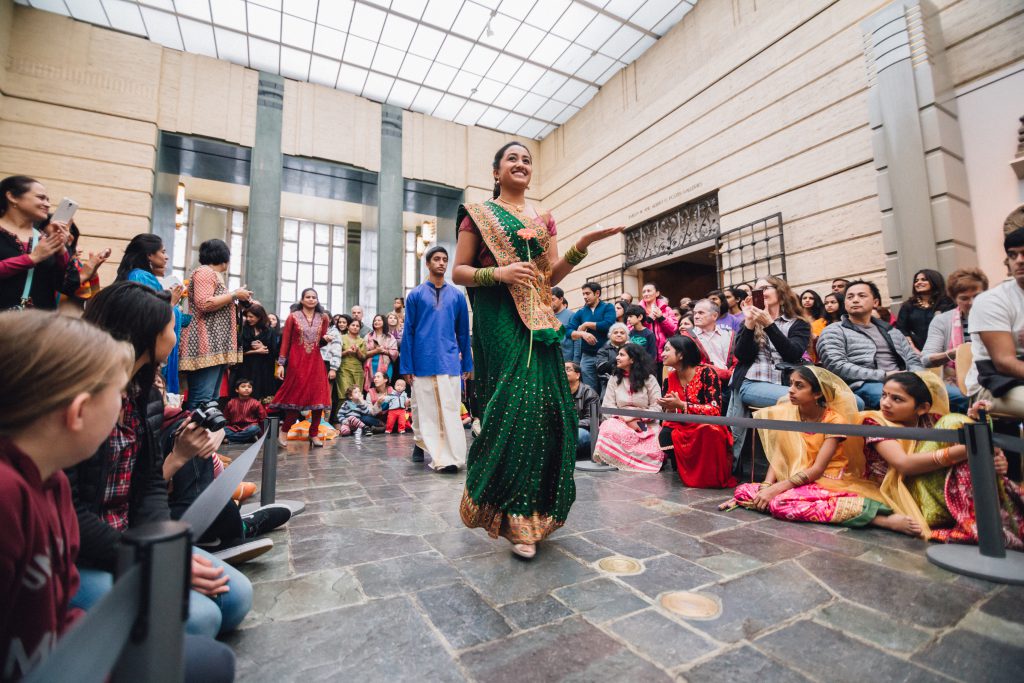 Each year members of Junior Asha have dedicated their time to creating programming for the festival. This has included dance performances showcasing different types of Indian dance. Festivities performed by members of Junior Asha. One component that has remained constant across many celebrations is the youth and Tiny Tots fashion show led by Junior Asha. Members also spent time in the months leading up to the event learning about the art on view at the Seattle Asian Art Museum and working with SAM docents to create their own My Favorite Things tour of the museum. Members presented their tours at the Diwali Family Festival sharing their own unique opinions on artwork with the community. 
Although we won't be gathering in person this year, we're happy to highlight our incredible partnership with Junior Asha and to share an art activity from last year's Diwali Family Festival for families to create at home. We're looking forward to once again gathering together in celebration in the future.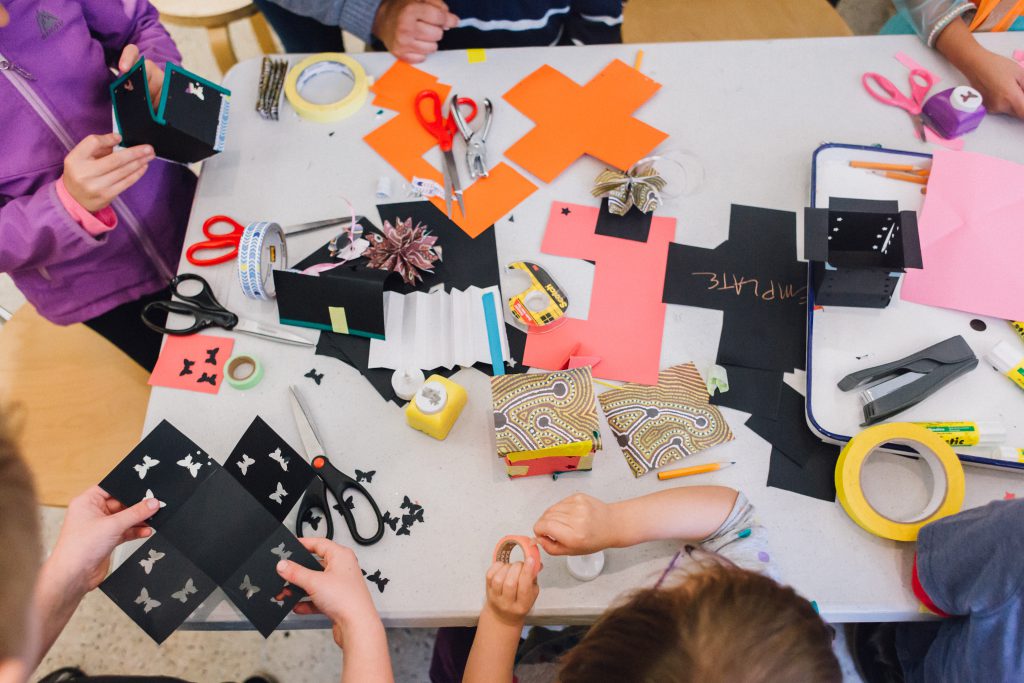 ART ACTIVITY: LUMINOUS LANTERNS
For ages 6-10+
Add a bit of color and light as you celebrate Diwali from home! Design and decorate a paper lantern with cutouts, tissue paper, and more. You can then place a light source inside when it gets dark out and see your creation come to life.
What You'll Need
Construction paper or cardstock
Pencil
Scissors
Tape or washi tape
Hole punch, push pin, or X-acto knife (optional, requires adult assistance)
Tissue paper (optional)
Markers (optional)
Tea light candle or flameless LED candle (optional)
Cut a piece of square construction paper in the shape of a plus-sign, with four equal sides surrounding a square in the middle. If your piece of construction paper is rectangular, you can make it a square by folding over a corner and cutting off the extra paper on the bottom.
The middle of the plus-sign will be the bottom of your lantern, so you can leave that alone for now. With pencil, sketch out a design or pattern on each of the other four sides that you can easily cut out or trace later. This can be inspired by something you see in your home or an artwork in the Asian Art Museum.
Using scissors, a hole punch, push pins, or an X-acto knife, cut out or trace the design that you created. You can bend the sides of the paper over and cut out symmetrical shapes using scissors. Remember to have a grownup help you if you are using push pins or an X-acto knife. If you like, you can tape pieces of tissue paper over the cutouts to add different colors to your lantern.
You can turn your plus-sign around and add decorative tape or other designs in marker. Once you have finished with what you want to cut out and add, fold the four sides of the plus-sign up to create a box without a top. You can add more decorations by cutting out and folding smaller pieces of paper, then taping them on the sides.
Once you're happy with your lantern, wait until the sun sets and place a light source inside. How do the colors and shapes change when there's a light inside? During Diwali, people put up many lights to celebrate the special day. You can make even more lanterns in different colors, shapes, and sizes too!
KEEP LEARNING WITH A STORY
Learn more about the lights, food, and festivities of Diwali in the book Binny's Diwali by Thrity Umirgar, illustrated by Nidhi Chanani. You can follow along with a read aloud of the book, check it out through the King County Library System, or purchase it from a bookseller.
– Yaoyao Liu, SAM Museum Educator
Photos: Jen Au