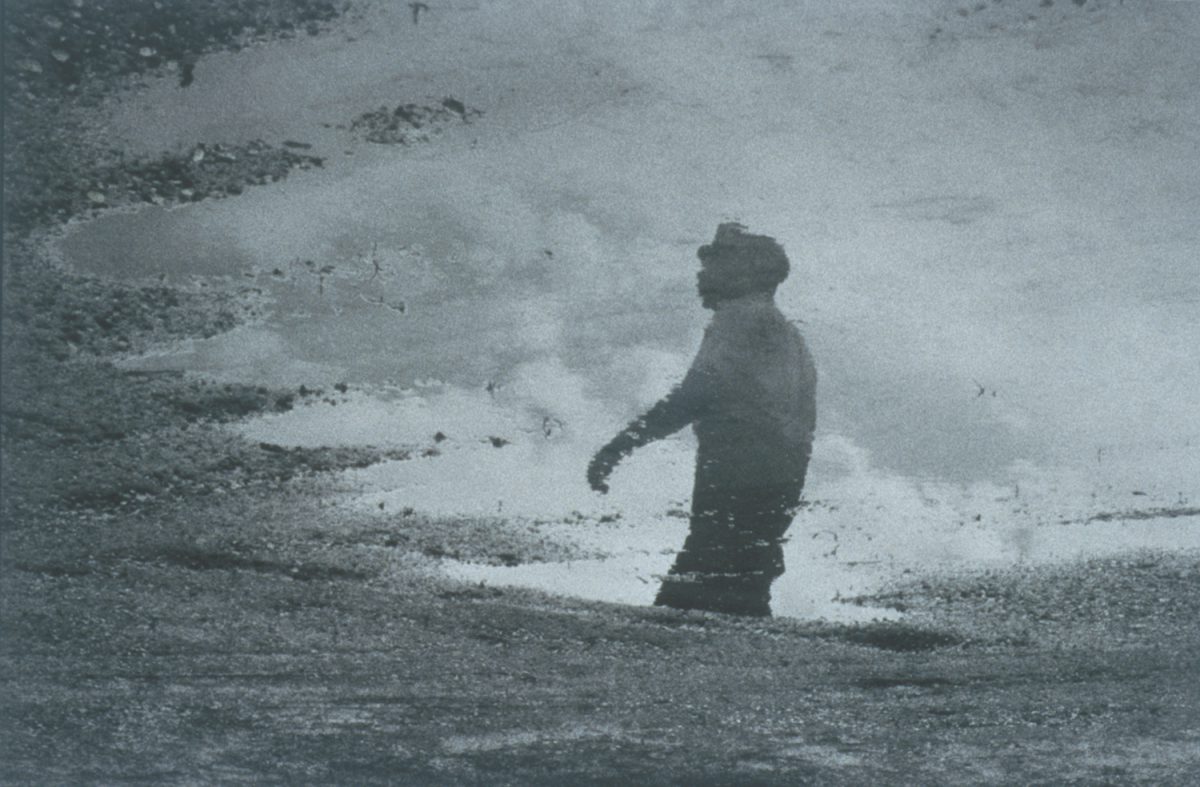 This black and white photograph, taken by photojournalist Dan Budnik in 1965, is one of a series that Budnik had hoped to publish in a Life magazine photo-essay. (Life never ran the essay, citing recent back-to-back cover stories on the subject matter.)[1] Arguably less intimate than some of Budnik's other photographs, it captures a reflection of Dr. Martin Luther King, Jr., his likeness obscured and rendered distant in standing water. Clear to the viewer, however, is that his body is in stride—moving forward.
Part of a series that documented critical events of the civil rights movement, this photograph, taken on March 24, 1965, is situated during the days-long, 54-mile march from Selma to Montgomery—a march that protested discriminatory laws suppressing Black voters' rights in the South, and would eventually lead to the passage of the landmark Voting Rights Act.
Budnik's photograph, in fact, was taken in Lowndes County the day before demonstrators would arrive in Montgomery, and where King would deliver his now-famous "How Long, Not Long" speech, also known as "Our God is Marching On!"
This theme of movement—and movement forward—recurs throughout King's speech, delivered to tens of thousands of civil rights activists on the steps of Alabama's State Capitol. And while this photograph was taken the day before King's historic remarks, Budnik's image captures a sense of the literal and figurative dedicated movement that propelled King and others forward in their fight for equal rights.
In the words of Dr. Martin Luther King, Jr., delivered on March 25:
Somebody's asking, "How long will prejudice blind the visions of men, darken their understanding, and drive bright-eyed wisdom from her sacred throne?" . . .

How long? Not long, because "no lie can live forever." . . .

How long? Not long, because the arc of the moral universe is long, but it bends toward justice.
56 years later, there is still more work to be done—we remain on the move.
– Elisabeth Smith, SAM Collections & Provenance Associate
---
Image: Martin Luther King Jr., Lowndes County, March 24th, 1965, 1965, Dan Budnik, gelatin silver photograph, 11 x 14 in., Gift of Getty Images, 2000.40 © Artist or Artist's Estate