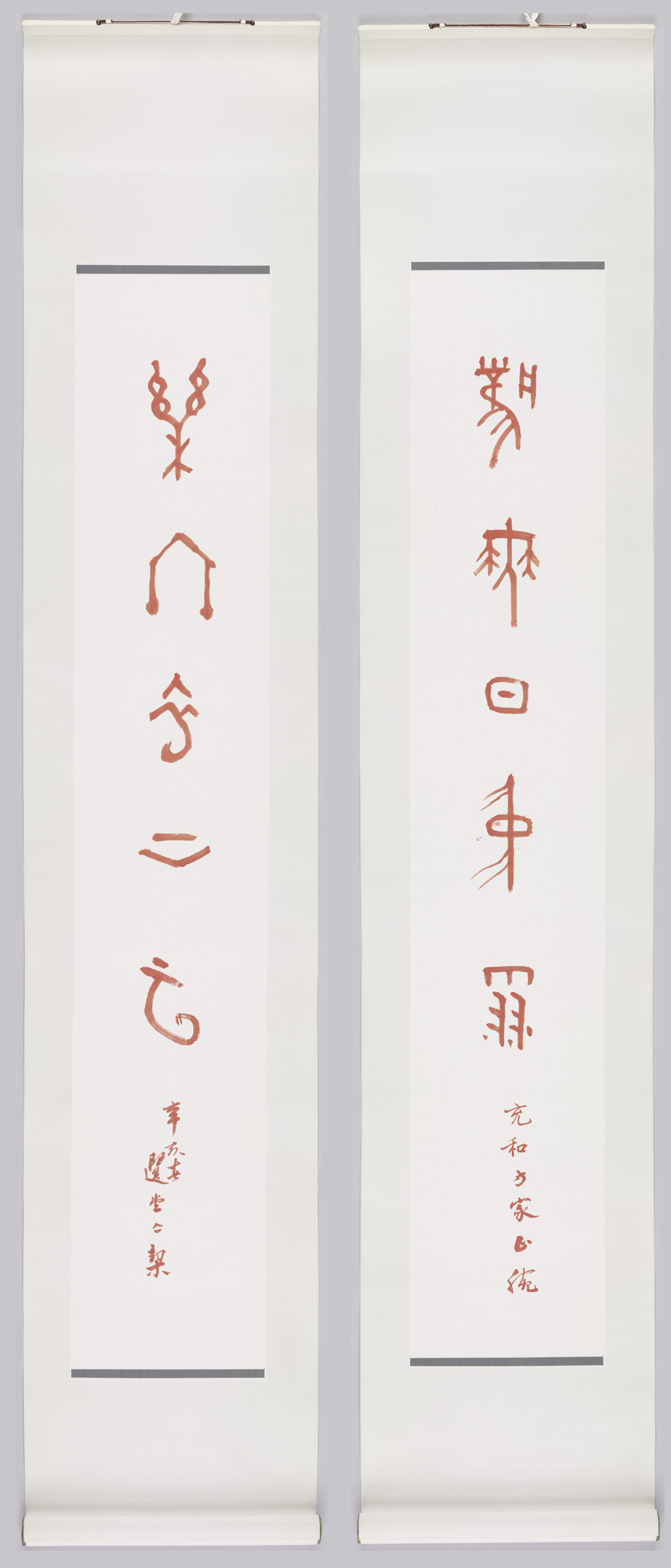 Oracle-bone script (jiaguwen) is a form of Chinese writing that emerged during the Shang Dynasty—dating from the 14th–11th century BCE—and is considered the earliest known form of systematic Chinese script.
Some of the oldest oracle-bone inscriptions were short texts inscribed on the flat shoulder blade bones of oxen and shells of tortoises. Such bones were used for divination, a process which involved the inscription of a question with a bronze pin—lending the script its characteristic angularity—and then heating the bone to reveal cracks, which would be divined for answers.
The symbols used eventually became words, which were later developed into a Chinese script that is recognized today as part of China's long tradition of calligraphic arts. This work by Rao Zongyi, titled Couplet, utilizes the ancient script, brought to life for a contemporary audience.
Rao—a poet, calligrapher, painter, and scholar of the humanities—produced the couplet in 1971 while a visiting professor at Yale University. Composed by Rao, the poem describes in red ink a kun-style operatic performance by Chang Ch'ung. Together the two scrolls read: The wind makes the snow dance amidst the sunlight, the music hangs like clouds on her garments.
– Elisabeth Smith, SAM Collection and Provenance Associate
Couplet, 1971, Rao Zongyi, red ink on paper, 74 5/16 x 14 3/16 in., Gift of Chang Ch'ung-ho and Hans Frankel from their collection, 2010.9.6.1-.2 © Artist or Artist's Estate