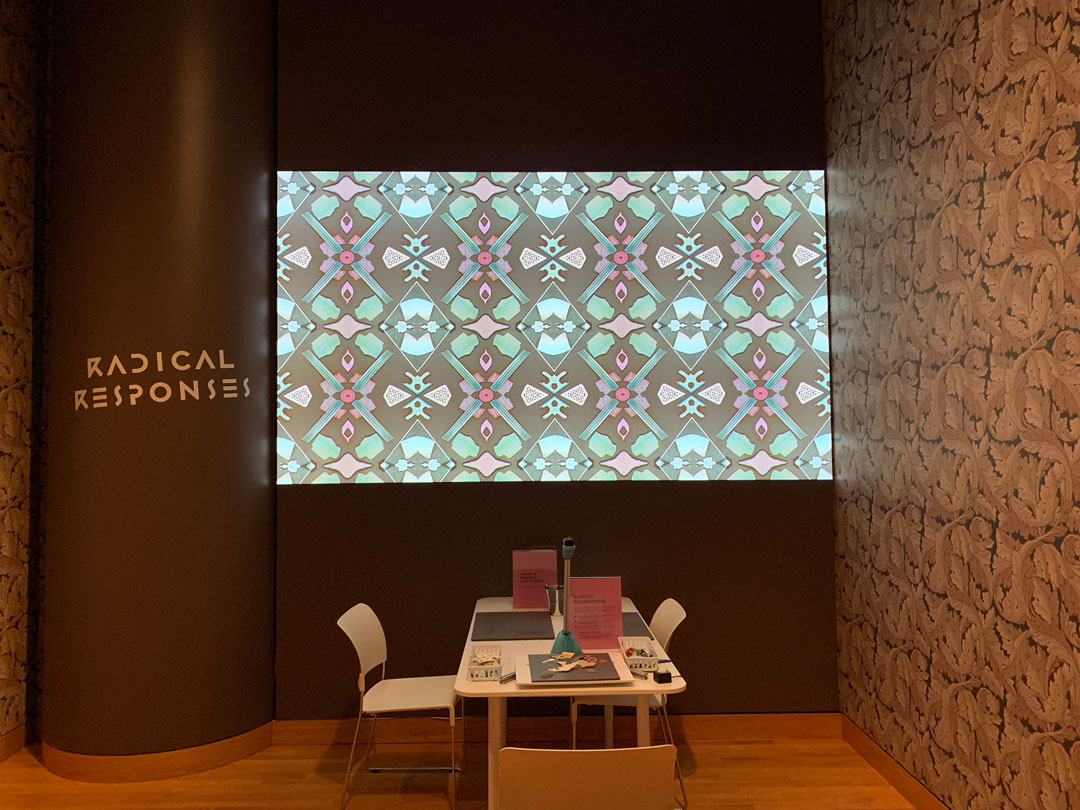 Beckoning visitors at the end of a long hallway inside Victorian Radicals: From the Pre-Raphaelites to the Arts and Crafts Movement is an interactive art activity inviting visitors to experiment with ideas connected to the exhibition. Created by artist Allison Kudla, visitors build designs using small pieces of discarded plastic pulled from ocean beaches through community clean up events, organized by the non-profit group Ocean Blue Project. As you build your design a camera captures the work, and the image, translated through a computer program, is projected into a kaleidoscopic pattern on the wall, mimicking the William Morris wallpaper surrounding it. You have until September 8 to see the exhibition, featuring a range of works by Morris and his peers, and to interact with Kudla's art activity in the galleries.
Awarded a PhD in 2011 from the University of Washington's Center for Digital Arts and Experimental Media (DXARTS), Kudla originally titled the work Radical Anthropocene, to focus on human activity as the dominant influence on climate and the environment. Prior to her PhD work, Kudla earned a BFA from the School of the Art Institute of Chicago, 2002, with an emphasis on art and technology studies. We sat down with the artist to discuss this engaging art interactive, hear from her below!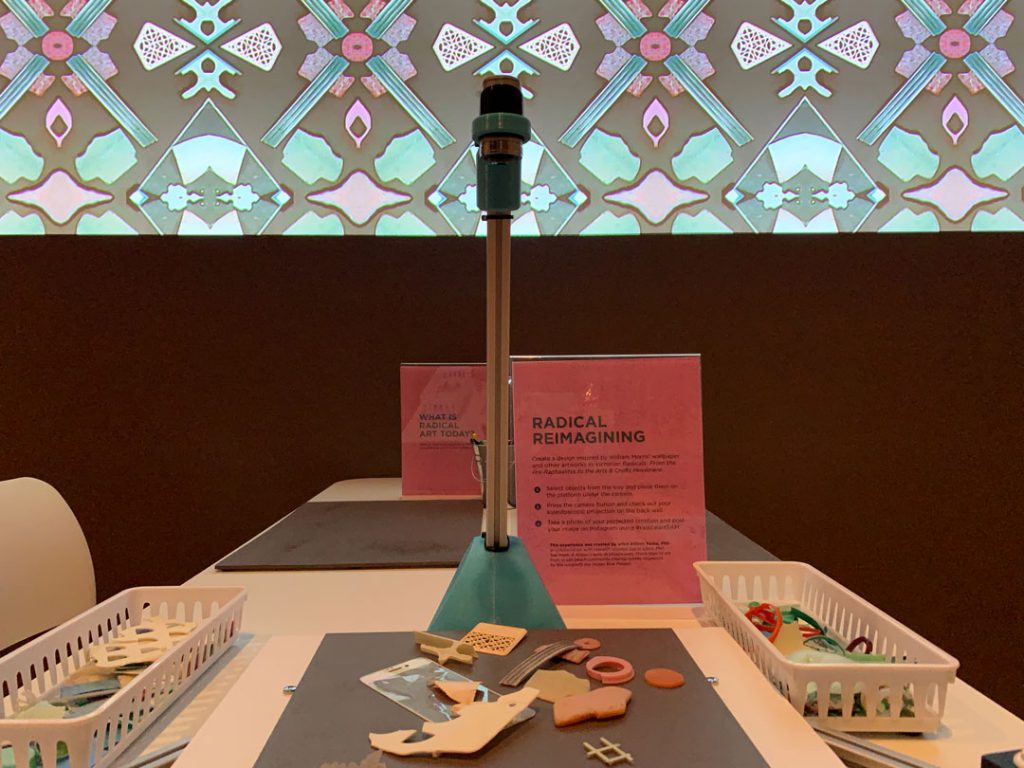 SAM: Tell us about your process creating this project.
Allison Kudla: The Radical Anthropocene project was based on a prior work I created for Summer at SAM in 2015. That work, titled Digital Kaleidoscopes of Nature, was an interactive workshop wherein people visiting the Olympic Sculpture Park could select from plant cuttings from the park to create digital kaleidoscopes. SAM approached me to adapt the project to become a wallpaper, rather than a circular kaleidoscope, that would be placed in response to William Morris' wallpaper.
When considering the material or objects to be used to create the wallpaper, I thought about Morris, his ethics, values, and poetry. I knew I didn't want to buy mass-produced items, but I did want to talk about industry and where we have come since Morris' era. His care for our relationship to nature and warning of the future that might occur due to industrialization, were the cohering agents when I determined what the objects to use in creating the digital wallpaper. We are in the middle of a waste crisis on multiple levels. Perhaps the Naturalists of the Anthropocene are those that are working to clean up, invent sustainable materials, and regenerate human culture on the planet.
The Ocean Blue Project, based in Oregon, regularly organizes community beach cleanups to extract the detritus of industrialization from the ocean. The oft-called "marine debris" that was sent to me for selection and placement included plastic forms, shapes, textures and colors—some recognizable objects, others only fragments, and all created through a process of industrialization.
I teamed up with my colleague, Dr. David Gibbs, a senior research scientist at ISB, who created the project's code in Python. We worked collaboratively through GitHub with SAM's Cooper Whitlow to complete the project
Do you collaborate with people in other disciplines on a regular basis?
Yes, absolutely. I think working with people in other disciplines is mutually beneficial. Cross- or interdisciplinary pursuits tend to push us out of our comfort zone. If I can work as a colleague with a scientist, and a scientist can work as a colleague with an artist, we are both getting an opportunity to be in the imposter zone. Though this word, imposter, may have negative connotations, the truth is that when we feel this way we are often learning new things, growing, beginning to think from a different perspective, and potentially forming new views of our work. This is inherently positive. Also, it is fun to work with other people, so there are social aspects to that as well.
What brought you to pursue a PhD in the intersection of Art and Science?
I studied fine art at the School of the Art Institute of Chicago. This trailblazing school didn't require their students to pick one discipline, but rather let the course catalog be exactly that; a catalog. Each semester I would pick my classes thinking about what I was genuinely interested in learning. I didn't know what kind of artist I wanted to be when I started there, but by the end, after moving through painting and fiber arts into video and finally art and technology, I realized that it was the creation of new art forms and new knowledge where I found the most satisfaction. When I joined the PhD program at UW, DXARTS (Digital Arts and Experimental Media), it was in its first year. Not only was it a pioneering new program, it was founded on exploring cutting-edge, research-based art. I decided to take the X in DXARTS and run with it. Through that, I established a practice intersecting experimental biology, specifically plant biology, with computer-aided design and fabrication processes.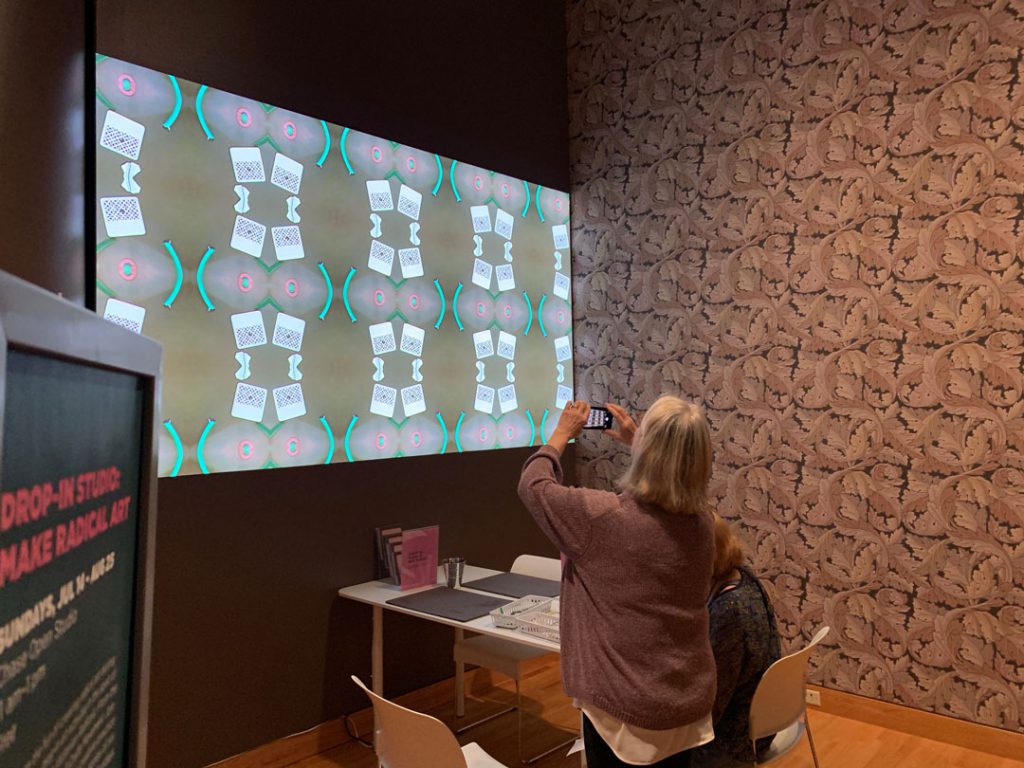 Where else can we see your work?
Due to the living nature of many of my works, they often are only presented when specific facilities and resources are secured, and typically solely for the purpose of creating a cultural experience for an audience. In short, my work, because it is living, is very hard to collect and often tricky or expensive to produce. When it is produced, it has a finite duration and potentially unknown outcomes, thus making it a "risky" choice for many typical arts establishments. Despite those challenges, the Centre Pompidou in Paris, France recently acquired one of my most complex works, "The Capacity for (Urban Eden, Human Error)." It was an amazing experience to transfer the knowledge of the piece to the museum and have valuable conversations with the technology team and the collections managers about not only the maintenance of the living work during the two-month lifespan of when it is on display, but also on the conservation of the whole system for decades to come.
What do you plan to do with the images created from the in-gallery experience at SAM?
It is another research project for me! I am fascinated by what people choose to "save" or determine as beautiful in the context of the activity. I am also fascinated by patterns and am interested in creating interactive projects where the audience is engaged in creating the work and feeding back into the system itself. In the future, I hope to use the images as a negative control for a classification system I plan to develop around the history of pattern-making using data science and libraries of ornamental patterns. I have been attempting to garner resources to move this project forward, but as you can imagine, longer-term funding in fringe areas like this can be hard to find.
For now, I created this compilation of several of the hundreds of patterns that were saved.
Images: Courtesy of Allison Kudla