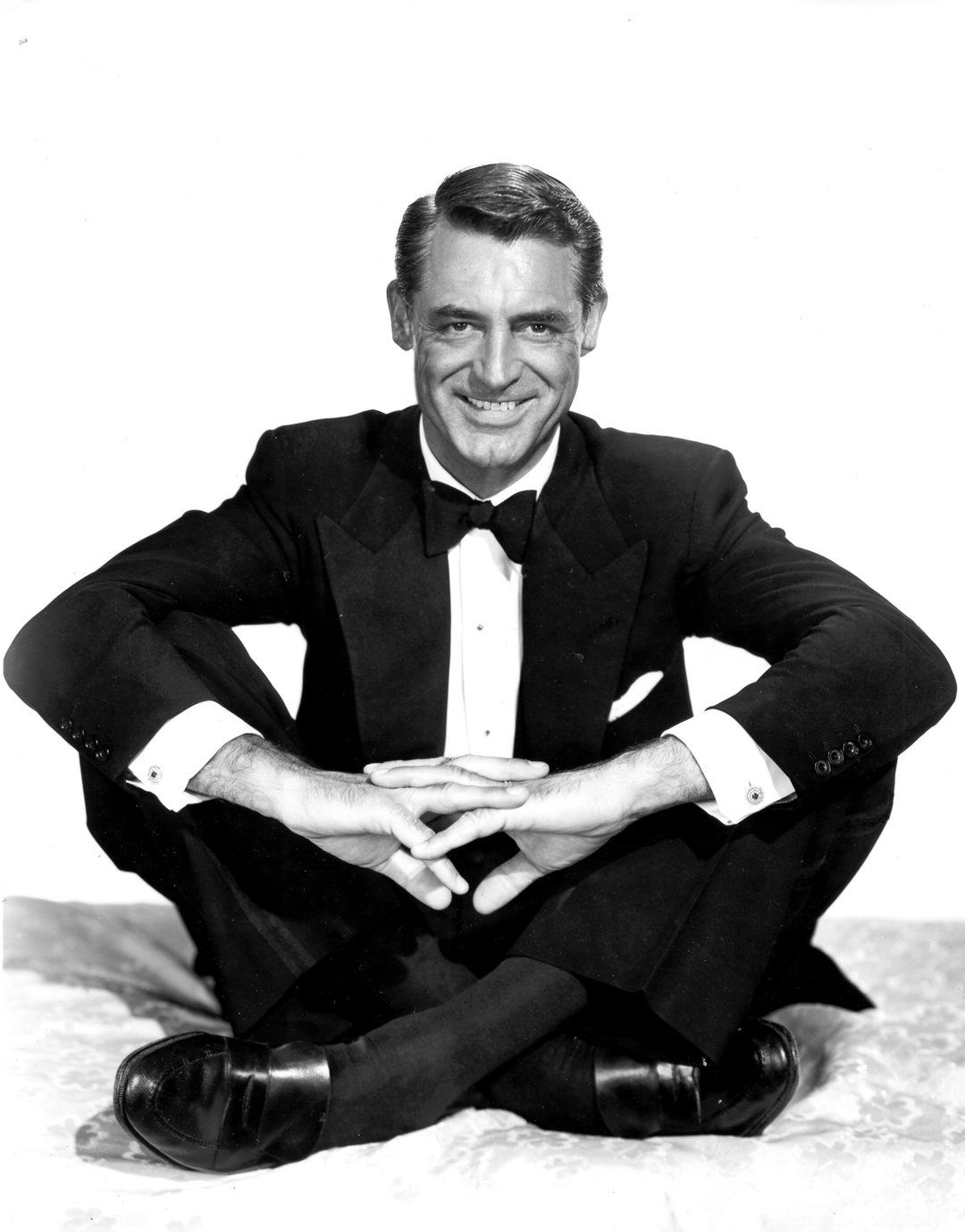 Once again our summer series celebrates Cary Grant, witty, handsome, elegant gentleman, and superb actor. Comedy, romance, action, suspense—Grant handles it all with incomparable grace and a wry grin.
July 13: Mr. Lucky (H.C. Potter, 1943)
Archie Leach of Bristol, England, rose from his humble, impoverished origins to become Cary Grant of Hollywood, "the man from dream city." In Mr. Lucky, Joe Aden's (Grant) life follows a similar arc, rising from lower-class British obscurity to stellar American success—but on the shady side of the law. World War II is raging, but Joe has more immediate concerns: he needs more money to run his floating gambling casino, so he steals another man's identity to avoid the draft and launches a fail-proof scheme. He'll charm War Relief society ladies, including delectable Laraine Day and her crew of elders, into letting him run a gambling operation at their charity ball. But Joe's more than met his match as the women put him to work knitting with needles and yarn in a downtown window, where men walking by on the street can see him. With Charles Bickford, Gladys Cooper, Paul Stewart. In 35mm, 100 min.
July 20: The Bachelor and the Bobbysoxer (Irving Reis, 1947)
This is the first film to make Grant's capacity for bedazzlement its subject. When visiting artist Dick (Grant) lectures her high school class, student Susan (seventeen-year-old Shirley Temple) envisions him as a knight in shining armor. Dick wants no part of her dream, but after he's found in a compromising position by a judge, Susan's older sister Margaret (Myrna Loy), he's sentenced to squire Susan about until her crush subsides. Grant is marvelously silly as he dresses cool, talks jive, and competes in a three-legged race at a teen picnic. Is Susan still feverish? Of course, and now solemn sister Margaret is getting weak kneed. With Rudy Vallee. In 35mm, 95 min.
July 27: I Was a Male War Bride (Howard Hawks, 1949)
In his roles Grant could suffer frustrations and humiliations hilariously, and a spirited, independent-minded Howard Hawks woman like Air Corps officer Catherine Gates (Ann Sheridan) can dish them out. During World War II in occupied Germany, Catherine and French officer Henri Rochard (Grant) find each other obnoxious, presumptuous, even dangerous—so of course they fall in love and marry. But the much-desired consummation of their marriage, and their entry into the United States, must wait for Grant to put on a dress and a wig and convince the world that he's a woman. With Marion Marshall, Randy Stewart. Digital restoration, 105 min.
August 3: People Will Talk (Joseph L. Mankiewicz, 1951)
Powered by Mankiewicz's wise, witty, literate script and one of Grant's best performances, People Will Talk celebrates non-conforming, quirky individuals who put their provocative ideas into practice. Plus, it's a romantic comedy! Grant is a non-traditional medical professor who believes that emotions effect physical health, whose best friends are a convicted murderer (Findlay Currie) and an atomic physicist (Walter Slezak) who plays with toy trains. And he thinks maybe he should marry one of his students, a suicidal pregnant woman (Jeanne Crain) who has no partner. All this is just too much for a sour, spiteful academic (Hume Cronyn) who launches an investigation of easygoing Professor Grant. With Margaret Hamilton (The Wizard of Oz's Wicked Witch). In 35mm, 109 min.
August 10: Monkey Business (Howard Hawks, 1952)
In this comic masterpiece, director Hawks and screenwriters Ben Hecht, I.A.L. Diamond, and Charles Lederer take America's obsession with remaining youthful to delightfully absurd extremes. The marriage of chemist Cary Grant to physicist Ginger Rogers is a dismal, rocky affair of boredom and smoldering resentments. When Grant, with the help of a laboratory chimpanzee, develops a rejuvenation drug and samples it, he suddenly gets a crew cut and a sports car and flirts with his secretary (Marilyn Monroe). Rogers gets her own turn at being an adolescent again, with the dangerously unruly anarchy of childhood soon to follow. In the wacky way of screwball comedy, maybe indulging your inner savage is a sign of true love. With Charles Coburn and George Winslow, famous in the 1950s for his "foghorn voice." In 35mm, 97 min.
August 17: To Catch a Thief (Alfred Hitchcock, 1955)
This Hitchcock jewel sparkles with the glamor of Cary Grant, Grace Kelly, and the French Riviera, and the allure of ill-gotten gains. Grant, a retired high society jewel thief called "The Cat," is suspected when priceless trinkets start disappearing all around Cannes. The gendarmes want to catch him in the act, while Grant wants to prove his innocence by nabbing the real culprit. Prime targets for plucking are a wealthy American heiress (Jesse Royce Landis) and her daughter (Grace Kelly), so Grant stays close to them, hoping the thief will make a move. Kelly appears to be a remote ice princess, but inside she gets an erotic thrill from the idea that Grant might want to steal from her. Kelly and Grant's coy approach to seduction is a delight, as when Kelly unpacks a chicken lunch and says, "Would you like a leg or a breast?,"  striking Grant speechless. With Brigitte Auber and John Williams. In 35mm, 97 min.