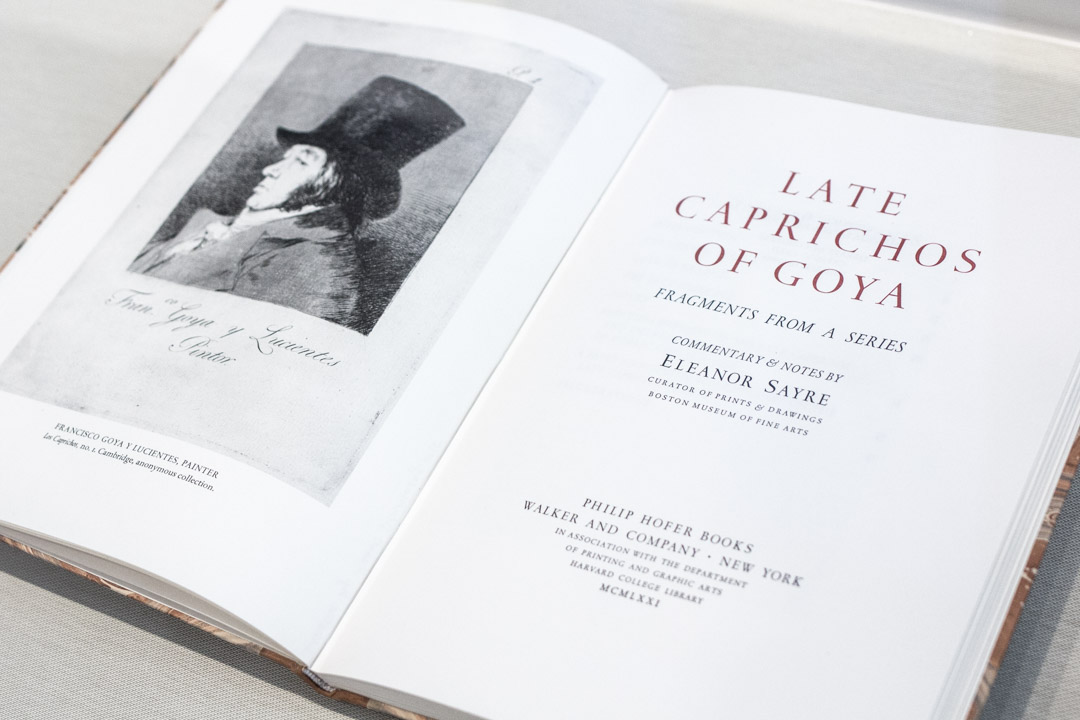 During the exhibition, Graphic Masters: Dürer, Rembrandt, Hogarth, Goya, Picasso, R. Crumb, the SAM Libraries is showcasing an exceptional work in the Lockwood Foundation Living Room near the exhibition entrance.
We are honored to present an important recent gift to the Dorothy Stimson Bullitt Library: Late Caprichos of Goya: Fragments from a Series (New York: Walker & Co., in association with the Department of Print and Graphic Arts, Harvard College Library, 1971). This limited edition illustrated book, with photomechanical lithograph reproductions and six original etchings, was donated in 2015 by Stuart and Beverly Denenberg.
Why is this work on Francisco José Goya y Lucientes (Spanish, 1746-1828), published in the 1970s, so special? In short: exceptional scholarship in a beautifully-produced volume, containing extremely rare prints. Written and compiled by Eleanor A. Sayre (American, 1916-2001), one of the first female curators at the Museum of Fine Arts, Boston, this work has been described as "a book of exceptional quality . . . and importance." The Late Caprichos of Goya: Fragments from a Series was published in an edition of 150 copies, with the Bullitt Library's copy being number 79. It is the only known publicly-accessible copy in the Pacific Northwest.
The rare prints that are included in this work were created from three double-sided copper plates Goya made in the 1820s. Thirty years after Goya's death, the plates were purchased in Spain by an English diplomat, John Savile Lumley (British, 1818-1896), from Goya's grandson. They eventually made their way to the London firm of P. & D. Colnaghi where they lay in a drawer for over a decade, until they were bought by Harvard librarian and print scholar, Philip Hofer (American, 1898-1984), in the 1930s—notice the PH embossed in each print at lower right.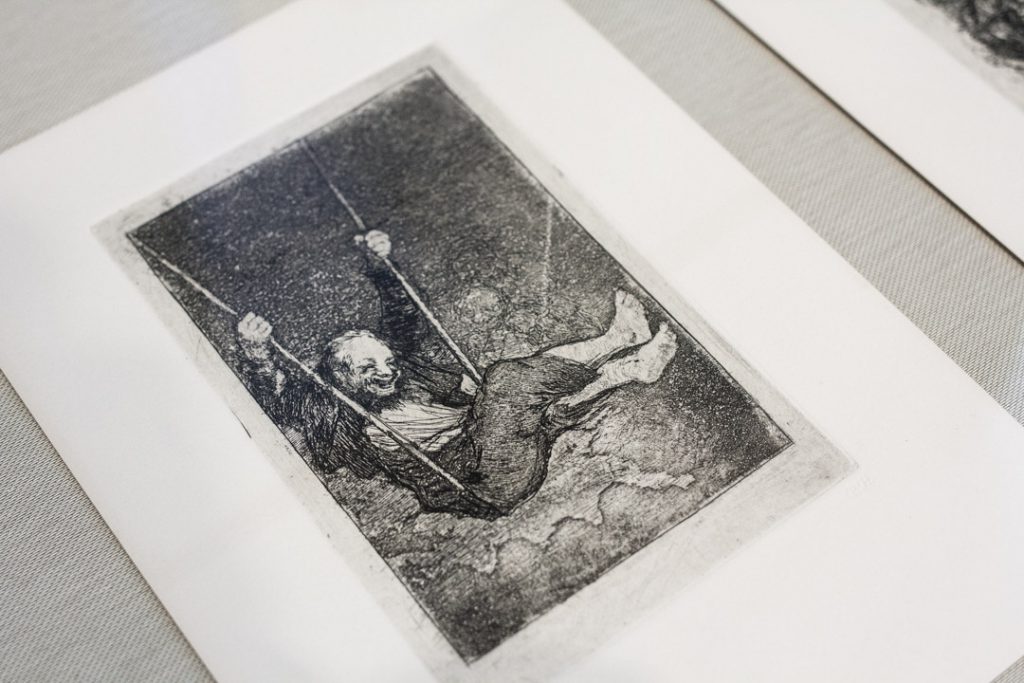 In the 18th century, according to the Royal Spanish Academy Diccionario de la lengua castellana (Madrid 1791), the word, "capricho" meant "In works of poetry, music, and painting, it is that which is done by the power of invention rather than by adherence to rules of art. It is also called fantasy."
Goya completed these caprichos in 1825, a quarter century after the original series of 1799. Those earlier prints can be read as political and clerical critiques, and made Goya an important moralist to those contemporaries who truly understood their meaning. Goya published the original series during the reign of Carlos IV, hoping that enlightened men and women would see and heed his criticisms, and that some public good might result from the work. For this later series, which is believed to be only the fragmentary beginning, there are—unlike the original series—no titles or details which may have caused trouble. In her commentary, Sayre wonders: "We shall probably never know how great a risk the old artist intended to take." He was then 80 years old and died three years later.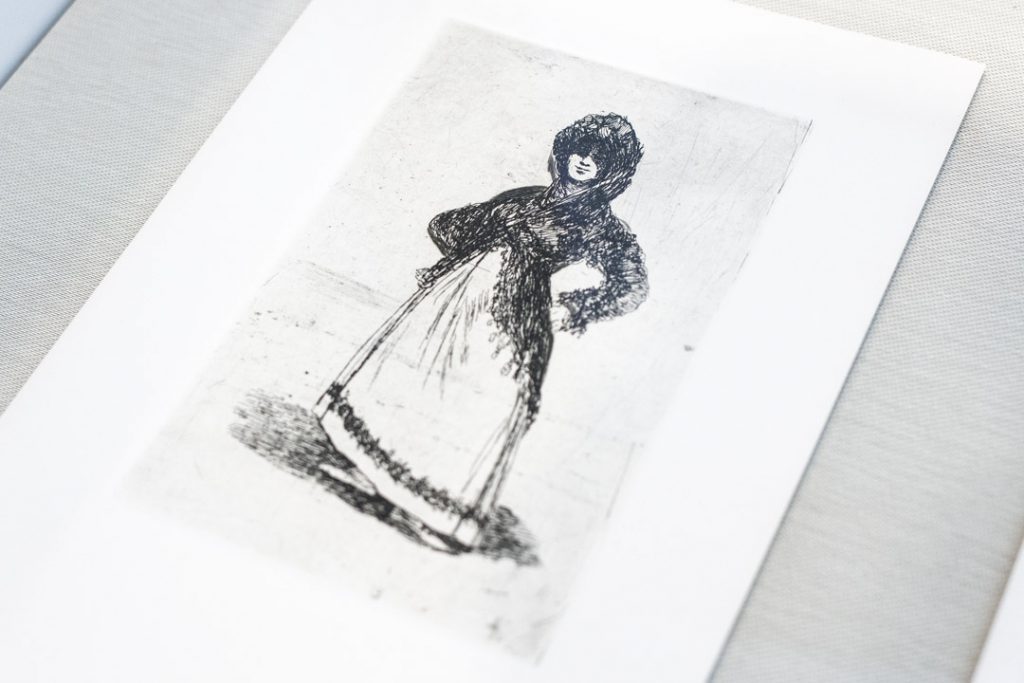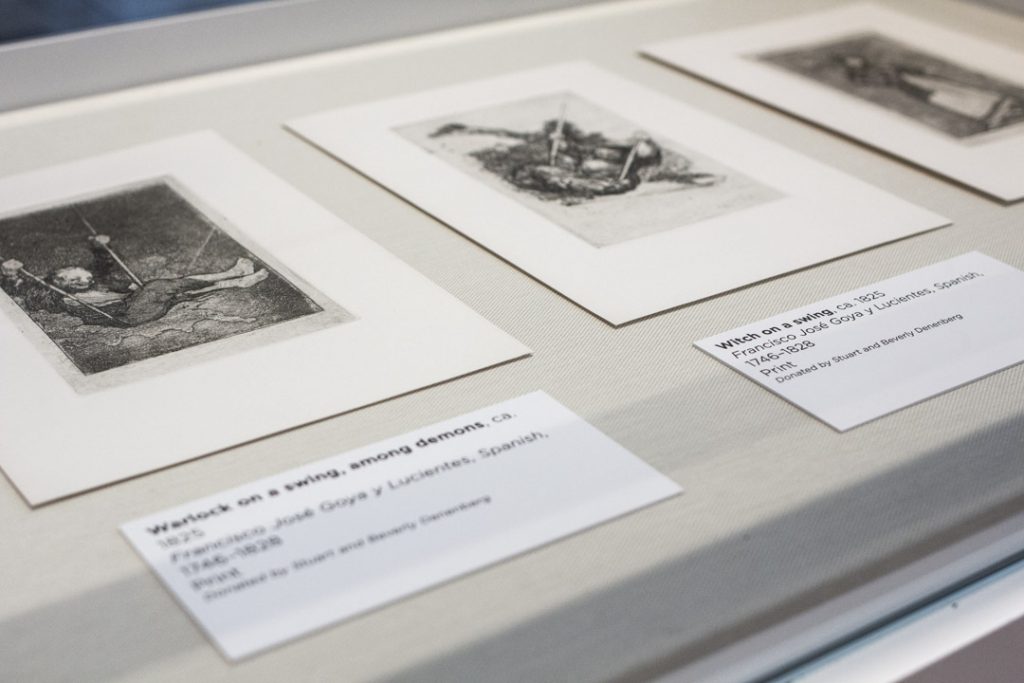 To see the book and these late caprichos in person, visit the Lockwood Foundation Living Room, just inside the exhibition. While there, take time to peruse some of the great resources selected by the SAM Librarians in the pop-up library.
– Traci Timmons, Librarian, Dorothy Stimson Bullitt Library
Photos: Natali Wiseman.