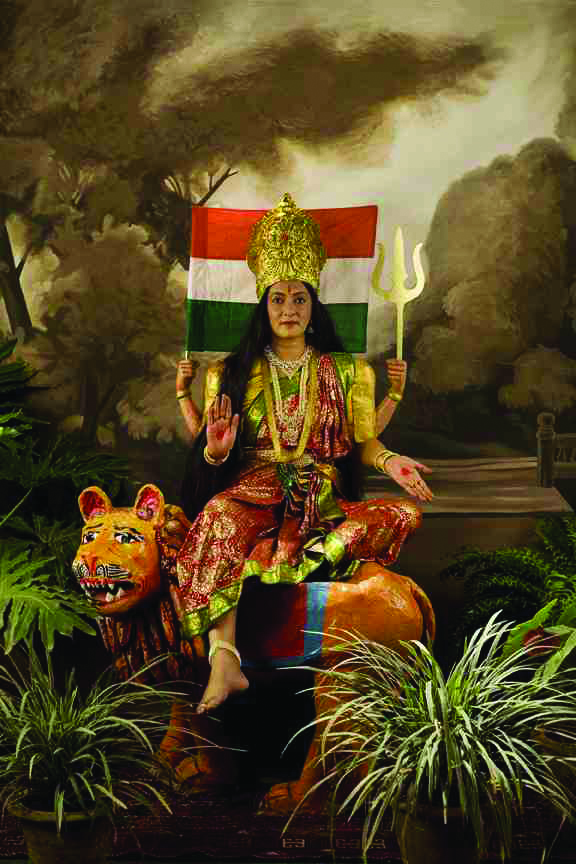 Following the debut of the reinstalled and reimagined Asian Art Museum, SAM deepened its commitment to South Asian art by appointing Natalia Di Pietrantonio as the museum's first-ever Assistant Curator of South Asian Art. In this new role, she'll foster the next direction of the South Asian collection at SAM and collaborate with curatorial colleagues, especially Xiaojin Wu, Curator of Japanese and Korean Art, and FOONG Ping, Foster Foundation Curator of Chinese Art. Rachel Eggers, Associate Director of Public Relations, interviewed her to learn when she fell in love with South Asian art, her first exhibition for the museum, and the natural beauty of Seattle.
Tell us about your background and how you came to specialize in South Asian art.
I've loved art since I was very young and decided to study art history at UC Davis. During a required Asian art survey course, I found myself falling in love with South Asian art. It was completely unexpected! I had not been exposed to South Asian art before then, but starting with that one class it became my career.
I further developed this interest in the classroom of Heghnar Watenpaugh, a notable Islamicist who brought a gender studies approach to the study of art history. Based on a research paper that I wrote during one of Professor Watenpaugh's courses, I decided to continue my studies and pursue graduate work at Columbia University. After completing a masters at Columbia, I completed a PhD at Cornell University. Both Columbia and Cornell have wonderful South Asian centers with excellent language programs, which were pivotal resources that enabled my research. After I completed my studies, I held two postdoctoral positions: one as the Consortium for Faculty Diversity Visiting Professor in South Asian Art History at Scripps College, and the other as a postdoctoral fellow at the Bard Graduate Center's Islamic Art and Material Culture. Being hired in both South Asian and Islamic art history fields highlights my interdisciplinary training and diverse professional experience.
My personal and familial background is very different from my chosen career. Both of my parents were immigrants to this country: my father from Italy and my mother from Mexico. My mom in particular was very unsure of my chosen path in the arts but she remained supportive. As a museum curator, however, she recalls her own experiences in museums and sees a lot of value in my work bridging scholarship with community engagement and education through the arts.
Your inaugural exhibition for SAM at the Asian Art Museum, Skin as Allegory (working title), is tentatively scheduled for late 2021. How did you choose the focus for the show?
Due to Covid-19, we've had to be nimble. Initially, my first show would have concentrated solely on our historical permanent collection. However, as I became more aware of the important holdings within the private collections of the Seattle community, I expanded the theme of the exhibition to weave in these special works. Skin as Allegory will be the first special exhibition at the Asian Art Museum that blends contemporary and historical objects from South Asia. It will explore visual practices that contain representations and refigurations of the human body, featuring objects from the 3rd millennium BC to present day in a range of diverse material such as terracotta, bronze, metal, painting, and textiles.
You'll see the poignant works of Chila Kumari Burman (b. 1957) and F.N. Souza (1924-2002) who were active members of British Black Arts Movement after they immigrated to London. In their work, they connect the representation of the body to the broader development of feminist, gender, and racial justice as they struggled against anti-Black racism as South Asians in England. Through their art, they fought for social and racial justice on behalf of communities who were part of the British crown's former colonies, including those from Africa and Asia. Alongside these exciting loans will be works from our permanent collection, such as photographs by Pushpamala, whose work restages herself and her body to question gender norms in religious and national mythologies within the Indian public sphere.
As you see it, what is the future of this newly formed curatorial department at the Seattle Art Museum?
The future of the South Asian collection is in the hands of all of you! I see my role as an educator, facilitator, and more importantly someone who cares for the collection. I have many ideas of how we can grow the collection while at the same time balancing the need to do justice to our current permanent collection. I have devoted the majority of my career to the study of South Asian objects and have the privilege of working on behalf of this collection everyday. However, I also work on behalf of the public; curators do not act alone. Internally, we work in teams with wonderful colleagues. Externally, we speak and network with many students, collectors, donors, and art lovers.
SAM is the largest museum in the Pacific Northwest, and I have a duty to preserve and honor the current South Asian collection. At the same time, I need to explore how the collection can better reflect the Pacific Northwest community in all of its diversity. For instance, we can become a center for South Asian folk art, showcase more contemporary South Asian female artists, or highlight more artworks in new media to reflect this tech city. It's a yes/and, not an either/or. I look forward to holding conversations with all of you about how you would like me to honor and grow the South Asian collection.
This exciting new position at SAM came at a very challenging moment in the world. How has it been for you, joining the museum in the midst of a global pandemic?
The SAM staff has been very welcoming. But it has been somewhat difficult to connect with the rest of the Seattle community. The general public is integral to curatorial practice. As a nonprofit, SAM holds its art collection in a public trust. For my work to be meaningful, it has to reflect public needs and desires. For the safety and health of everyone during the pandemic, we must all physically distance ourselves based on the information and advice coming from public health experts. Right now, a large part of my job as a curator and cultural facilitator cannot be undertaken in the usual manner of one-to-one meetings or large group gatherings.
So I, along with the rest of the SAM team, have moved to digital platforms to continually serve the public and bring art into your homes. I have also embraced more of the research aspect of my job, such as writing and researching on SAM's permanent collection, since it can be undertaken in a more isolated fashion. In this regard, I recently published a research article in one of the most influential journals in my field, Modern Asian Studies. I look forward to the day when we can all safely be in front of the art again and develop more lively connections.
Tell us what you've been enjoying about Seattle so far. Any favorite places or experiences?
I have been enjoying the natural beauty of Seattle, waking up everyday to the sight of snowcapped mountains and the Puget Sound. As a former Californian, I forgot how much I missed seeing the mountains everyday! To live with such beauty is truly a gift. To soak up the sunshine as much as possible, I've been taking long walks to the Arboretum. My favorite place in Seattle so far is Golden Gardens Park. Any place where I can see and hear the ocean will forever be my favorite place to be.
---
This newly-created position would not be possible without the vision and generosity of the following individuals
Mimi Gardner Gates 
Anu and Naveen Jain
Rajesh Jha and Sudha Mishra
Shirish and Mona Nadkarni
Sanjay Parthasarathy and Malini Balakrishnan
Suri and Mala Raman
Darshana Shanbhag and Dilip Wagle
Gursharan and Elvira Sidhu
Rubie and Pradeep Singh
Narender and Rekha Sood
Vijay and Sita Vashee
Skin as Allegory Supporting Sponsor
Blakemore Foundation
Images: As One III, 2017, Brendan Fernandes, 1979, digital print, 34 x 48 in., Gift of Christopher and Alida Latham, 2019.27.1 © Artist or Artist's Estate. Motherland—The Festive Tableau, from the Mother India project, 2009 (print date 2012), Pushpamala N. Archival Inkjet print, 45 x 30 in., Bill and Melinda Gates Foundation Art Acquisition Fund, 2015.25.1 © Pushpamala N.