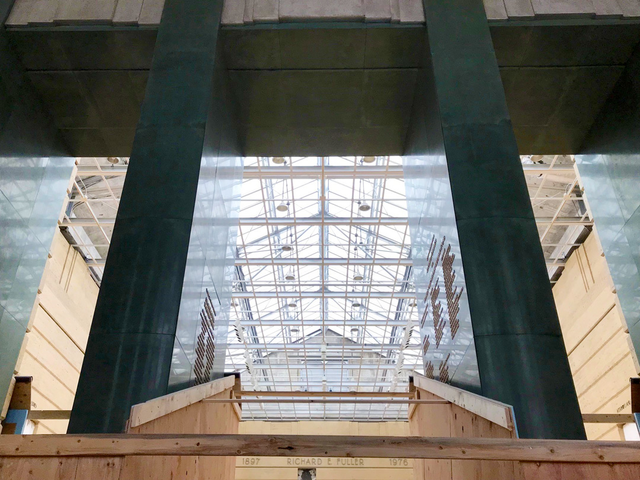 We are thrilled to see significant progress on our construction at the Seattle Asian Art Museum. Our construction partners BNBuilders have completed the interior demolition in preparation for rebuilding reinforced walls. Many structural upgrades are also underway, in addition to preparing for mechanical, electrical, and plumbing improvements. The foundations for the East Addition have been completed and preparations for installing the North Addition foundations have begun.
For detailed information and continued project updates, visit the BNBuilders project website.
In the image above, the translucent panel ceiling of the Fuller Garden Court has been removed to access the concrete walls above that require seismic retrofitting. With the ceiling taken down, the beautiful laminated glass skylights (original to the 1930's design but replaced in the 1990s) have been temporarily revealed.
In addition, the demolition of interior gallery walls has been completed. The hollow clay tile walls at the perimeter of the galleries will remain, but have been opened up for seismic upgrades. Structural improvements are continuing inside the existing spaces. As is common with historic buildings, asbestos was found and safely removed.
The seats have been removed from the auditorium, along with the sound booth that previously stood in the middle of the back row.
The interior wall of the Alvord Board Room has been removed. Once the expansion is complete, this area will be transformed into our new education space.
Want to know more about what's happening at the Asian Art Museum? See renderings and get more news on the website about the project.
Photos: Courtesy of BNBuilders