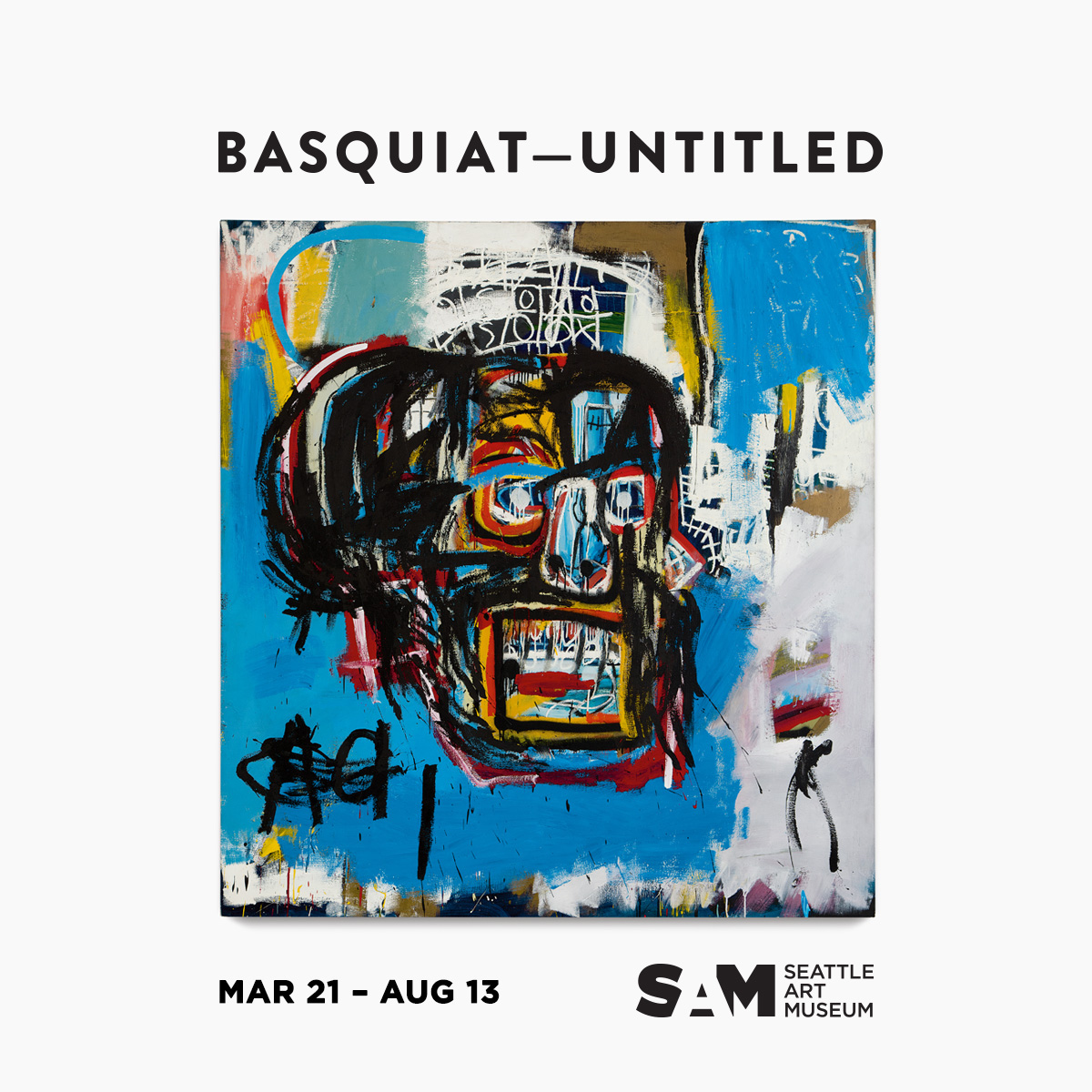 SAM News
Boom for real! SAM announced last week that a famed and rarely seen painting by legendary artist Jean-Michel Basquiat is headed to the museum beginning March 21. The Seattle Times shared the news, and KUOW's The Record hosted a conversation about the painting's rarity and impressive auction price with KUOW's Marcie Sillman and City Arts' Margo Vansynghel.
Diana Cherry of ParentMap reviewed Figuring History with an eye towards kids and families, declaring that "the message is undeniable: Black is beautiful — in art, in history and in this country."
"To tell you that these paintings made my heart sing would be an understatement. I found it truly uplifting to see Seattle Art Museum center black people—especially black women—and their stories with art that includes, but isn't limited to, slavery, black suffering and black oppression."
The Bellevue Reporter previewed the upcoming installation by artist Molly Vaughan at SAM, sharing quotes from the artist.
"We've become de-sensitized to violence, and violence against the trans community in particular," Vaughan said. "Project 42 is an opportunity to share space with that life that was lost, engage with each other, and elevate the discussion. I feel really humbled to be a part of it."
Local News
For Crosscut, Double Exposure artist Tracy Rector offers her reflections on the allegations against Sherman Alexie and recommends an impressive list of female Native authors for your reading list.
Seattle Times columnist Nicole Brodeur profiles photographer Eddie Rehfeldt, whose new photography show at The Piranha Shop in Sodo tackles ideas about isolation and technology.
City Arts' Margo Vansynghel reviews the Ko Kirk Yamahira exhibition, now on view at the Frye.
"In his first solo museum exhibition, Yamahira builds beautifully on this minimalist-modernist legacy with deadpan reverence and delicate sensuality."
Inter/National News
The New York Times on Billy Graham, the "Renaissance man and bon vivant" who was largely unknown, even though he was the first Black artist for Marvel to draw Black Panther and Luke Cage.
Artnet on the "showstopper" booth of new work by British-Liberian artist Lina Iris Viktor at New York's Armory Show from Seattle's own Mariane Ibrahim Gallery.
Jonathan Jones of The Guardian with a powerful write-up of Sondra Perry's latest gallery show, Typhoon, now on view in London. Her show at SAM is now on view.
"Perry juxtaposes the shallowness of our media-saturated lives with the power of true art and properly held memory. If we carried the bloodstained Atlantic that Turner painted in our hearts, maybe we could address the crimes and wrongs of the present. Yet forgetfulness is winning. There is a typhoon coming on."
And Finally
"Place your 'Left Ring Finger' in the undulating bug next to your keyboard." David Lynch teaches typing.
– Rache Eggers, SAM Manager of Public Relations
Image: "Untitled," 1982, Jean-Michel Basquiat, American, 1960–1988, acrylic, spray paint, and oilstick on canvas, 72 1/8 x 68 1/8 in., Yusaku Maezawa Collection, © 2018 The Estate of Jean-Michel Basquiat / ADAGP, Paris / ARS.