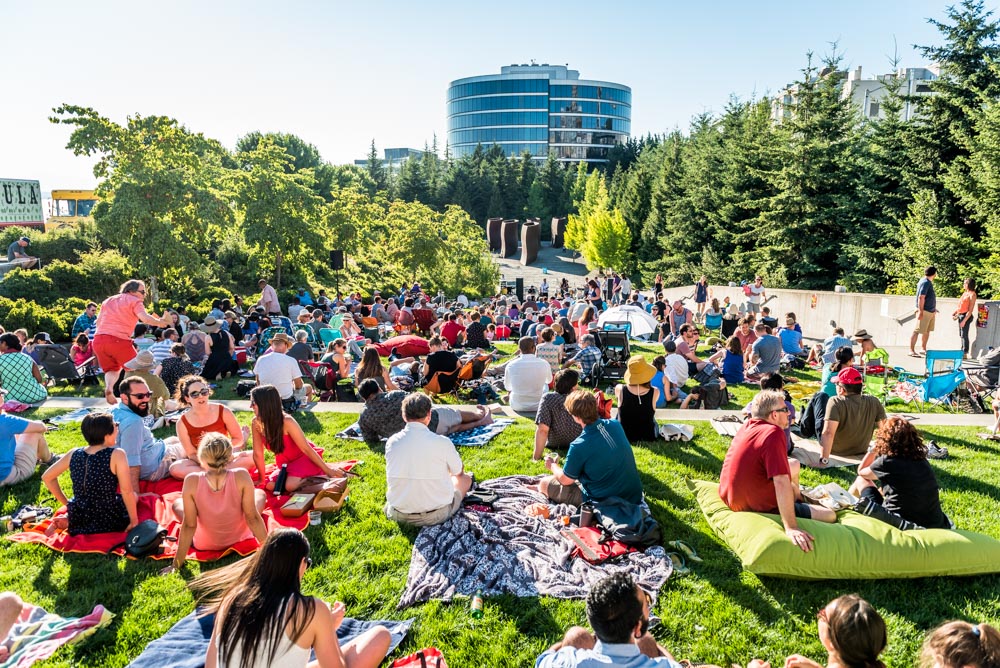 SAM News
Our family-friendly Summer at SAM programming at the Olympic Sculpture Park is recommended by ParentMap's JiaYing Grygiel in this segment on KING's New Day Northwest.
"But the skull must move on!" Crosscut's Brangien Davis with a shout-out (ha) for the Basquiat before it leaves SAM. Today's the last day to see the extraordinary painting.
Some news on the Seattle Asian Art Museum renovation and expansion project: The building "topping out" is complete. Capitol Hill Seattle shares the news.
Local News
Eileen Kinsella of Artnet with a report on the fourth edition of the Seattle Art Fair; interest and sales led one gallerist to note that "patience will pay off—and it has already."
Stefan Milne of Seattle Met reviews both shows now on view at the Henry, finding explorations of the female gaze in the work of Mickalene Thomas and Martha Friedman.
Gemma Wilson of City Arts speaks with ChrisTiana ObeySumner—Seattle Opera's social impact consultant—about Porgy and Bess, the six sides to every story, and how not to be scurred.
"I wish for the days when you go to an opera or musical or a symphony or fine arts gallery and go looking for the message. It's not about watching the movement or seeing the color or hearing the music. But feeling the music, having a connection with the movement."
Inter/National News
For Vanity Fair, curator Kimberly Drew visited Tina Knowles Lawson's Hollywood home, which houses her incredible art collection including works by Elizabeth Catlett, Genevieve Gaignard, and Romare Bearden.
Artnet's Taylor Defoe on the Australian TV show called Everyone's a Critic; it "invites everyday people to act as art critics," generating responses ranging from dismissive to funny to profound.
Robin Pogrebin of the New York Times with a feature on how museums are "addressing diversity with new urgency," highlighting institutions that are cultivating curators of color.
"'When you have people in an institution who have a range of perspectives, you have a much richer program,' said Eugenie Tsai, citing 'openness to consider exhibition proposals, to consider programming, to consider hires, to consider things another group might want to dismiss as not what's important.'"
And Finally
Four excellent words: Will Smith, art critic.
– Rachel Eggers, SAM Manager of Public Relations
Photo: Robert Wade