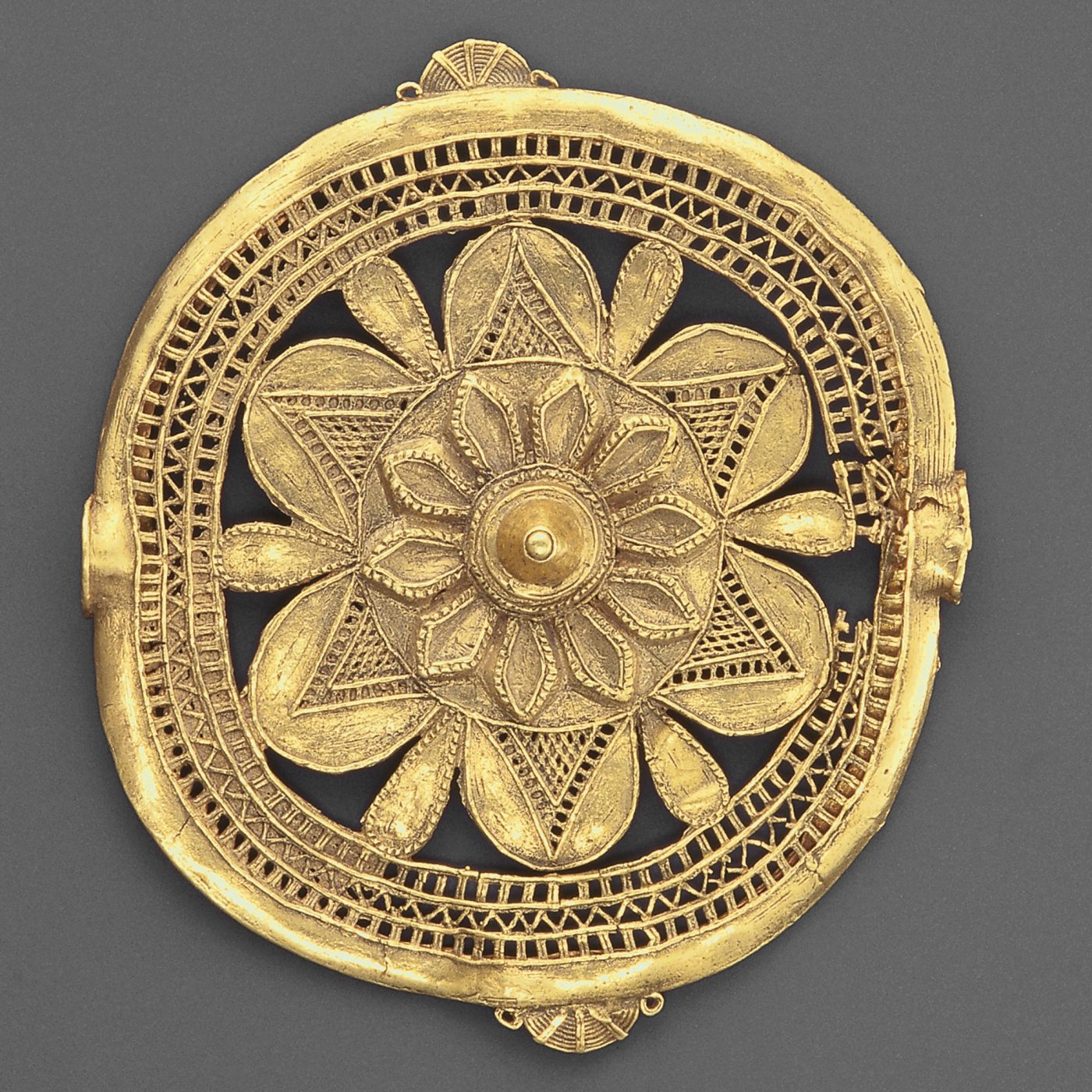 The intricate radiating pattern of this golden pendant refers not only to the sun, but evokes its warmth and life-giving properties as well. Such discs are known as akrafokonmu, and are prized emblems of Asante leadership, worn by rulers, queen mothers, and soul washers—or akrafo—who conduct ceremonies that purify leaders' souls.
A precious metal, gold is considered an earthly counterpart to the sun, the physical manifestation of life force (kra). In addition to gold's spiritual properties, for centuries it has been an expression of royal status, wealth, and trading power for the Asante people.
Such protective emblems are important for members of the royal family or court. Individuals selected as akrafo are young women and men who are born on the same day of the week as the king, and assist in rites of purification and renewal. Gold discs such as this one are suspended over the akrafos' chests by necklace cords made of various fibers.
Currently on view in Lessons from the Institute of Empathy, this akrafokonmu finds itself in the company of other Asante gold adornment—rings, bracelets, necklaces, and beads. Grouped together, they highlight the beautiful metalwork and material culture of the Asante, as well as the vital role speech and proverbs play therein.
Though the Inauguration is firmly an American ceremony—replete with its own lexicon and symbols, important sartorial statements and homages—I couldn't help but think of this soul washer's disc—itself an emblem of historic Asante ceremonies and traditions—and the immense power that such tokens hold for cultures around the world.
– Elisabeth Smith, SAM Collections & Provenance Associate
Image: Soul Washer's disc (akrafokonmu), 20th century, Ghanaian, gold wash and silver core, diameter: 3 5/16 in., Gift of Katherine White and the Boeing Company, 81.17.1685