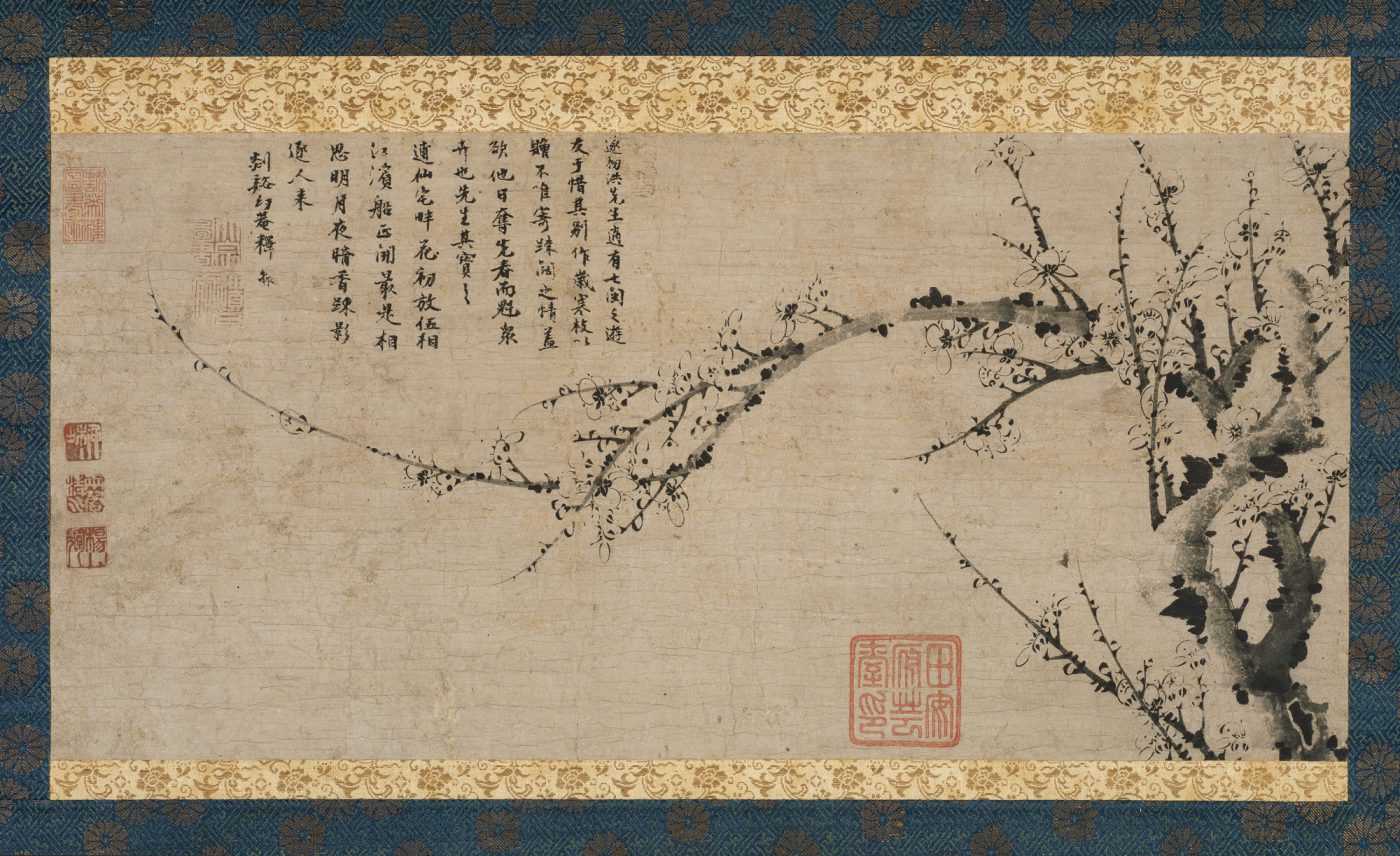 This art activity is part of SAM's Look & Make Activities designed as grade-specific lesson plans for remote learning. Find more information and artworks to inspire creative learning through these activities available for download on our website in English, Spanish, and Chinese.
A Branch of the Cold Season includes both calligraphy and an image of a plum tree painted in ink. For hundreds of years, artists have practiced calligraphy, a type of decorative handwriting made with a brush or pen. Calligraphy can be a work of art on its own or it can go along with painted images. Even if someone cannot read what is written, they can enjoy calligraphy by thinking about its movement or style. The lines of calligraphy above the branches in this artwork were written by a monk, a member of a religious community. The monk's name was Zhen. The painted plum tree was later added by the artist Yang Hui. Yang Hui gave this artwork as a gift to his friend, who was preparing to travel to a city far away. The Chinese characters, or written symbols, read: "When the plum blossoms begin to bloom. Imagine some of these nights you will be thinking of each other in the bright moonlight." The image of a moon represents friendship and this work of art connected these two friends wherever they went. How do you stay connected to your family and friends who are far away? 
LOOKING QUESTIONS
What is going on in this painting? What do you see that makes you say that?
In this artwork, one artist wrote the words and one artist painted the image. Why do you think they were put together? How would it be different if it was just words or just the image?
This is a painting of a plum blossom, which often blooms in February and March. In Chinese art, plum blossoms can be related to winter or the coming of spring. What season is it right now where you are? What plants, flowers, or other parts of nature do you see often? Which plants have meaning to you and your family?
MOVEMENT ACTIVITY
Go for a walk outside! As you are walking, look closely and notice the nature around you. What trees, flowers, plants, and animals do you see? As you observe them, notice how they move. Do they sway in the wind? Do they jump around? Move closer to what you see (at a safe and respectful distance, if it is an animal). What new details do you notice when you are close up to the plants and animals? Can you move like the branches of a tree?
ART ACTIVITY: Make Nature-Inspired Artwork & Poetry with A Friend!
What You'll Need
Choose one of the plants or animals that you saw on your walk, or often see this season. Ask your family member or friend to do the same. 
On a blank piece of paper, make a drawing of your plant or animal. You can look out your window or find a picture to draw from. You could also close your eyes, remember what it looks like, and draw from your imagination. Think about how it moves. Can you draw your plant or animal in motion?
When you are finished, share your drawing with your partner. Then, switch drawings with them. 
Look at your partner's drawing and, on a separate piece of paper, create an acrostic poem with the name of the season you are in. To write an acrostic poem, you write one word up and down, then start with those letters for the beginning of the poem's lines. Here's an example using the "spring" as the first word: 
Sun is peeking out
Park bench
Rabbits and singing birds
I see it all
Now I move to the
Grass
When you are happy with your poem, draw it into your partner's drawing. You can put the lines wherever you want, they don't all need to be together. Notice the style of your partner's drawing. Is it cartoonish? Is it long and looping? Is it sharp and detailed? Try to write letters to go along with your partner's drawing, as if the words are little drawings themselves. 
Show your artwork and read your poems out loud to each other when you are done. 
KEEP LEARNING WITH A STORY
Learn about the seasons through haikus paired with clear scientific explanations in an animated read aloud of Our Seasons by Grace Lin using a free trial or join three friends as they go hiking in part one and part two of a video read aloud of The Hike by Allison Farrell.
Images: A Branch of the Cold Season, ca. 1440, Ming Dynasty (1368-1644), Yang Hui with Monk Zhen of Huan'an Temple, ink on paper, 30 5/16 x 56 1/16 in. (77 x 142.4cm), Eugene Fuller Memorial Collection, 51.132. Photo: Paul Macapia