Object of the Week: Flower Ball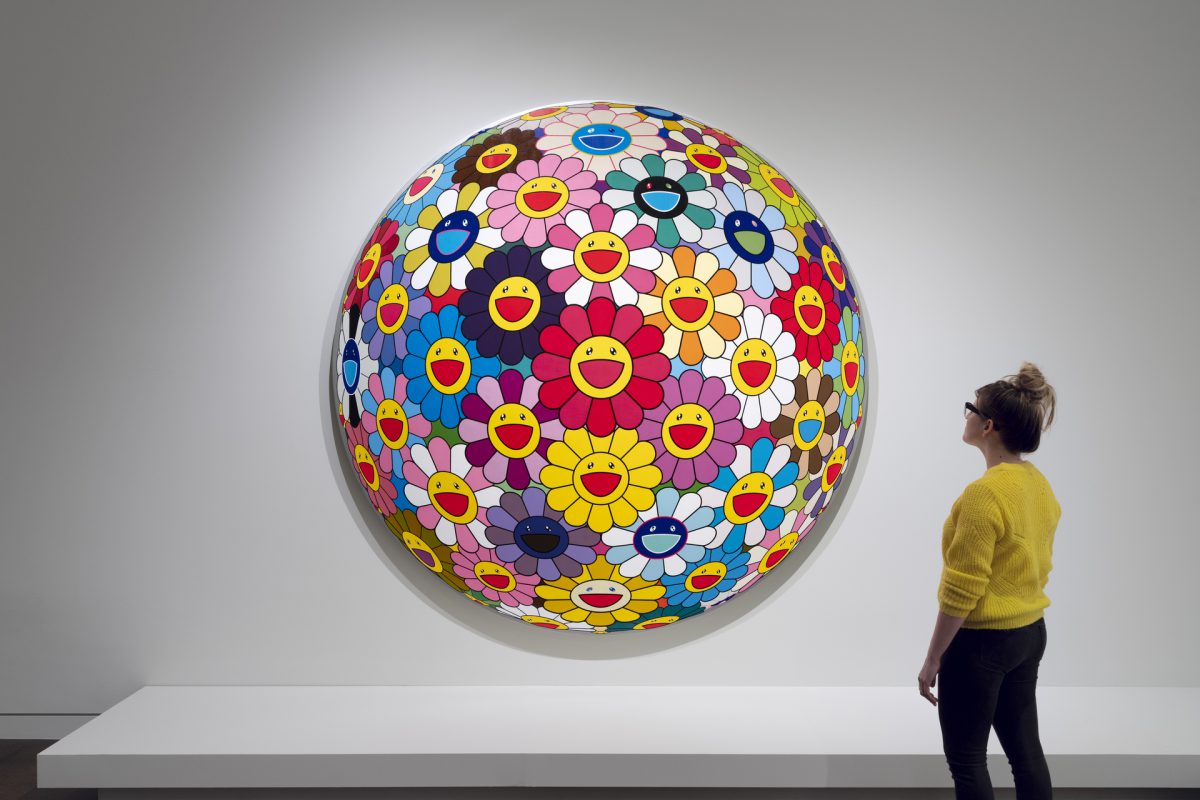 During his time in New York in 1994, Japanese artist Takashi Murakami developed a style of art he describes as "East-meets-West" or "high-meets-low."[1] Featuring bright colors and a vivid style that is ingenious in its simplicity, Murakami quickly became a renowned contemporary artist, collaborating with prominent cultural figures such as Kanye West and Pharell Williams.
Flower Ball speaks to the beauty of individuality and diversity. Each flower is unique in its colorations and size, situated harmoniously to create the illusion of a three-dimensional ball. The smiling, emoji-like faces at the center of each flower embody a sense of joy and innocence, and have become one of Murakami's most featured motifs.
Murakami has become increasingly concerned with using his joyful artwork to balance out what he sees as sorrow or tragedy associated with minority groups in America.[2] This topic is a personal one for Murakami, based on his own experiences as an outsider in New York. The prominence of the Black Lives Matter (BLM) movement in response to anti-Black violence has also had an impact on Murakami's artistic motivations. His simple pop-art images, bold and effervescent, attempt to offer an equilibrium to sadness, highlighting the joy and beauty of diversity. "If my art can effect any change here and now," Murakami explains, "I want to contribute it not only to give back but to give power to the Black community plagued by the racial injustice."[3]
This discussion regarding the necessity of celebration and inclusion in the face of tragedy and exclusion is more essential than ever in the current climate of not only the BLM movement, but the recent violence towards Asian Americans as well. The divisiveness and inequities revealed by the COVID-19 pandemic and continued racial discrimination have created unsafe spaces for many groups, with countless instances of vitriol and violence.
Works like Flower Ball remind us that differences between individuals are beautiful and vital––a concept embodied in the diversity of each iconic flower situated together in harmony. As a global art museum, SAM promotes the voices of Black, Indigenous, Asian American and Pacific Islanders (AAPI), Latinx, immigrant communities, minority groups, and all other diverse actors who contribute to the beauty of art, media, culture, and society here in America and across the globe.
– Caitlin Sherman, SAM Blakemore Intern for Japanese and Korean Art
---
[1] https://hbr.org/2021/03/lifes-work-an-interview-with-takashi-murakami
[2] https://hbr.org/2021/03/lifes-work-an-interview-with-takashi-murakami
[3] https://www.instagram.com/p/CBPI4YRl5gB/?utm_source=ig_embed&ig_rid=f0315211-5e0c-4448-87b3-76a3475193a6
Image: Flower Ball, 2002, Takashi Murakami, acrylic on canvas, 98 1/2 in., Gift of Richard and Elizabeth Hedreen, 2016.24.1 2002 © Takashi Murakami/Kaikai Kiki Co., Ltd. All Rights Reserved. Photo: Jueqian Fang