Object of the Week: Sarong (kain kapala)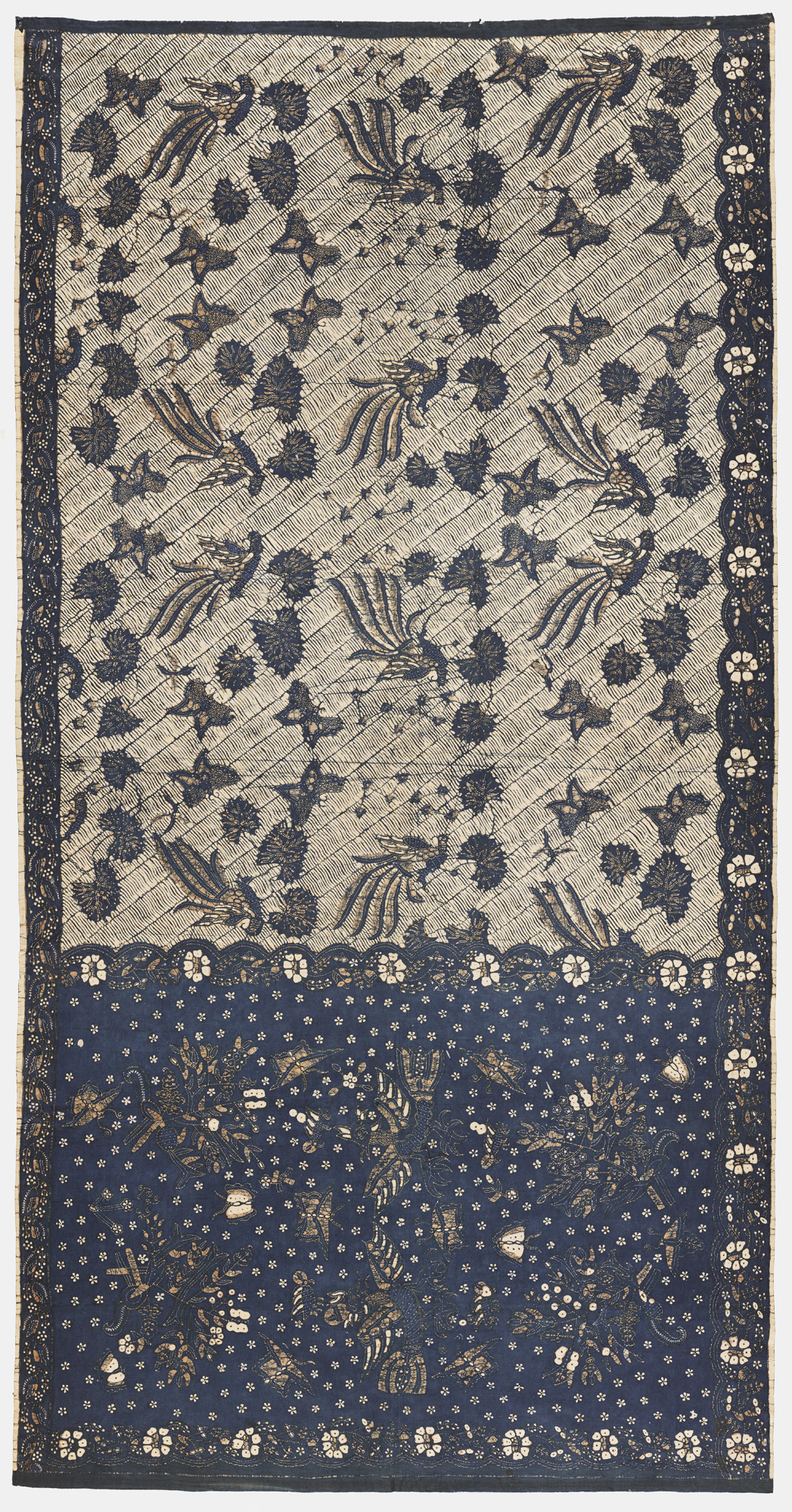 When I first saw this Javanese sarong on display, its indigo dye was its commonality with other works on view in the 2016 Seattle Asian Art Museum exhibition, Mood Indigo: Textiles from Around the World. The label for this particular textile was striking: "step into a sarong and you enter via a network of symbols that support your place in a cosmic sacred landscape."
Every label for Mood Indigo, written by Pam McClusky, Curator of African and Oceanic Art,was beautifully informative and poetic, but this sarong was more than a costume or uniform: It promised to be fully transportive—beyond Earth—while recalling living things on our planet, with its plants and depiction of night and day. It is replete with delicate flowers on the trim, intricately veined flora against a dotted night sky, and a lighter sky contoured with broad diagonal lines, with butterflies and birds with trailing tails.
Batik—the Indonesian textile-based process in which designs are applied with wax to cloth that is then dyed—is a celebrated Javanese cultural tradition practiced on a national scale. In its early history, however, batik designs were tightly regulated as a court art, with certain designs reserved for reigning Javanese families to wear, signifying and legitimizing their power within a kingdom. To describe batik as only an aesthetic demonstration of the wearer's authority, however, falls short of its greater ambitions as a means of contributing to the balance of the cosmos.
Very generally speaking, in the context of the universe within ancient Javanese culture, bringing society to align with the harmony and balance of the cosmos also meant centering the aristocratic family, from which order and prosperity would follow. The practice of wearing certain batik designs differed between courts and regions, but certain symbols would be consistent, such as winged, long-tailed birds, indicative of royalty in reference to the prominent Hindu deity Vishnu, or his son, Skandi-Karkitteya. Patterns of plant life with animals, which were also part of the categories reserved for royalty, referred to fertility and the growth promised by Javanese sovereignty. The design might be dictated depending on the type of clothing (sarong were usually worn around the waist, and in full ensembles, with an accessory such as a type of knife known as a kris), and would complete a ritual ensemble aimed to place the wearer in greater cosmic alignment.
These traditions far preceded this 19th-century sarong. The early symbolism of batik design, and its regulation, was highly influenced by Hinduism and Buddhism, and was worn for a wide variety of ceremonies and more mundane purposes as well. By the time of the production of this particular sarong, Java would have already been colonized by Dutch and British rule, interrupting certain categories of batik design, though the original meaning of specific symbols would persist.
Given the centuries-long endurance of batik to its present-day status as emblematic of Indonesian culture (in Java in particular), its practice and lexicon of patterns are protected, and its practice widely encouraged. In 2009, batik was recognized by UNESCO as a Masterpiece of Oral and Intangible Heritage of Humanity from Indonesia.
Though it was not part of the original intention for this garment to be worn by just anyone, the transcendental state of being that was extended to the wearer asserts their place on a micro- and macro-cosmic scale: as participating in Javanese culture and sustaining Javanese traditions, as well as as their particular station in the broader context of the universe, as a point from which harmony and growth for a whole kingdom can emanate, wherever they go.
– Hannah Hirano, SAM Coordinator for Museum Services and Conservation
1 Robert Wessing, "Wearing the Cosmos: Symbolism in Batik Design," Crossroads: An Interdisciplinary Journal of Southeast Asian Studies 2, no. 3 (1986): pp. 40-82, https://www.jstor.org/stable/40860214.
Image: Sarong (kain kapala), 19th century, Javanese, Cotton, factory plain weave; wax resist (batik); natural/synthetic indigo dye
87 x 42 1/2 in. Eugene Fuller Memorial Collection, 37.35.