In Honor of 25 Years of Dia de los Muertos at SAM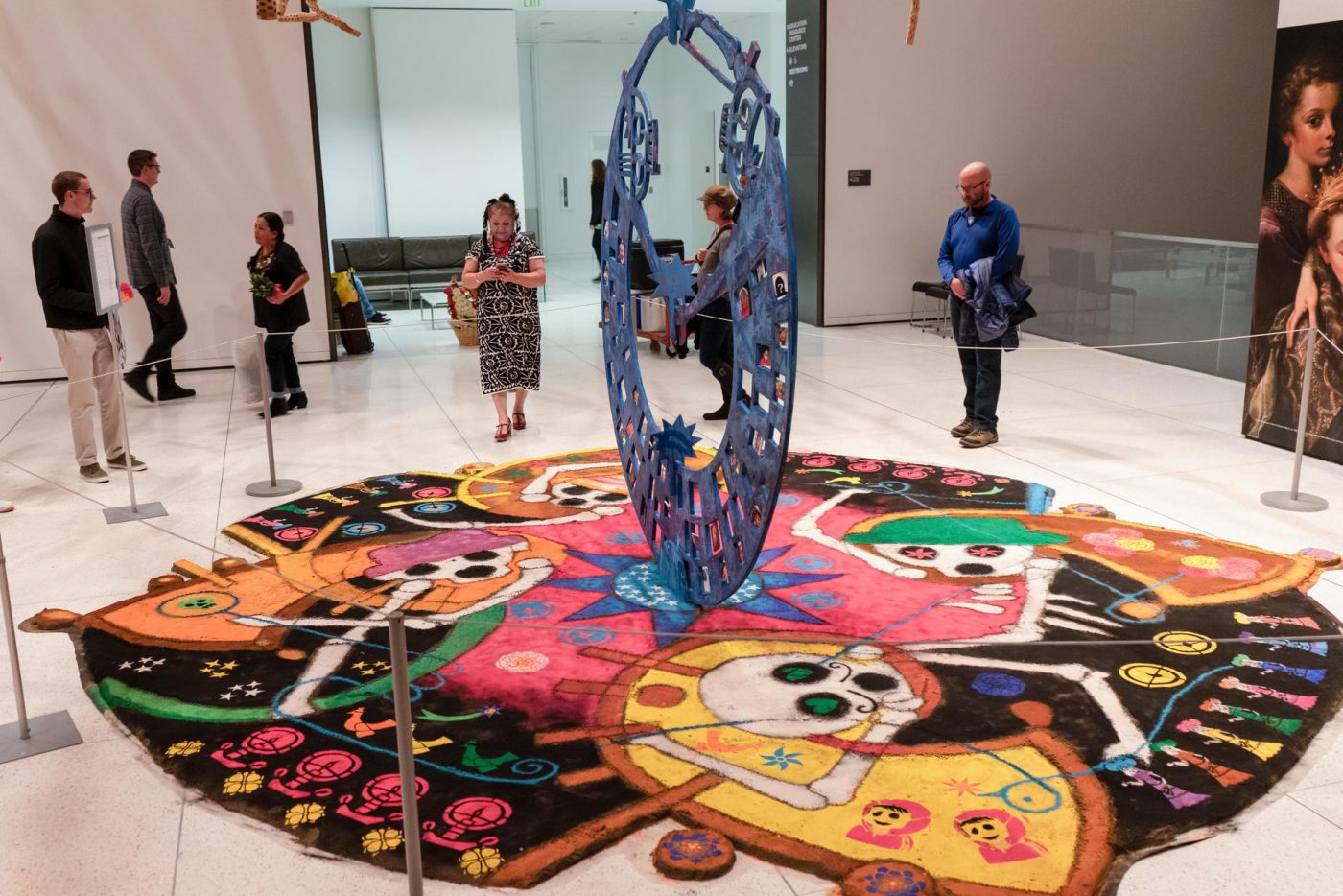 In 1995 Carlos Contreras, an artist and staff member at the Seattle Art Museum invited Fulgencio Lazo to create a tapete to accompany his traditional altar for Dia de los Muertos or Day of the Dead. What began 25 years ago as an effort to share a Oaxacan-style installation made from sand and pigments (a tapete) in Seattle turned out to be a much-revered tradition at the Seattle Art Museum, spreading throughout the city and beyond.
Unfortunately due to COVID-19, we are not able to have a tapete nor gather in person at SAM for the annual Dia de los Muertos celebration to pay homage to those whom we have lost, in a way that feels so very personal to all of us in 2020. There is no replacing this in-person experience, but we want to mark this 25th anniversary to reflect and honor our partnership through a series of photos tracing back to 1995. We also want to recognize, with deep gratitude, the many, many hands that have prepared the tapete each year with so much care and love. To work with artist Fulgencio Lazo and Erin Fanning has been a lesson in what true and authentic community building looks like, and we are overwhelmed by their generosity of heart and talent.
Lazo and Fanning express that remembering those who have passed away ". . . gives us strength in 2020, a year of monumental loss for so many around the world. The COVID-19 pandemic has killed hundreds of thousands within the United States alone, disproportionately affecting Black, Brown, and Indigenous communities. This pandemic, coupled with the continuing humanitarian crisis at our southern border and the ongoing police violence directed at our African American siblings, has resulted in so many unnecessary deaths. The toll of all this loss is overwhelming and can cause numbness. In the face of this, we look to Day of the Dead for solace, to remember those who have passed away. It is our hope that we can remember our dead, celebrate their lives and gather our collective strength."
This beautiful installation launched a partnership with Lazo and his wife, Erin Fanning, that has continued for the past 24 years, inviting thousands of visitors to experience these remarkable pieces and what they represent.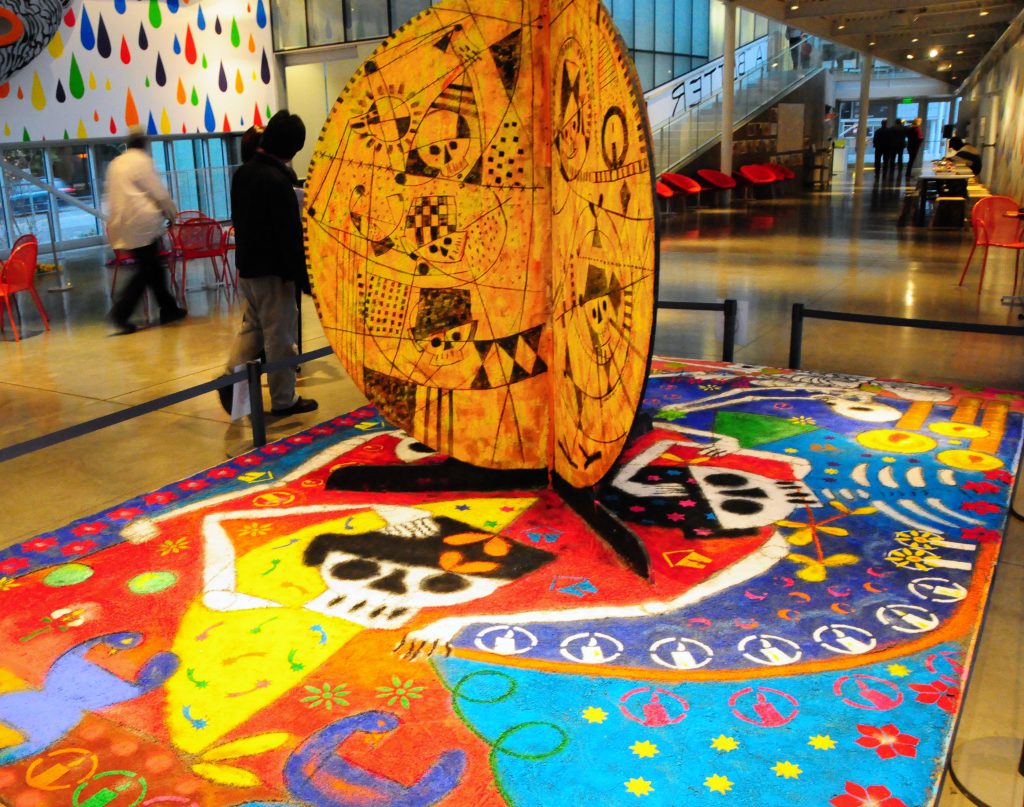 Dia de los Muertos is a time to remember and honor those who have passed away. It is believed that the spirits of the dead return to visit with their living family. Through Day of the Dead, we express a myriad of conflicting emotions: fear, love, mourning, joy, beauty, and anger, among others. These powerful personal emotions are brought to a very public space in the Seattle Art Museum's annual installations. And with great skill, experience, and an extraordinary sense of artistic vision, Lazo seemingly effortlessly, creates art that engages.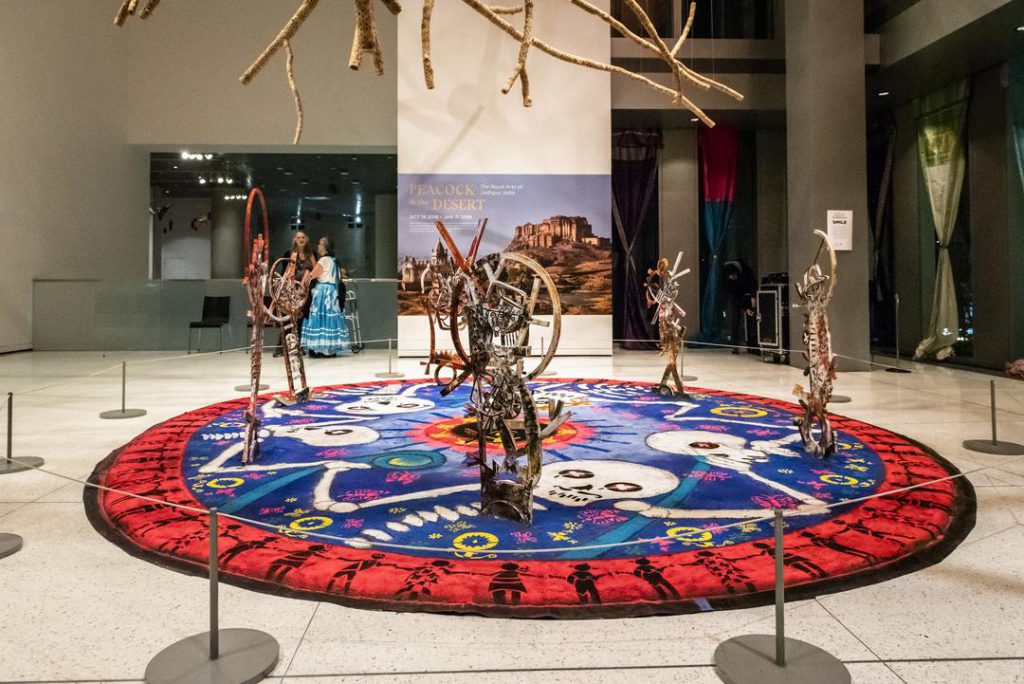 Each October during the last few years, artist Fulgencio Lazo and his team of collaborators have crisscrossed Washington State, making scores of sand paintings—some years using as much as two tons of sand!
Lazo has been a full-time, professional artist for 30 years, working predominantly in acrylic on canvas and printmaking in his studios in Seattle and in his hometown of Oaxaca, Mexico. He often incorporates wooden sculptures within the tapetes.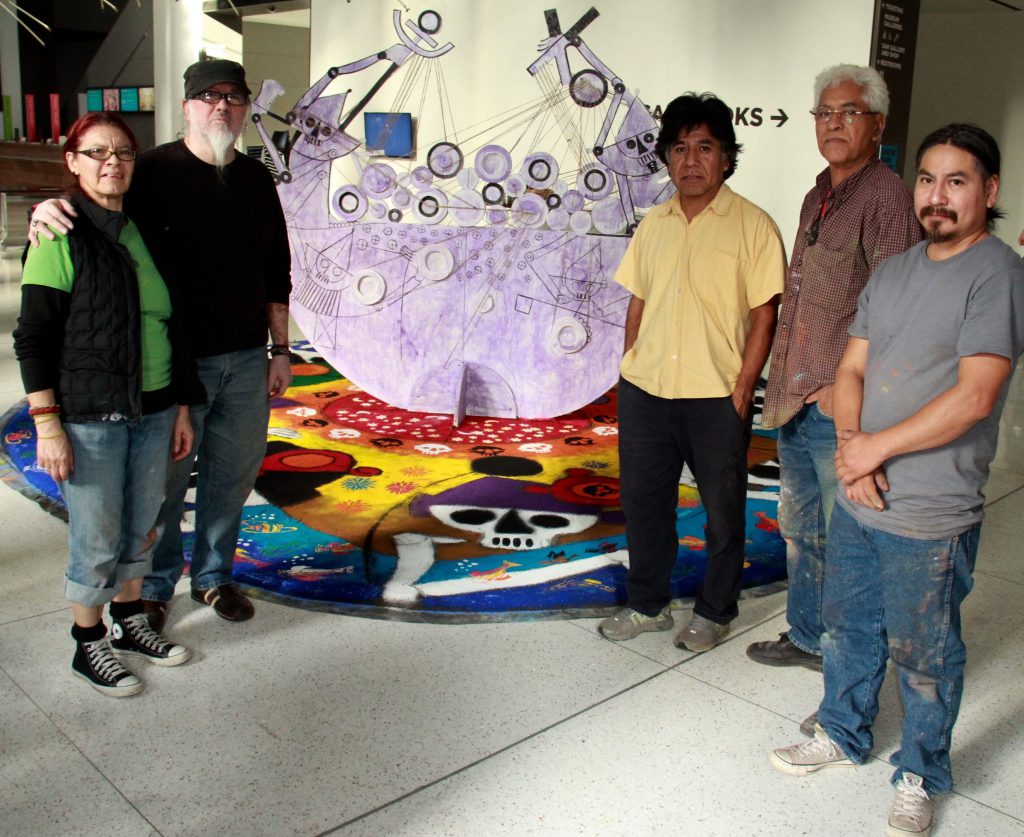 This installation from 2015, depicting a boat full of women textile workers and weavers, was dedicated to the thousands of men, women and children who have died while attempting to immigrate. Throughout the years, Lazo has worked closely with (from right to left) Jesús Mena, José Orantes, Víctor y Mirtha González and Amaranta Ibarra (not pictured above).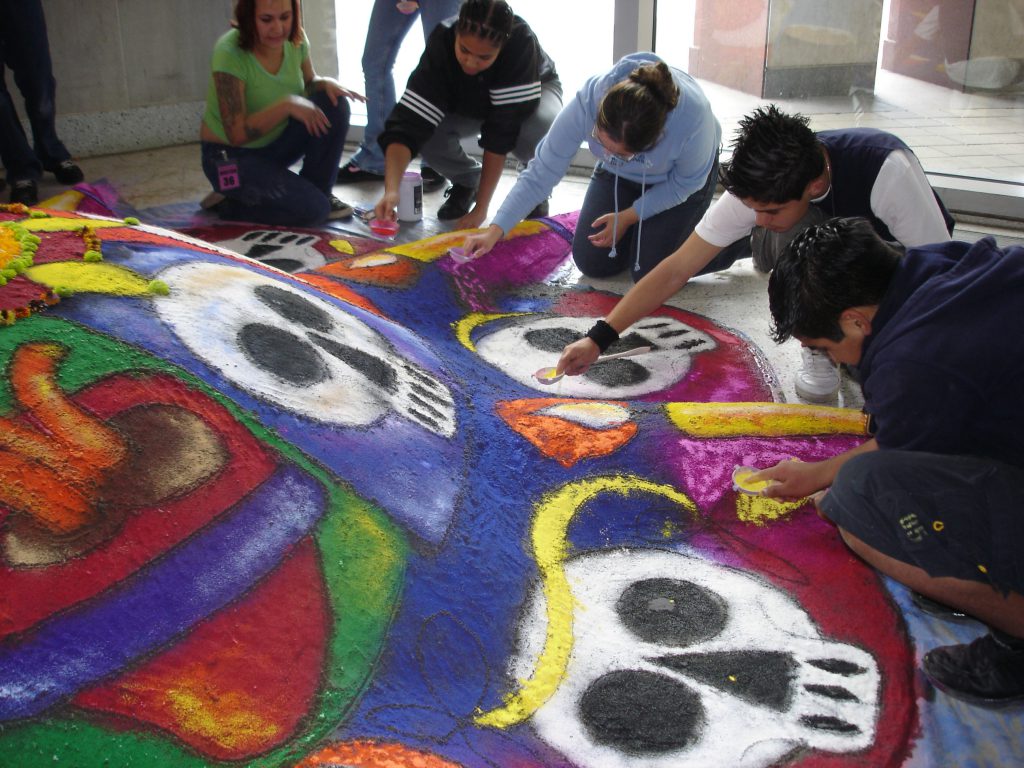 Additionally, hundreds of young people have participated in the making of the tapetes. Community volunteers, as young as three and four years old, have molded the sand and applied pigments. Over the years, thousands have helped to make this celebration their own. The communal spirit of the tapete and the annual Dia de los Muertos celebration is truly palpable.
In his own practice as an artist, Lazo aims to create warm, vibrant, whimsical images that celebrate family and community. His artwork depicts elements characteristic of his Oaxacan and Mexican heritage, like masks and human figures in an exploration of themes of identity. Color and graceful lines evoking free movement are ever-present in his pieces, bringing joy to the viewer.
Lazo explains "I paint musical instruments, unicycles, birds, children's toys, flowers, buttons and other elements of everyday life to create a sense of community and playfulness. Whether at a wedding, at an outdoor market, or on the street corner where neighbors gather, these shared experiences strengthen and define a culture. I take these experiences in and with my brush I try to synthesize them, thus rendering them universal. Using iconographic motifs and symbolic representations, I strive to recreate and celebrate the life cycle of my Zapotec indigenous heritage. In a tangible way I express the resilience of my own identity. With joy, through color and synthesis, I show the possibilities for any who care to embark on this path."
– Priya Frank, SAM Director of Equity, Diversity, and Inclusion & Erin Fanning, Community Collaborator
Photo: Mia McNeal. Photo: Robert Wade. Photos courtesy Erin Fanning.