SAM Gallery Artist Creates a Healing Environment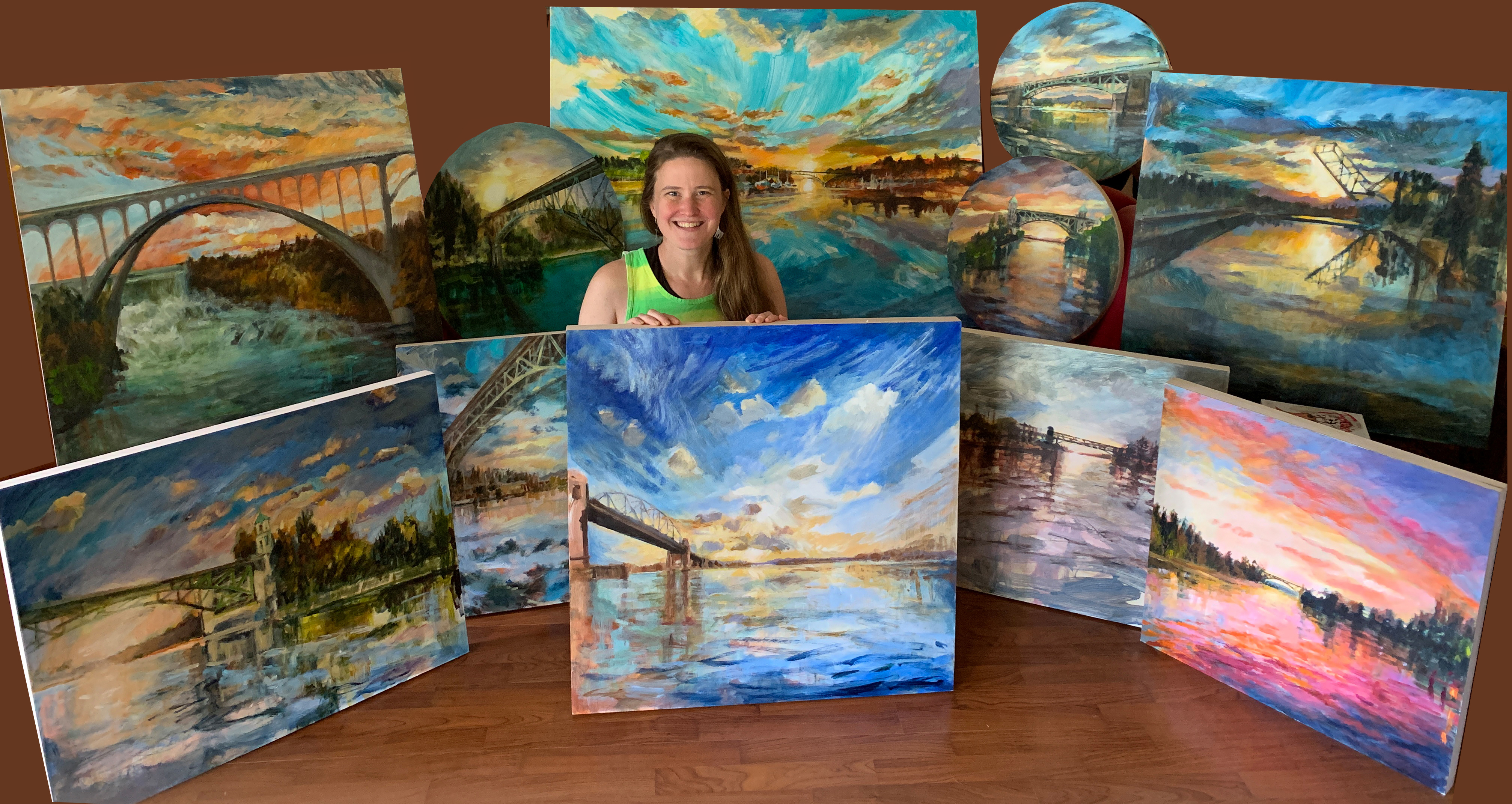 For her recent commission for the Seattle Cancer Care Alliance (SCCA), SAM Gallery artist Niki Keenan created 11 paintings focused on healing environments. SCCA brings together the leading research teams and cancer specialists of Fred Hutch, Seattle Children's, and UW Medicine. The treatment rooms in their newly expanded SCCA outpatient clinic in South Lake Union feature Keenan's work.

Niki Keenan's paintings are inspired by the natural world, specifically sunrises and sunsets in Seattle. She uses dynamic, bold colors to paint water scenes with bridges and reflections from the vantage point of a boat. Keenan writes, "Each of the paintings in this series depicts a Pacific Northwest bridge, most of them are in Washington State, one is in British Columbia, Canada. I use these bridges as a way to frame the sky, as a way to show off the sun's rays dancing around the architecture and as an anchor to a specific place. These brilliant sunsets and sunrises are happening all around us and by showing them happening in places we recognize, it makes the experience a shared one. Also, I believe bridges are symbolic of journeys in that they help us get where we want to go."
In the new treatment rooms at SCCA, Keenan hopes her paintings will help transport viewers and give them something new to focus on, during their treatments. She believes "being transported during times of stress and uncertainty, is such a gift and so vital for healing. Paintings can literally turn a regular wall into a portal and the place you get to go in my paintings is full of hope, happiness, light."
Keenan began showing her work at the SAM Gallery in 2018 and was quickly discovered by local collectors. SAM Gallery supports local artists and their careers by increasing their exposure and finding audiences for their work.
– Pamela Jaynes, SAM Gallery Coordinator
Photo: Dave Keenan. Images: Niki Keenan.