SAM Staff Reads: Kusama's Doing Nothing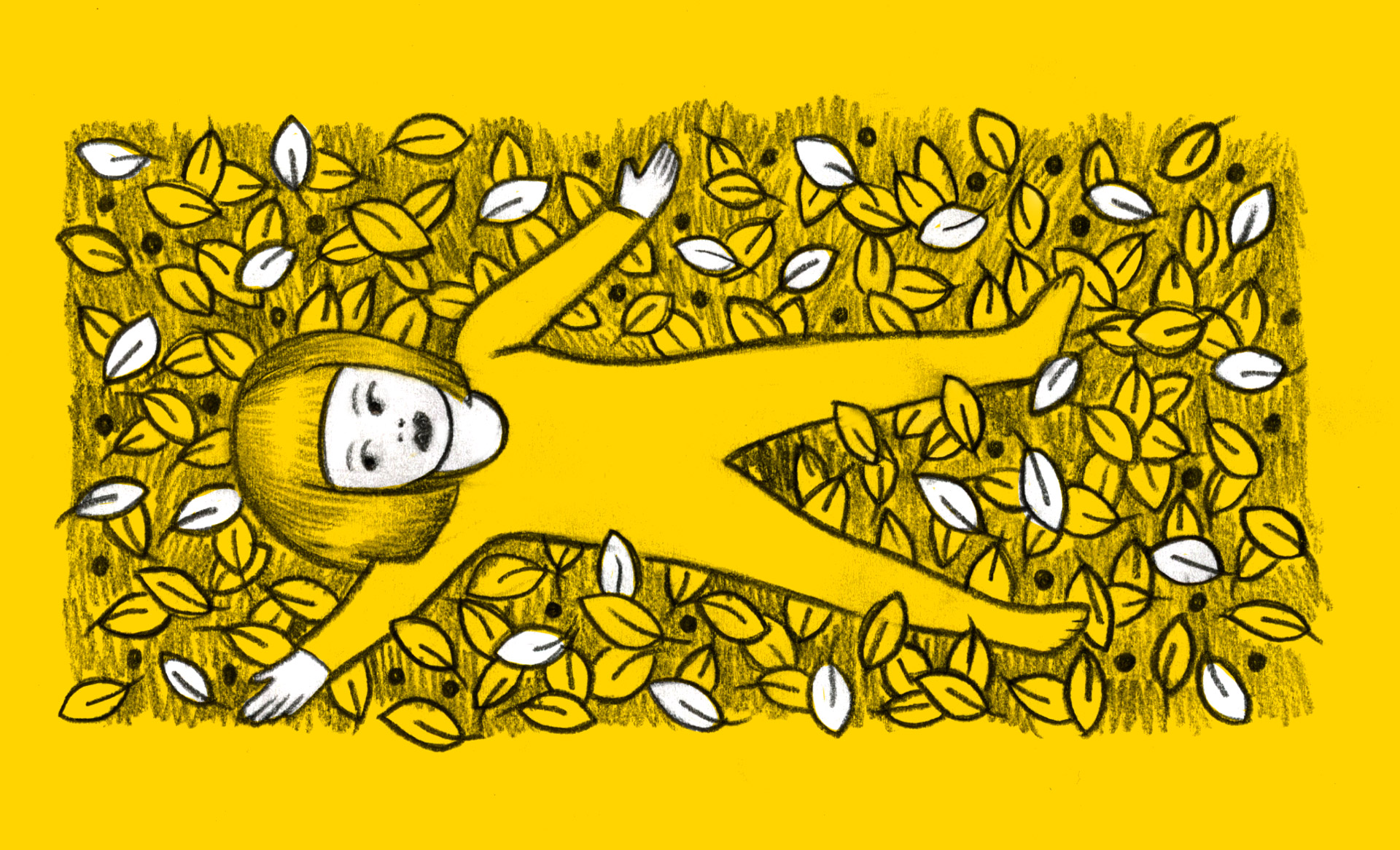 As Yayoi Kusama: Infinity Mirrors continues through September 10, SAM staff is discovering new dimensions to this infinite artist through Kusama's writing. Violet Obsession, published in 1998 by Wandering Mind Books pairs her poetry with images from Kusama's Happenings and performative activations of her artworks. Like the threads through the many media this versatile artist has worked in, the themes in Kusama's poetry continue to extend the driving force behind her creations. They also bring new insights into the personal life, rather than the persona, of Yayoi Kusama. SAM Staff, like the rest of the world, is fascinated by this iconic and impressive woman, and reading her poetry in Violet Obsession has prompted some reflection on the artwork currently installed in our galleries, as well as on our own lives and perspectives.
Hear from Wendy Saffel, a dancer, marketing pro, and killer copy editor, on the demure progressions of time in "Doing Nothing."
DOING NOTHING
the trees dropped all their colored leaves
the earth is hidden 'neath fallen leaves
time has come 'round to the autumn season
I sit among all the fallen leaves
having become an old gray-haired woman
just     stacking up days, doing nothing
all I've done, all I do     is reluctantly
grow old
the wind took all the fallen leaves
carried them off to the ends of the cosmos
empty landscapes wherever you look
here and there     crushed bits of rubbish
I go off that way, ramble back this way
falling apart with no rhyme or reason     trembling
just idly tagging along as the seasons advance
(1983)
– Yayoi Kusama
Yayoi Kusama is a sextuple threat. She's a painter, sculptor, film maker, performance artist, installation artist, and, as SAM staff are exploring about her right now, a writer. Reading Kusama's poems from the collection Violet Obsession is a thought-provoking dive, deep into the artist's despair. Unrequited love. Depression. Germaphobia. Fear of sex. Sleeplessness. More. The images she weaves are visceral. The language is shocking. The impact—indelible.
But this poem, one of the shortest and quietest of the collection, this is the one that has me thinking curious thoughts and scouring the internet to understand the woman behind SAM's Infinity Mirrors exhibition. Here, Kusama's despair is around having grown old, being a gray-haired woman doing nothing, falling apart, and idly tagging along. When I reached the end of the poem and saw that she wrote it in 1983, I thought "whaaaaaaat?" That was 34 years ago! She was a mere 54 at the time!
In the 34 years since, she has been named "World's Most Popular Artist" multiple times by organizations looking at annual figures for the most-visited exhibitions in the world. She was named to Time magazine's list of The 100 Most Influential People, has earned lifetime achievement awards, film and literary awards, and . . . oh I could go on about what I found in my hours of internet searching, but suffice it to say that Yayoi Kusama has had a brilliant career in the decades since she expressed feeling old and worthless. Granted, her career seemed to have had a revival in the 1980s, right about the time she wrote this poem, so of course, how could she have seen this all coming. Now at 88, she is still a prolific artist, having created all the massive, eye-popping paintings and sculptures in our exhibition's first gallery in just the last two years.
I yearn to sit down and talk with her and hear what perspective she has on all of it now. Is she satisfied? Or does she still feel worthless? What drives her still into her ninth decade? I bet some of this is answered in 2011's Infinity Net: The Autobiography of Yayoi Kusama, which is now going to the top of my nightstand reading stack.
Oh, if only I can do as much nothing as her in my remaining years.
– Wendy Saffel, Marketing Manager
Source: Kusama, Yayoi. Violet Obsession. Translated by Hisako Ifshin and Ralph F. McCarthy with Leza Lowitz. Edited by Alexandra Munro. Berkeley, CA: Wandering Mind Books, 1998.
Illustration: Natali Wiseman.