Twenty-Six Roadkills from Twentysix Gasoline Stations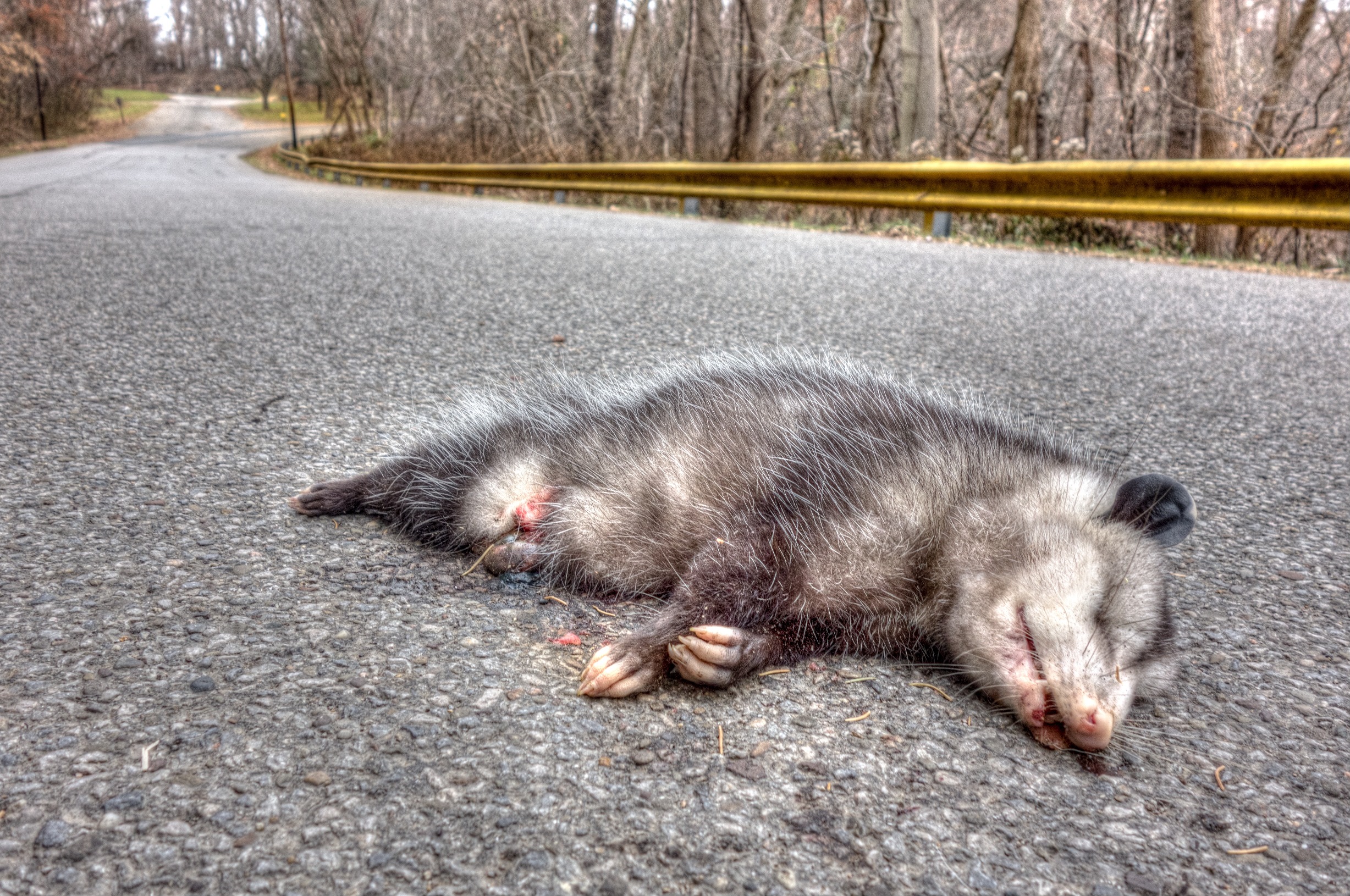 The Dorothy Stimson Bullitt Library at the Seattle Art Museum has a small collection of books by artists. In conjunction with the exhibition Pop Departures, we are currently showcasing one particular artist's book, Twenty-Six Roadkills by Daniel Teoli Jr., and the example that inspired it, Twentysix Gasoline Stations by Pop Departures artist Ed Ruscha.
Twentysix Gasoline Stations
In 1963, artist Ed Ruscha (born 1937) produced his seminal artist's book: Twentysix Gasoline Stations. The book, held in SAM's object collection (2000.223), consists of twenty-six black and white photographs of gasoline stations that Ruscha encountered on Route 66 between Oklahoma City, where he grew up, and Los Angeles where he moved in 1956. He saw these stations frequently on his trips home, and stated that he had "a personal connection to that span of mileage between Oklahoma and California… it kind of spoke to me."
The book was self-published when the artist was 26 years old. Ruscha found a commercial printer in Los Angeles to mass produce 400 copies and sold them for $3 each.
In 2013, NPR correspondent Caroline Miranda interviewed Ruscha about Twentysix Gasoline Stations—deemed the first modern artist's book— on its 50th anniversary. Ruscha recalled initial reactions to it: "If I showed this book to somebody who worked in a gas station, they might be genuinely interested in it, saying 'Oh yeah, I remember that place…' [but] people who were in the art world, [would say things] like, 'What is this you're doing? Are you putting us on?'"
At the time, the intellectual establishment didn't take it seriously and even the Library of Congress refused to put it in their collection because of its "unorthodox form and supposed lack of information." They still don't own the 1963 edition. But the work persevered and acquired cult status. It inspired artists like Daniel Teoli Jr. to create their own versions.
Twenty-Six Roadkills
Photographer Daniel Teoli Jr. (born 1954) grew up in Los Angeles, very close to where Ruscha lived and worked and was aware of his art from his own earliest beginnings as a photographer in the 1970s. When Teoli moved to the Northeast in the late 1980s, Ruscha "dropped off his radar." Then, Teoli heard Miranda's interview with Ruscha on NPR and felt moved to create his own work, wanting to memorialize Twentysix Gasoline Stations on the 50th anniversary—Twenty-Six Roadkills was the result.
Twenty-Six Roadkills is hand printed, letter size in landscape format, spiral bound with rounded corners. The book has beautiful artisan-made marbled endpapers and incorporates clear protectors between each photograph. The edition is limited to 50 artists' books and two pre-production proof books.
So how did Twenty-Six Roadkills come about? The NPR story reminded Teoli of his early interest in Ruscha. He had just completed two other artist's books and decided, then and there, that his next book would honor the artist. He then asked himself: what twenty-six things could he use for his book? "We have a lot of roadkill [near where I live], so I settled on that."
When I lived in L.A., we may have had a few dogs or cats as roadkill,… but when I moved to the Northeast, I was shocked at both the amount and variety. [In addition to the animals included in the book,] I've also seen turtles, frogs and snakes. In the nearly twenty-five years I've lived here, I've never once gotten out of the car to look over roadkill. If you live here, seeing roadkill is a daily affair; you become immune to it.
Unlike Ruscha's "mundane" gas stations, Teoli's subject matter may have a more visceral effect on its viewers. But he acknowledges that some viewers might think he went out of his way to show gore, but that's not the case, he didn't. More uncommon occurrences—like a deer Teoli saw that seemed to have exploded after being hit by an 18-wheeler—were not included.
Teoli's book is on view just outside the Bullitt Library on the fifth floor of the Seattle Art Museum, during the library's public hours: Wednesday-Friday, 10 am-4 pm.