What every holiday season needs… The Nutcracker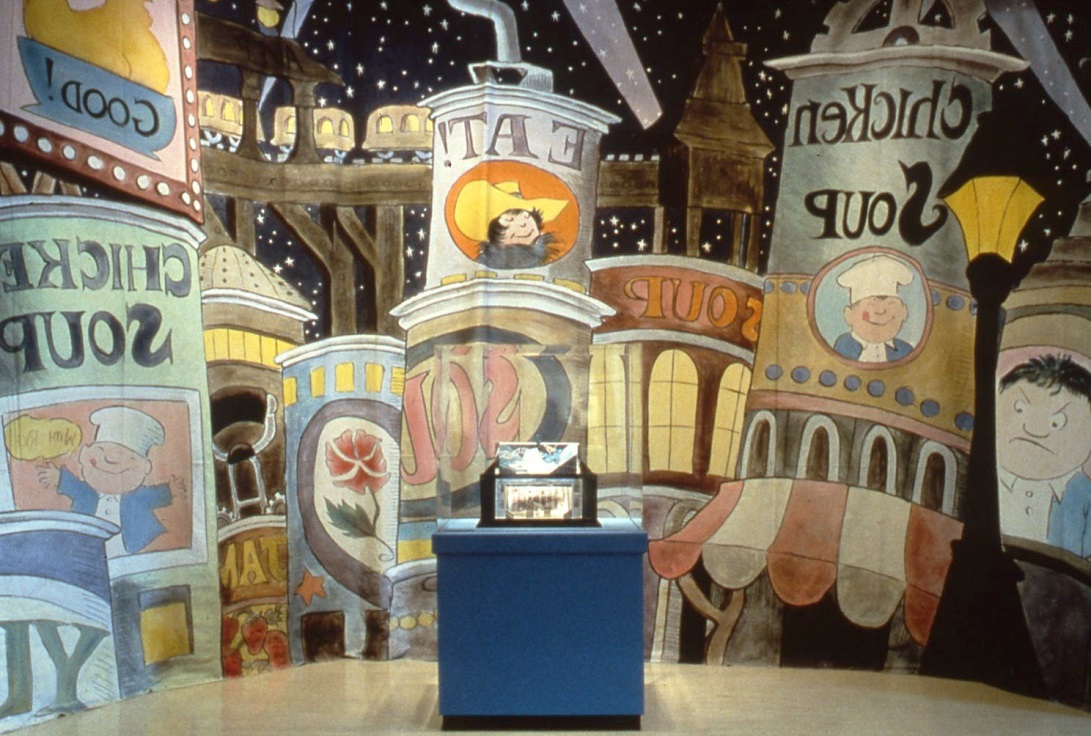 By Kaley Ellis, archives and exhibitions intern
As I was considering what to write in my next blog post, I stumbled upon an exhibition from 1984 featuring the works of Maurice Sendak, famous for the book he both wrote and illustrated, Where the Wild Things Are. Young and old alike seem drawn to his tale of Max, the mischievous boy who cavorts about in a monster costume (which I sometimes wish came in my size). Upon being sent to his room as punishment for his behavior, Max escapes to a fantasy isle where he soon discovers real monsters. Much like the stories of Peter Pan, The Lion, the Witch and the Wardrobe and Alice in Wonderland, Sendak creates an alternate realm where the main character – a child – can escape. Fashioning a magical place where children can explore and monsters can be friend or enemy, Sendak offers something that most children – and if I'm being honest, myself included – would be intrigued by.
As I look through the folder of prints, negatives, and slides, I can see the exhibition where Sendak's fantasies were brought to life. The 1984 exhibition titled Sendak Onstage displayed sketches, intricate theatrical sets and even costumes. Prominently featured in this exhibition are the tales Love of Three Oranges and Higgelty-Piggelty Pop with smaller selections from Where the Wild Things Are and The Nutcracker. I am immediately drawn to images of The Nutcracker because as a child I used to perform in the ballet every year. While I always dreamed of being one of the party girls (who got to wear pointe shoes and carry dolls), I was inevitably something less glamorous – like a gum drop or a rat soldier. Nonetheless, attending The Nutcracker (to my brother's dismay) has always been a holiday favorite. However the Seattle version – with theatrical sets and costume designs by Sendak – is the most spectacular rendition I've yet to witness.
Asked in 1981 – by Kent Stowell with the Pacific Northwest Ballet – to design theatrical sets for the Nutcracker, Sendak created another fantasy realm for children to explore. Here, members of the European aristocracy gather for a holiday party in which the daughter of the host is given a magical nutcracker that comes alive at the stroke of midnight. But in this version, the mice appear to have a more exotic (possibly Colonial) appearance and carry curved sabers instead of swords and battle Imperial foot soldiers and cavalry with variations in costuming that seem to link them to French, British and German armies (distinctions in rank not typical in other ballets). Following the battle's conclusion, Clara and her nutcracker prince travel to another realm, akin to a sultan's palace that might have been found in the Middle East or South Asia. The ruler of the palace regales the couple with exotic performances (including one featuring a ballerina in a peacock body suit and elaborate feathered tail) after which they are inevitably sent home to their realm. Sendak's costumes are vibrantly colored and have a magical quality to them much like Max's monster suit, for they allow the viewer a glimpse into the evening's fairy tale resplendent with life-size dolls, an epic battle (at one point there is an enormous rat tail that extends from the wing of stage merely hinting at the size of its owner), a sea voyage across turbulent waters, a sultan's palace and last but not least, the sugar plum fairy and her court. However, my favorite part of the performance is the end in which Sendak has created a nutcracker head that becomes visible on the curtains when they close – from the top and bottom of the stage – with teeth chomping shut to hide the performers from view.  If you haven't already, everyone should take a trip to the The Nutcracker in Seattle, for it allows the viewer to interact on a grand scale with Sendak's art, much like the 1984 exhibit at SAM did for its audiences.
Top image: Installation shot from Sendak Onstage, Seattle Art Museum (Volunteer Park), 11/15/84 – 1/27/85