SAM Talks With Valerie Steele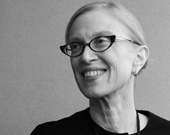 Do you consider yourself fashionable? Creative? Curious? Well, whether you're the world's next top fashion designer or, like me, just a compulsive shopper, SAM Talks this Friday, July 19, is sure to intrigue, inform, & inspire you.
This SAM Talks will be given by someone that I am particularly excited about, Valerie Steele. For those of you who don't know, Valerie Steele is the Director and Chief Curator of The Museum at the Fashion Institute of Technology (MFIT) in New York City… but that's not all! She is also a fashion historian, and has been described as one of "fashion's brainiest women" and a "High-Heeled Historian!" She has even been on the Oprah Winfrey Show.
… Ha! You thought I was done, didn't you? Not quite!
Steele is also the renowned author of several books, including that which coincides perfectly with SAM's current exhibition, Future Beauty: 30 years of Japanese Fashion, Japan Fashion Now. Japan Fashion Now, both the exhibition and accompanying book, were completed in 2010, and explored what has been called Japan's "fashion revolution," beginning in the 1980's.  From this "fashion revolution" emerged an innovative and radical notion of what fashion is, one that played with the unusual, both in terms of materials and design, and the imperfect. 
In this talk, Steele will discuss and analyze this movement by exploring the ingeniousness and influence of Japanese fashion designers, such as Issey Miyake, Yohji Yamamoto, and Rei Kawakubo! — These designers (and many, many others) are featured in Future Beauty – Don't miss the opportunity to expand your knowledge, improve your style, or just hang-out and listen to one of the most interesting people in the world of fashion!
For More Information Visit: http://www.seattleartmuseum.org/calendar/eventDetail.asp?eventID=26286&month=6&day=19&year=2013&sxID=&WHEN=
–Caroline Sargent, Communications Intern
Valerie Steele, Director & Chief Curator of The Museum at the Fashion Institute of Technology (MFIT).