SAM Art: A legacy of friendship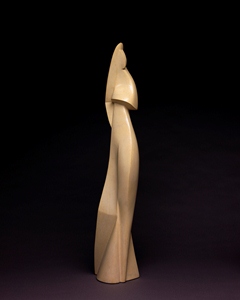 In 1923, Alexander Archipenko arrived in America, already a highly acclaimed sculptor associated with the modern artists of Paris. In great demand as a teacher, he lectured at many institutions, including the University of Washington. He spent the summers of 1935 and 1936 in Seattle as a visiting professor at the University. It is likely that Archipenko created this sculpture while living and working in Seattle.
While in Seattle, Archipenko became friends with Dr. Richard E. Fuller, the founding Director of the Seattle Art Museum. It is because of this personal relationship that The Bride, an important work of cubist sculpture, was made available to the museum. Using his own funds, Dr. Fuller purchased the sculpture from his friend for the museum. It has been part of the museum collection ever since.
The Bride, 1936, Alexander Archipenko (American, born Ukraine, 1887-1964), terracotta on wood base, 34 1/4 x 6 11/16 x 4 3/4 in., Eugene Fuller Memorial Collection, 36.64, © Alexander Archipenko. Currently on view in the American Modernism art galleries, third floor, SAM Downtown.