SAM Art 50+: The World's Fair + SAM, part II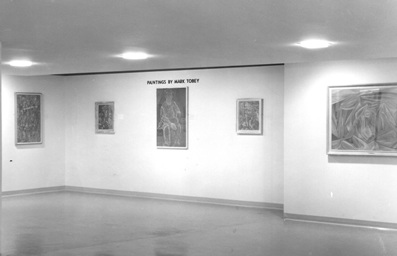 SAMart continues with the second installment of "50+: The World's Fair + SAM."
While the "Masterpieces of Art" exhibition took a wide view of the world's artistic heritage, World's Fair art director (and SAM's Board vice president) Norman Davis insisted that there be a focus on artists of this region as well. A group exhibition of living Northwest artists was included in the Art Pavilion's offerings, as well as a single exhibition dedicated to one artist: Northwest luminary Mark Tobey.
An artist with international recognition, Tobey's work provided an immersion into the artistic heritage and influences of the Northwest. His paintings created a visual glossary: The muted browns and greens of the Northwest landscape; the active gestures reminiscent of Asian calligraphy; fugues of hooded figures, populated a city hunched against the fabled Seattle rain.
The show presented in a gallery of the Fine Arts Pavilion was small in scale (comprising only 23 works), but it provided a global platform for this artistic giant of the mid-20th century. Welcoming visitors to the gallery was a wall text, proclaiming Tobey "Seattle's foremost artist and… one of the most important names in the international art world." This was late in the artist's successful career, when he had moved his primary residence to Switzerland. Still, Tobey's connection to Seattle ran deep, and it was his association with this city that was celebrated at the Fair. The works displayed were, themselves, local: The entire installation was drawn from the Seattle Art Museum's holdings.
Fifty years later, Tobey's works remain central within the museum's collections. The museum's Tobey holdings span the breadth of his entire, illustrious career. All works are available for browsing and study, on the museum's website. The next time Tobey paintings or drawings will be on view in SAM's galleries will be after the Elles exhibitions close, in 2013.
Mark Tobey, installation view, Fine Arts Pavilion, Seattle World's Fair, 1962. Photo: © Seattle Art Museum.