Celebrate Summer at SAM Remix!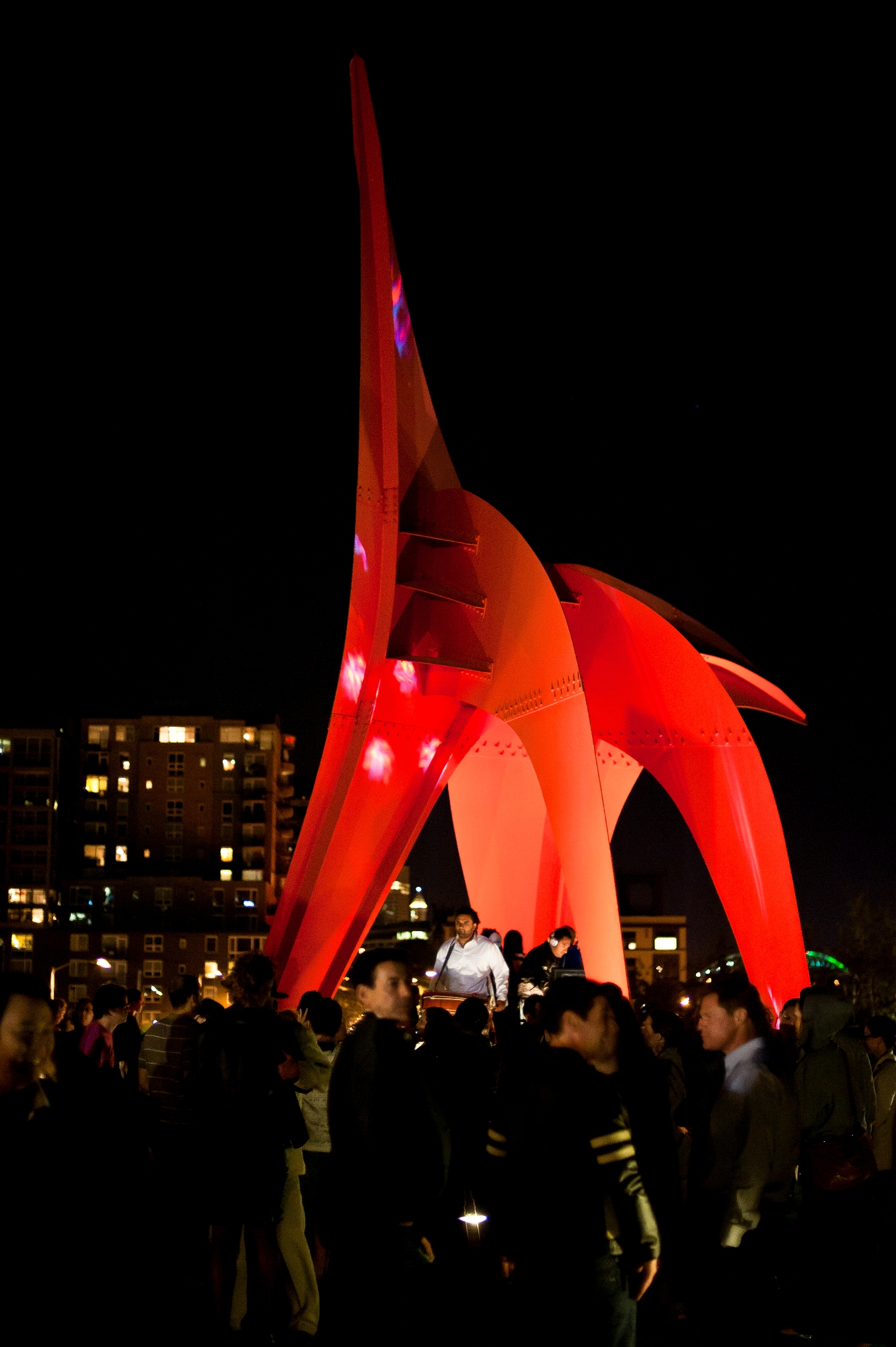 With my summer as a PR intern for SAM coming to a close, I couldn't leave without giving you a sneak peak of SAM Remix!  Just around the corner, Remix promises an evening packed with DJs, dancing, talks and more.  And as a first time attendee, I couldn't be more excited!
Inspired by Sandra Cinto's Encontro das Águas and Sarah Bergmann's Portal to the Pollinator Pathway, SAM Remix celebrates stories of the land and seascape with a late night creative explosion on August 24 from 8 pm to midnight. The Olympic Sculpture Park will be alive with the celebratory spirit of Brazilian carnival, dancing, art, games and more!
Kick off the night with Show Brazil! in the Gates Amphitheater, followed by Seattle indie rockers BOAT telling stories of dinosaurs, real-life, punctuation, and the ferocious sounds of lobsters—I don't think I've ever heard the ferocious sounds of lobsters, but I can't wait to find out!  Dance all night as Tigerbeat mixes everything from mainstream pop to local favorites in the PACCAR Pavilion, and under the stars as DJ Riz infuses the waterfront with his soulful beats.  And don't miss the outdoor screening of our favorite thriller Jaws against the backdrop of the Puget Sound—I can't imagine a better venue!
The park will be filled with creative activities!  Make seed bombs to grown Washington wild flowers at home with artist Jeanne Dodds.  Remix the sights and sounds of the Olympic Sculpture Park by creating a portable viewfinder with Seattle artists The Unearth Collective.  Experience the park in new and unexpected ways on My Favorite Things: Highly Opinionated Tours—The Park After Dark with local artists, curators and more.   And come play America's favorite beanbag toss game cornhole on boards designed by Dumb Eyes. Design sea adventure hats with Seattle artist Romson Bustillo for your next nautical adventures—I'm gathering inspiration from Cinto's Encontro das Águas, a piece that celebrates our planet's most precious resource: water.
Like Encontro das Águas, one of Remix's very own co-hosts, the Center for Environmental Law and Policy (CELP) is committed to preserving Washington's water resources. Suzanne Skinner, executive director at CELP, said this about their role in Washington:
We have been watching the country burn this summer and we are now seeing Cle Elum fight rampant fires. The impacts of climate change are upon us—and in the West—where water has always been in short supply—that means more demands for our increasingly short supplies. We need water for everything. The Center for Environmental Law and Policy (CELP) is Washington's water watchdog. We bring our water law expertise and passion to help citizen groups and tribes throughout the state to protect their rivers, streams and aquifers. From what we learn from people working on the front lines, river by river, aquifer by aquifer, we advocate for science based, sustainable water management in the legislature, in the courts and with government agencies. Now more than ever, we need to work together to protect our water resources.
You can browse the links below to find out more about the CELP or any of our other rad cohosts.
We will party rain or shine, so please dress for the weather, as many tents will be located outside throughout the park.
Every Remix is different, so be sure not to miss it!
P.S.  Don't forget that the first 50 guests at the door in aqua blue get in FREE.
Remix Co-Hosts, August 24th
Center for Environmental Law and Policy, ARCADE, ArtsWest Playhouse and Gallery, Bumbershoot, Central District Forum for Arts and Ideas, Frye Art Museum, Greater Seattle Business Association, Happy Hour in Seattle, Network of Indian Professionals, National Organization of Minority Architects NW, OUT for Sustainability, Pacific Science Center, People for Puget Sound, Photo Center NW, Seattle Emerging Museum Professionals, Seattle Fun Events, Space.City, Tacoma Art Museum, The Vera Project, Twilight Artist Collective, Urban Art Concept, Voices Rising, World Affairs Council Young Professionals International Network, The World Is Fun, and Young Professionals Network
Photo: Robert Wade