SAM Art: An American image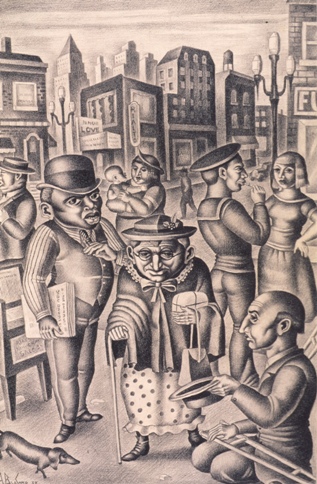 There are innumerable ways to be "American," and artist Abe Blashko explored many of those routes in his Social Realist drawings.
The Great Depression, fascism in Europe, America's entry into world war—the dark forces that changed the western world forever in the decade from 1930 to 1940—upended America's art establishment as artists channeled moral outrage into a new sense of social purpose. Social Realism is a term traditionally applied to the work of these artist activists who chose to express themselves in a style that forcefully conveyed human suffering and moral character. But realism is an inadequate description, for these artists filtered reality through the imagination and even modeled their satirical statements on the most expressive art of the past. Their subjects might be the common man and woman, but their portrayals are sophisticated and startling exaggerations, personifications of the forces of good and evil within all of us as individuals and as a society.
Street Corner, 1939, Abe Blashko (American, 1920–2011), lithographic crayon on cream-colored heavy weight wove paper, 19 7/8 x 13 1/4 in., Eugene Fuller Memorial Collection, 40.63, © Abe Blashko. Currently on view in the American Art galleries, third floor, SAM downtown.