SAM Art: Members lecture Wednesday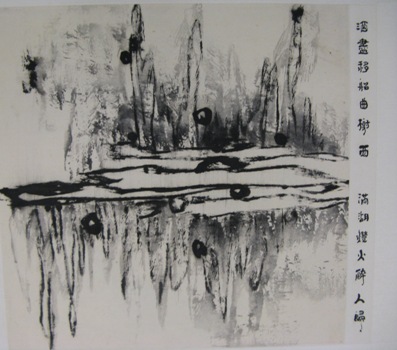 The daughter of a prominent Chinese figure painter, Lu Wujiu instead chose to work in the United States, and to focus her practice on abstraction-based visual language. Lu has been praised for her ability, "to see the analogies between traditional Chinese attitudes and the vigour of contemporary western abstract expressionism" (Professor Reverend Harrie Vanderstappen, University of Chicago).
This series is inspired by a 26-verse poem written in the mid-17th century, wherein the poet reflects on life's meaning during the dynastic change from Ming to Qing. The poem begins with the beauty of Lake Yuan (in modern day Zhejiang province in southeastern China), in spring, as the poet passed by a mansion where he stayed with a friend ten years before. This mansion now belonged to someone else, just as the Manchus now had control over China, allowing the poet to lament the sufferings in this world which were beyond one's control.
Echoing 17th-century woodblock illustrations of epic novels, these 26 images are by turns semi-representational, emotional, and referential. As such, the paintings focus on providing a pictorial homage to the deep sentiments of the poem, rather than treating it as an historical narrative.
Members Art History Lecture Series: Josh Yiu
June 20, 2012
7–9 pm
Plestcheeff Auditorium, first floor, SAM downtown
Josh Yiu, Foster Foundation Curator of Chinese Art, speaks on SAM's Chinese art collection, including this recent acquisition.
The Song of Lake Yuan (detail), 1993-2005, Lu Wujiu (Chinese, lives and works in U.S.), ink on paper, 23 1/4 x 25 3/16 in., Gift of Wu-Chiu Lu and Shih-Du Sun, 2012.7.2.9, © Lu Wujiu. Not currently on view.