SAM Art: Evolving City Wall Mural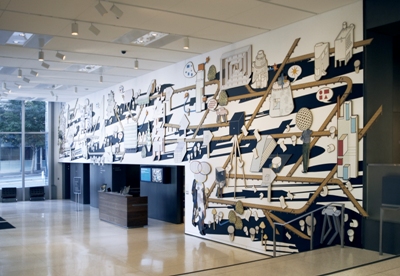 Mexican sculptor Pedro Reyes is known for his interactive forms, installed in public spaces around the world. For the opening of SAM's Olympic Sculpture Park in 2007, Reyes produced his signature interactive Capulas, as well as the Evolving City Wall Mural, all of which were acquired by the museum.
Equally at home in a park and in a downtown building, the mural has greeted visitors to SAM downtown for the past four years. In the mural, human beings interact with geometry and respond to changing visual systems. The mural incorporates graphic design, technical drawing and perspective diagrams to imagine a world of varied spaces, both two-dimensional and three-dimensional.
The mural will remain on view until mid-May.
Evolving City Wall Mural, 2006, Pedro Reyes (Mexican, born 1972), ink on paper, approx. 14.9 x 54.7 ft., Olympic Sculpture Park Art Acquisition Fund and the Modern Art Acquisition Fund, in honor of the 75th Anniversary of the Seattle Art Museum, 2007.5. Photo: Susan Cole. © Pedro Reyes. Currently on view in the museum foyer, corner of First Ave and Union St, SAM downtown.