SAM Art: Portrait of Alexander J. Cassatt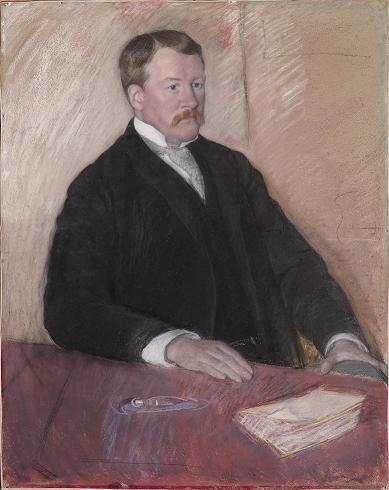 As Jessica Penn in Black with White Plumes, The Buffalo Hunt and other paintings from Crystal Bridges Museum of American Art return to their home in Arkansas, SAM's American Art Gallery turns to look at American artists actively expanding their practice beyond paintings in oil.
Drawing and watercolor were newly favored for the freedom that they offered painters to work intuitively and expressively and to study light, color, and daily life in the open air. Their innovative uses of long-outmoded forms corresponded with an unprecedented nineteenth-century public interest in art for the American home and the economic boom time that made art a desirable attribute as testimony to one's wealth, taste, and culture.
The ease with which Mary Cassatt seems to have created this portrait of her beloved older brother in the strongly gestural medium of pastel—which she and others referred to as "painting"—belies the meticulous care that the work actually required. The portrait was likely made in June 1888, when Alexander was visiting his artist sister in Paris, where she had been living since 1874, together with her parents and her sister. In a letter home to the United States, Alexander's wife wrote: "Mary has painted a very good portrait of Aleck for which he has been posing every morning for two hours for two weeks."  Appearing congenial but formal nevertheless, Alexander was an executive with the Pennsylvania Railroad and became its president in 1899.
Works of art on loan from the Crystal Bridges Museum of American Art are on view at SAM until 22 May. American drawings and watercolors from the permanent collection are on view starting 25 May.
Portrait of Alexander J. Cassatt, 1888, Mary Cassatt, American, 1844-1926, pastel on paper, 36 1/2 x 28 1/2 in., Gift of Mr. and Mrs. Louis Brechemin, by exchange, 88.154, Photo: Susan Cole. On view starting 25 May, American Art Gallery, third floor, SAM Downtown.