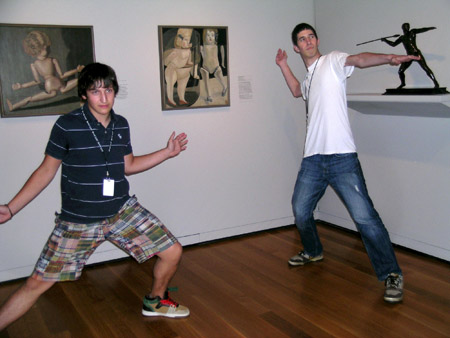 This summer, two very bright and curious high school seniors helped out in the museum's curatorial division. Milo and Henry spent their summer helping organize our object records, and researching several works in the SAM collection. Here, they write about their experience.
Milo: Hi I'm Milo.
Henry: And I'm Henry.
Milo: This summer we were curatorial interns at SAM. I personally thought the experience was great.
Henry: I would agree. Our experience here was both eye-opening to what goes on behind the scenes at an art museum and how skills from what we learned in school can be applied to real jobs.
Milo: Yeah, I never thought that I would have to write an analysis of anything outside of school but the artist biographies I wrote made me look deeper into the works created. And to tell the truth, I actually enjoyed doing the analysis.
Henry: It's so true. Looking into the history and method of an artist that I admired and found interesting made the process much more pleasurable. One of the pieces I researched—a print by Walker Evans—had a deeper impact on me after I learned more about the artist's background and process.
Milo: The history was interesting but looking at the actual pieces of art we were researching was one of the coolest parts of being an intern.
Henry:  Steel Workers Housing Outside of Birmingham, a photograph depicting the harsh living conditions of steel workers and their families had a different meaning since I knew about Evans' trips to the south to record the pain and suffering of those workers.
Milo: The favorite piece I saw in art storage was an untitled Ralph Gibson photo  that focused on a man's shirt. Seeing such a striking piece of work up close without any glass in the way really changed my perspective on how an artist views his or her own art.
Henry: Along the lines of seeing art behind-the-scenes  and without glass,  both Milo and I got a tour of the art conservation lab. This is a place where damaged art gets some TLC and is brought back to a presentable state.
Milo: I have the utmost respect for the people who work in conservation labs. Their knowledge of both chemistry and of art is incredible. The work that was going into repairing an African mask totally blew me out of the water. I should also mention that the mask is going to be presented in the museum's permanent galleries in conjunction with the incredible Picasso show coming in October.
Henry: Our boss Sarah B. is working on this show. She had us go through all of the images from the show and choose which ones we thought were the best for post cards and posters.
Milo: That assignment was really cool but a lot harder than I anticipated. The sheer number of great pieces made choosing favorites really difficult.
Henry:  A very hard exercise since the show has such an amazing collection. I can't wait to see these works in person.
Milo: I think that's all we have room to write so I hope you enjoyed reading about our experience as interns at SAM.
Henry: Bye.
Henry and Milo in the Early American Modernism gallery, third floor, SAM Downtown.