Yoga and drawing at the Olympic Sculpture Park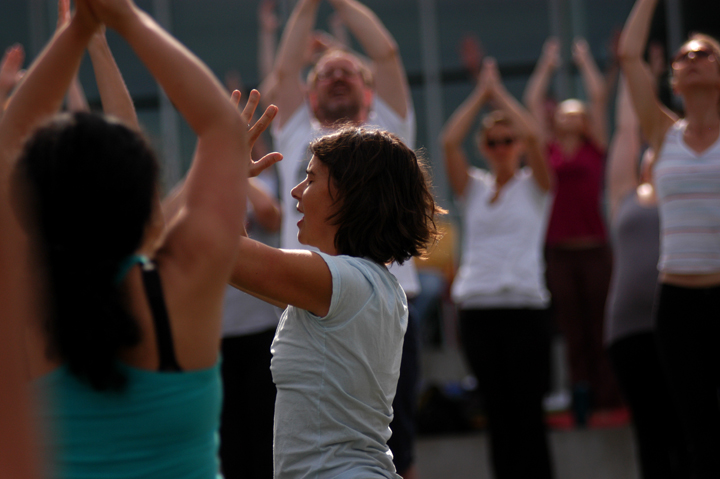 Can you believe how quickly this summer is zipping by? In June, we kicked off three months jam-packed with art activities at the Olympic Sculpture Park. This Saturday, Aug. 28, will be the final day for yoga and drawing in the park for the summer. If you haven't made it to a free outdoor yoga class yet, we hope to see you Saturday. (Class runs from 10 a.m. to 11 a.m., rain or shine.) Summer programs continue at the park through September — don't forget
Remix
and the Thursday farmers market. Check the
GET OUT! web site
for a complete listing. Nearly 100 people joined us for yoga on Aug. 21 on grassy terraces of the Gates Amphitheater. Anne Phyfe Palmer (center), owner and director of
8 Limbs Yoga
, leads the class through an exhale.
At the bottom of the valley (past all those toes stretching toward the sky), you'll see Richard Serrra's Wake (2004), made up of five sets of steel forms.
Class assistant Jenny Muilenburg (in white T-shirt) demonstrates crescent lunge.
The class strikes a warrior two pose.
This Saturday (Aug. 28)  is also the last day for Drawing in the Park. It's free and open to the public, and runs from morning until 4:30 p.m. Just pick up supplies inside the PACCAR Pavilion.
Haley Fults, visiting from Washington, D.C., sat down to sketch Alexander Calder's Eagle (1971). "It's really nice that your museum does this," she said. "It's great."
— JiaYing Grygiel, admissions representative