Ukiyo-e ("pictures of the floating world") come to Seattle Asian Art Museum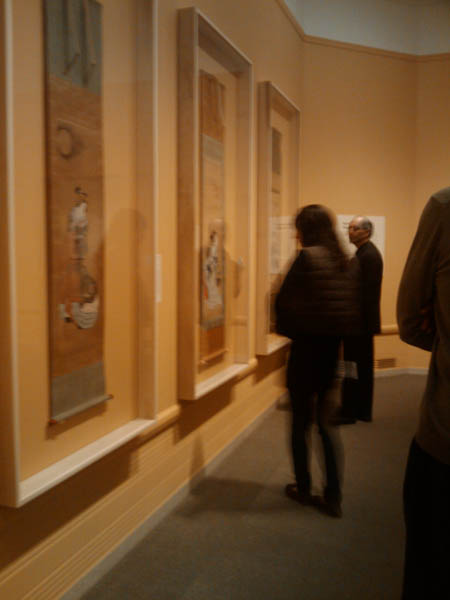 Today, members of the media got a sneak preview of Fleeting Beauty: Japanese Woodblock Prints at the Seattle Asian Art Museum. The exhibition opens to the public tomorrow.
The exhibition was beautifully curated by Catherine Roche, Interim Curatorial Associate for Asian Art at SAM. Here's an excerpt from Catherine's essay in the exhibition catalogue (Seattle Art Museum, 2010):
In eighteenth-century Japan, the courtesans of the pleasure quarters and the kabuki actors of the theater district represented two sides of the same coin. Both inhabited the so-called floating world, the hedonistic milieu of erotic pleasure and popular entertainment in which anyone with enough style or money could gain favor. With its artifice and theatricality, the floating world promoted a culture of performance in which composing a scene or perpetuating an illusion kept audiences clamoring for more. Walled off in a make-believe world, the courtesan of Edo (now Tokyo) enacted stylized fantasies of elegant romance, while the actors, as extravagantly attired as their female counterparts, staged ever more outlandish scenarios before wildly appreciative fans.
Catherine was full of fascinating information about the prints and life in Edo-period Japan during today's press preview, and it was a real treat to meet Mary and Allan Kollar, who built this amazing collection over a thirty year period. The Kollar's commitment to education is apparent as they share such an invaluable resource with the Seattle community. Their sincere passion for these lyrical works is infectious, and the level of connoisseurship their collection represents is astounding.
Here are a few of the prints that you'll see.
And, of course: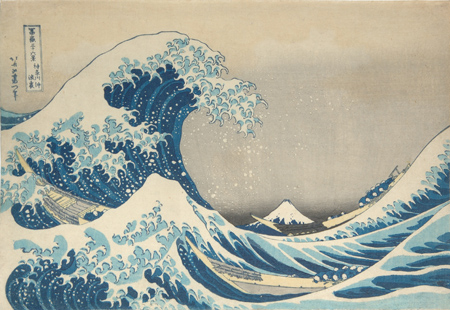 Fittingly, I also noticed the very first handful of blossoms beginning to unfold on the cherry trees in Volunteer Park this morning. Just perfect.
This Saturday from 11 am-2 pm we'll celebrate the exhibition's opening. In addition to experiencing these poetic ukiyo-e prints, you can enjoy live music, make your own relief prints and collage, have your face painted, and more. And, if a personal glimpse at the "floating world" isn't enough to entice you, it's Free First Saturday, so no one has to pay admission.
-Nicole Chism Griffin, SAM PR
Ukiyo-e artists also worked in paint. Here, members of the press take a look at a group of painted, hanging scrolls.