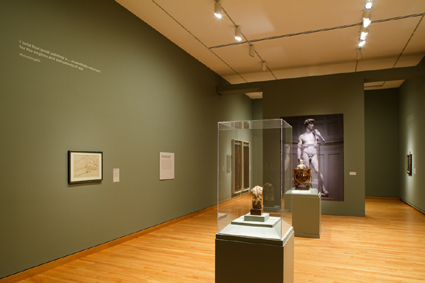 A couple of weeks ago I gave a tour in the "Michelangelo Wednesdays" series. (Quick overview: SAM curators—including myself, the curatorial lead for Ancient Mediterranean and Islamic art—give a short tour of the Michelangelo exhibition every Wednesday afternoon.) I am not a Renaissance scholar, though I do have a soft spot for Florentine art. Would I fake my way through the show, using the knowledge and vocabulary gleaned from the amazing Professor Evelyn Lincoln in my Renaissance art classes in college? Would I simply do an overview of the show, basically taken straight from the catalogue and Chiyo Ishikawa's overviews? Maybe I would just take people around and point them toward my favorite stops in Gary Radke's charismatic audio tour? What, oh what, was I going to do?
Then I hit upon the perfect topic: Michelangelo and antiquity.
We know that Michelangelo was in Rome when the Laocoön was excavated in 1506; we know he spent significant time in the Pope's Vatican pleasure garden, the Belvedere, a perfectly designed space filled with the treasures of the city's imperial past. No artist since Imperial Rome (with their taste for Hellenistic Greek styles) had reveled in the human form quite like Michelangelo would.  There are dozens of artworks Michelangelo could have seen and studied during his lifetime. These models of movement, musculature and dramatic emotion are reflected in the Renaissance master's paintings and sculptures, and even in his sketches.
The research and consideration I put into preparing for this tour opened another avenue of inquiry for me: If we can trace artistic influence from the ancient world to the Renaissance, what of art after that time? I convinced Patricia Junker, our American art curator, to join me in exploring this topic at the 30 December "Michelangelo Wednesday" tour. We'll look at Michelangelo backwards and forwards—from antiquity to America—together. If that intrigues you, I hope you'll consider joining us.
Sarah Berman, Research Associate
Michelangelo Public and Private: Drawings for the Sistine Chapel and Other Treasures from the Casa Buonarroti, installation view, Seattle Art Museum, 2009, Photo: Nathaniel Willson