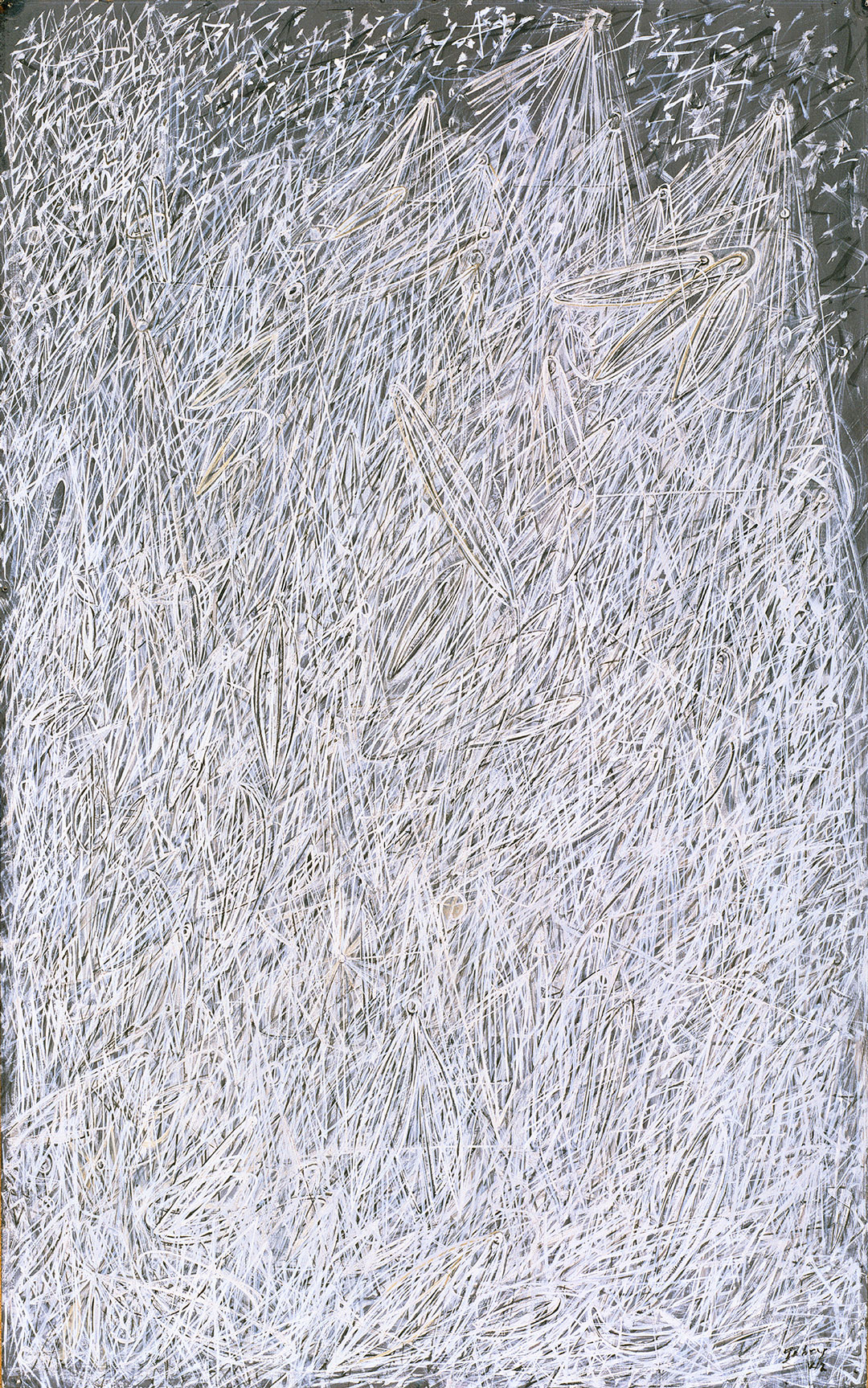 Cloud cover in the Pacific Northwest makes stargazing difficult at times, but that didn't stop Mark Tobey from painting White Night in 1942.
Featuring the artist's signature "white writing" treatment—a dense and abstract calligraphic mode of painting—White Night manages to evoke a sense of spirituality while also conjuring the night sky. After the artist's conversion to the Baha'i Faith in 1918 and subsequent study of Zen painting in Kyoto, Japan, Tobey would indeed, throughout his long career, explore the relationship between the spiritual and the abstract in art. In the words of the artist, "I believe that painting should come through the avenues of meditation rather than the canals of action."
It is a difficult endeavor to paint something felt rather than known. Yet somehow Tobey is able to capture the awesome power and energy of the night sky. Of course, the sky we see today is very different from what Tobey would be giving representation to in 1942. The first satellite was launched into space fifteen years later, ushering in a new era of space exploration and forever altering our relationship with the cosmos. In this context, White Night becomes a rather prescient painting—somehow predicting the invisible activity that would soon populate the night sky, and the images of space such satellites would capture.
The Geminid meteor shower is tonight, and while we might not be able to experience it through the winter clouds, we can still look up and recall this painting's dynamic and mysterious energy.
– Elisabeth Smith, Collections Coordinator
Image: White Night, 1942, Mark Tobey, tempera on paperboard mounted on composition board, 22 1/4 x 14 in., Gift of Mrs. Berthe Poncy Jacobson, 62.78 © Mark Tobey / Seattle Art Museum