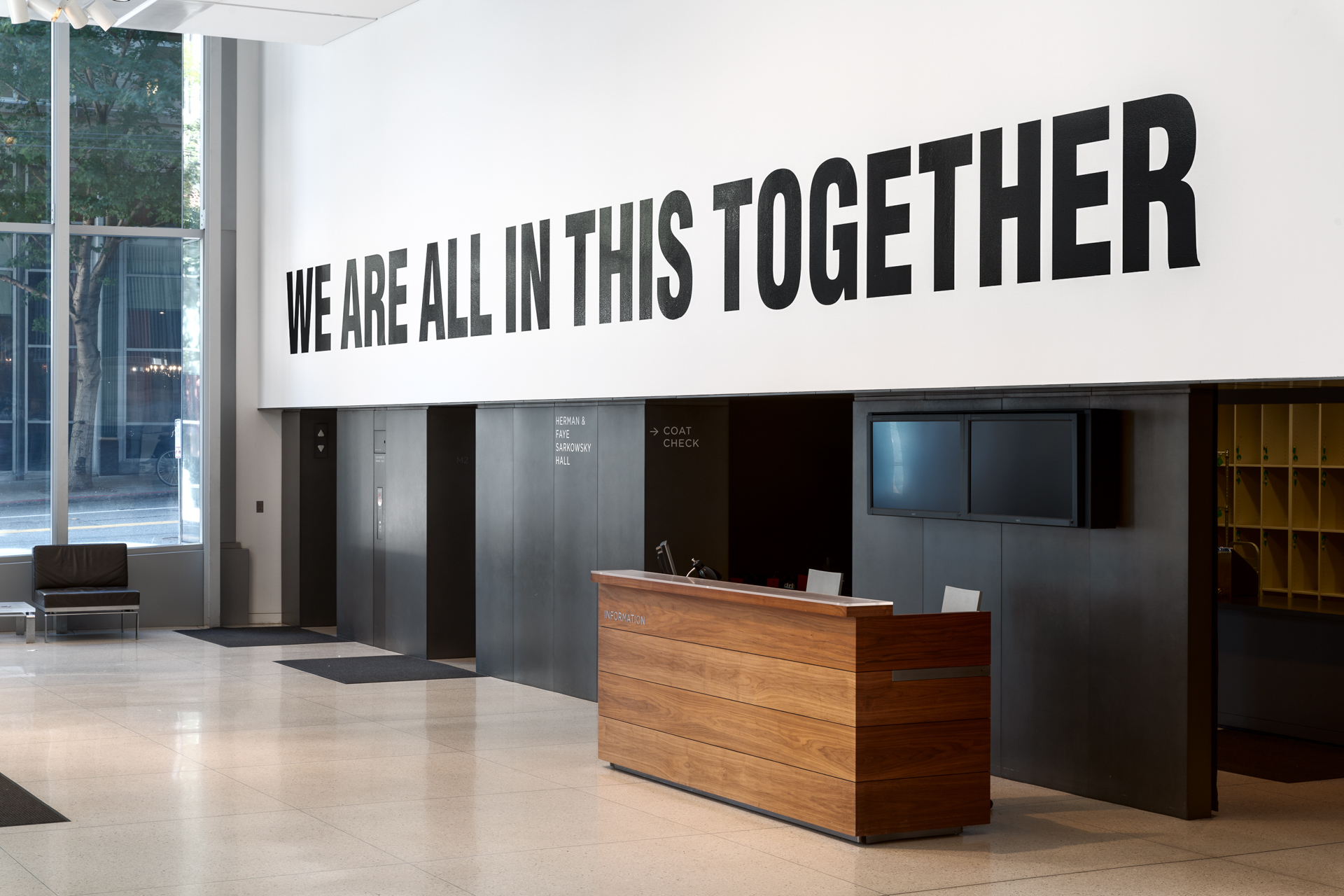 The words "we are all in this together" announce themselves in bold, sans-serif force, asserting the urgency and agency of the message. Created by artist Mark Mumford in 2002, the work—whose title is the same as the text—was created in the context of and in response to the protests that took place before the Bush administration's invasion of Iraq in 2003.
As with many artists who work with language, Mumford is interested in the slippages of syntax and the ways in which words carry a multitude of meanings. In the case of We Are All in This Together, the message can be read as either empowering and uplifting, or apathetic and resigned. For the artist, "meaning hovers on the threshold of realization, and where the knotty relationships between seeing and reading, reading and believing, believing and seeing are given a full and lively expression."
Currently on view in the Brotman Forum, the work transforms the entrance of the Seattle Art Museum into a shared textual experience that is visible from the outside of the museum as well. Though made over 15 years ago, the work carries more political significance than ever. The words especially ring true today—a day designated for climate strikes around the world—when millions of people will march for urgent climate action. As is the case with any issue, we can choose either action or resignation; whichever you choose, there's no denying that we are all in this together.
– Elisabeth Smith, Collection & Provenance Associate
Images: We Are All in This Together, 2002, Mark Mumford, vinyl lettering produced from CD formatted for a MAC with both a FreeHand and an EPS version of the artwork, dimensions variable, Gift of Carlos Garcia and James Harris in honor of Kimberly Richter Shirley, 2003.60 © Mark Mumford. Installation view, Seattle Art Museum, 2019.