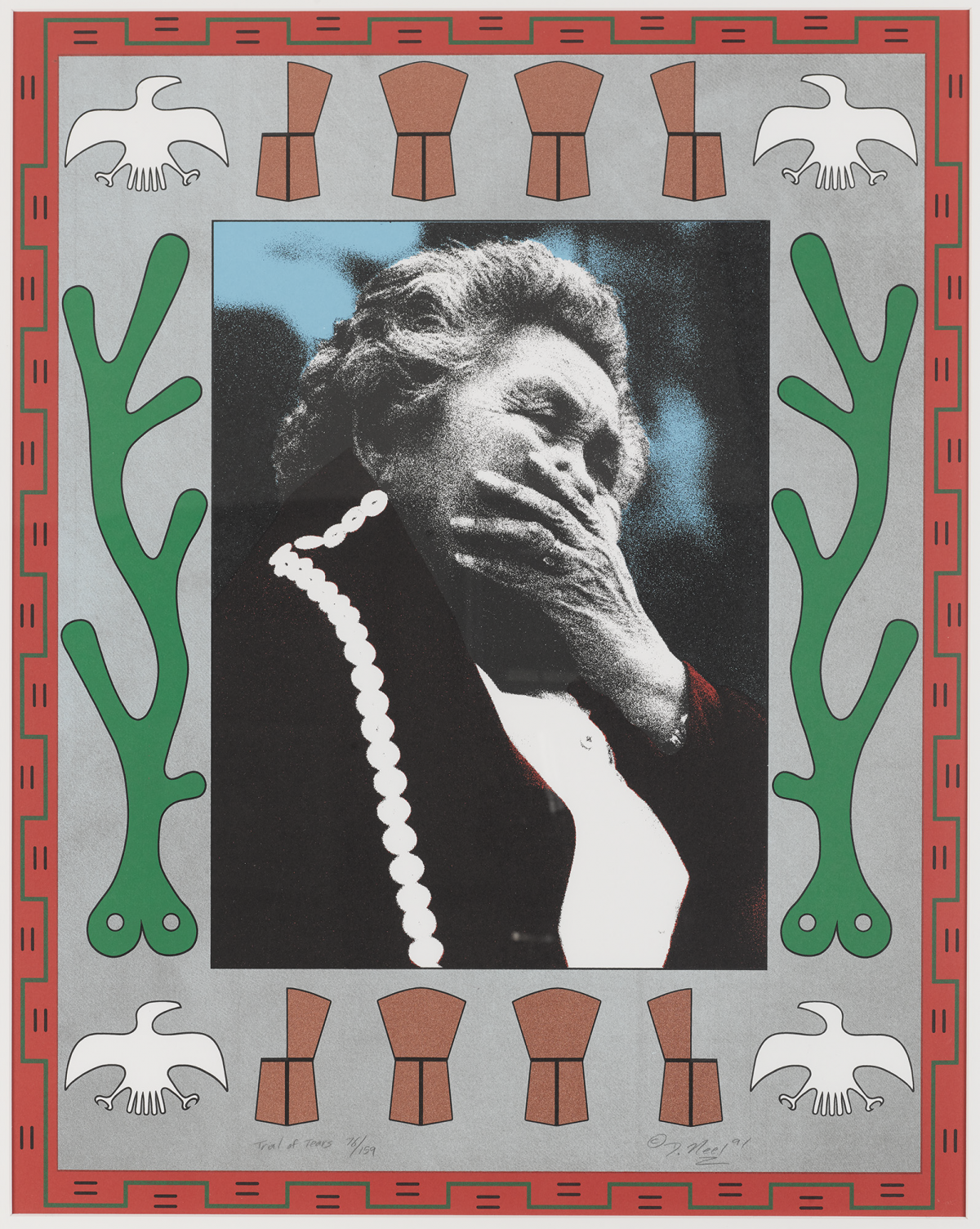 Kwagu'l artist David Neel, who comes from a long line of Northwest Native artists, distills generations of grief into a single moment with his silkscreen Trial of Tears. The central figure is Native elder Mary Johnson, pictured in 1991 as she learned that the Supreme Court of British Columbia dismissed the Gitksan and Wet'suet'en nations' legal claim to their ancestral lands. After decades of disputes with British Columbia, the Gitksan and Wet'suet'en first filed a joint suit for land title (i.e. ownership) in 1984, hoping to protect their homelands from logging and receive compensation for their loss.[1] The trial began in 1987 and lasted three years; it was labor-intensive, financially draining, and culminated in this artwork's heartbreaking scene.
The images framing Johnson's face are rich in Indigenous symbolism, which Neel describes on his studio website: two Trees of Life represent the contested land and its resources, while four white ravens symbolize the Canadian legal system as the ever-changing trickster. The shield-shaped coppers traditionally stand for wealth, and a chief may "break a copper" during a dispute, so four of the coppers in this composition are broken to represent the prolonged legal battle.[2] Neel's choice of this border around Mary Johnson's photographic likeness is powerful. He shows one moment of despair on March 8, 1991, but the symbols make it eternal, stretching back to the beginning of Indigenous relations with colonizers and into the future of governmental power.
While this work justifiably evokes a never-ending cycle of loss, relations between Indigenous people and settler-colonial governments in North America are still evolving. The Gitksan and Wet'suet'en repeatedly appealed their case, and although the Court of Appeal of British Columbia supported the 1991 decision, the Supreme Court of Canada ruled in 1997 that the government could not extinguish First Nations' rights to their ancestral territories. This ruling set legal criteria Indigenous nations can use to claim land title, which clarified the path forward for other First Nations' claims, including the Tsilhqot'in people's successful case in 2014. (It also affirmed oral histories as valid legal testimony, a small step towards dismantling white supremacy culture in the legal system.)[3] However, treaty negotiations between the Gitksan and Wet'suet'en and British Columbia are still ongoing, and the Gitksan have yet to benefit from the ruling.[4]
Recent headlines have shed light on a similarly complex situation here in the United States. On July 9, 2020, the United States Supreme Court ruled that the Muscogee (Creek) Reservation in Oklahoma did not cease to exist when Oklahoma became a state in 1907, as Oklahoma asserted, because Congress did not enact this.[5] Following this decision's logic, about half of Oklahoma is now recognized as treaty-promised reservation for five different tribes. The ruling granted Native jurisdiction, not ownership, over the land, but it nonetheless represents an all-too-rare case of the United States government honoring treaty agreements with a Native group.[6] On the investigative podcast series This Land (which I recommend for a deep dive into the history that led to this Supreme Court ruling), Cherokee journalist Rebecca Nagle and Muscogee journalist Angel Ellis discuss what the decision means to them. Ellis's voice shakes with emotion: "[Displacement] has been the standard all over the world for Indigenous people; it's been 'stomp, trod, move over' and just railroading, and to finally have just a little bit of affirmation to go our way has made all the difference. In the way you carry yourself, you know?"[7]
Like much of the history of North American settler-colonialism, Neel's Trial of Tears is difficult, but absolutely crucial, to confront. The exhibition featuring this work, YOU ARE ON INDIGENOUS LAND: Places/Displaces, provides an opportunity to keep learning about Indigenous land justice. It will be on view when SAM reopens.
– Linnea Hodge, Curatorial Coordinator
Image: Trial of Tears, 1991, David Neel, Silkscreen, 28 x 22 in., Gift of Simon Ottenberg, in honor of the 75th Anniversary of the Seattle Art Museum, 2005.123 © David Neel.
[1] "The Delgamuukw Case," The Canadian Encyclopedia, updated 2019, https://www.thecanadianencyclopedia.ca/en/article/delgamuukw-case
[2] "Trial of Tears," David Neel Studio, https://davidneelstudio.com/dns_single.php?ID=323
[3] "The Delgamuukw Case"
[4] "Recent History," Gitxsan, http://www.gitxsan.com/about/our-history/recent-history
[5] Laurel Wamsley, "Supreme Court Rules That About Half Of Oklahoma Is Native American Land," NPR, July 9, 2020, https://www.npr.org/2020/07/09/889562040/supreme-court-rules-that-about-half-of-oklahoma-is-indian-land
[6] Angel Ellis, "SCOTUS Opinion Upholds Tribal Treaties Promises," MVSKOKE Media, July 9, 2020, https://www.mvskokemedia.com/2020/07/09/scotus-opinion-upholds-tribal-treaties-promises/
[7] Podcast episode "The Ruling", This Land, Rebecca Nagle with Crooked Media