Finding Miró: Fundació Joan Miró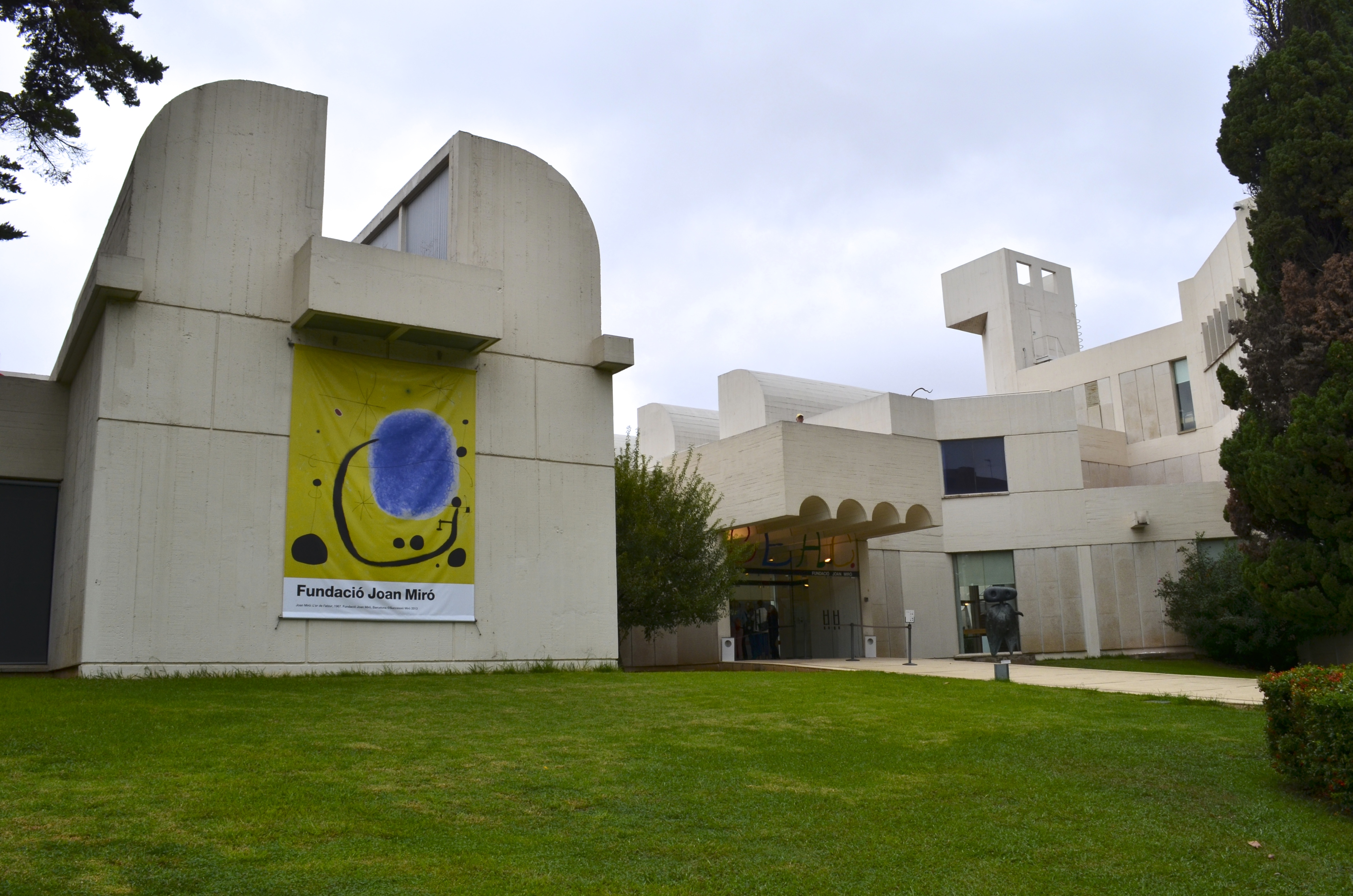 Join special projects intern Gabriela Ayala every Friday as she travels in Miró's footsteps through Europe.
Barcelona, Spain
Fresh off the train from Madrid and I do not even have my hotel room yet. I sit in this Barcelona taxi with high anticipation. The car curves its way up the hill with trees gathered on all sides and flourished architecture appearing every now and then, as the trees allow. I learn that this mountain is called Montjuïc and was historically used as a military base. In 1992, it was where the Olympics were held. It also has a history of racecar driving until the city realized it was too dangerous, logically because these roads are wickedly narrow.
It is currently home to the Museum of National Art of Catalonia and a large theater for plays. For me, my focus and destination is the Fundació Joan Miró. At this point I had only researched photos of this building and studied its unique shape constructed by architect and friend of Miró, Josep Lluís Sert. The taxi driver announces we are close. Seeing the Foundation in person brightens the cloudy day I find myself in. I have been in contact with a conservator from the Foundation who granted my request to look through their archives, consisting of digital images only for conservation reasons. I admire thousands of drawings by Miró learning that when he had an idea, he drew it on anything. Receipts, envelopes, newspaper clippings, pocket calendars, you name it. I am able to see the link between these initial preparatory drawings and his paintings. Symbols constantly repeat themselves in his work and they all start out on these scraps of paper that are now historical treasures. When I finish, I refresh myself with some coffee and headed over to the Foundation's permanent collection.
I enter the center atrium that leads me to another pair of glass doors. I turn into the exhibition and find myself immediately presented with a giant tapestry of color, texture, and movement. It may be the magnitude of it or maybe the gloomy day but I instantly become emotional. As I walk through the entire collection this sensation is heightened and in the end, creating sentences becomes difficult. All I have are single words:
Freedom
Feeling
Spirituality
Colorful
Astrological
Stars
Human Form
Sun
Moon
Symbols
Honesty
Thoughtful
Energetic
Explorative
Imaginative
Life
Shapes
Signature
Top image: Fundació Joan Miró, Montjuïc Park, Barcelona. Photographer: Gabriela Ayala