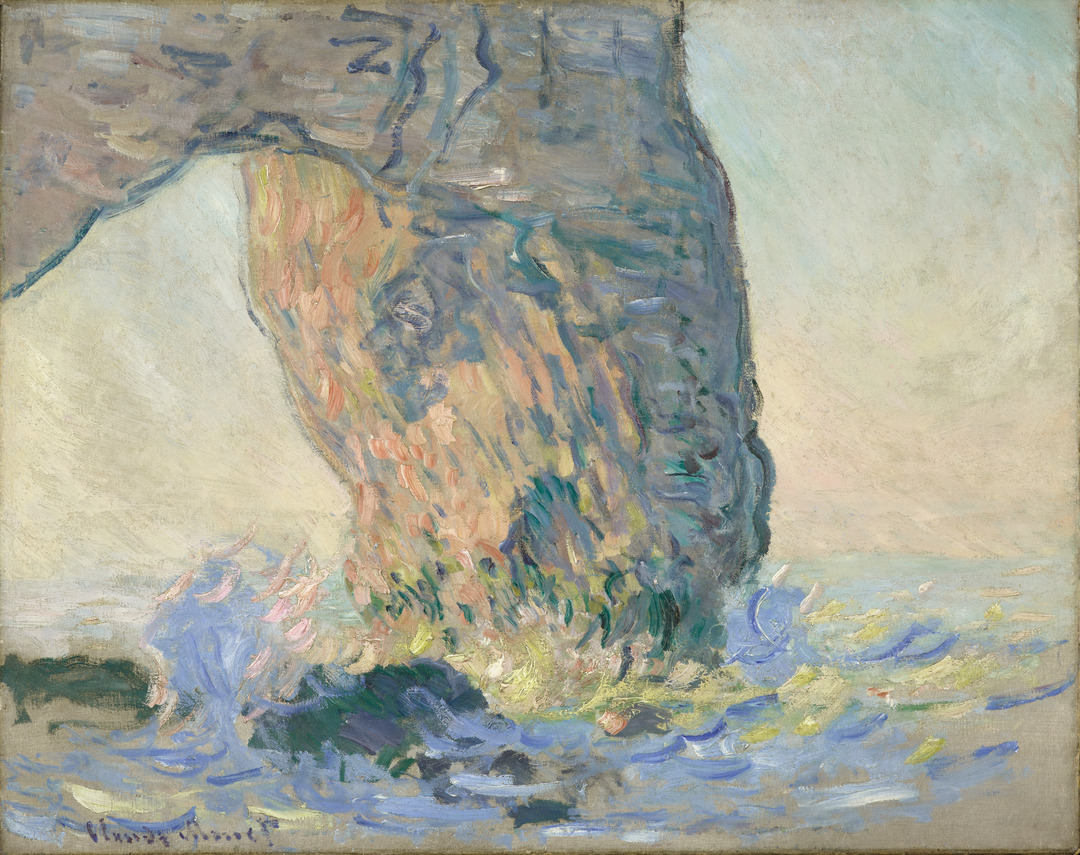 Two years after he first made the journey to the small fishing village of Étretat on the Normandy Coast, Claude Monet returned in the winter of 1885 to find renewed artistic inspiration. After one rainy morning, the plein-air painter set out to capture the landscape's defining natural arch, the Manneport, from the beaches below but found himself victim to the sea's raging tides. Too entranced by his own work to notice the turbulent waves ahead, Monet was thrown against a cliff and dragged into the sea along with his art materials, destroying the painting he was working on.
Listen to an audio recording of a November 1885 letter Monet wrote to his companion, Alice Hoschedé, recounting the accident. In his own words, the artist describes his struggle to emerge from the freezing waters, his fragile state after getting soaked, and the anger he felt toward the "old hag" he calls the sea. Despite the loss of his painting, Monet returned to the beach the next day with a new easel to once again paint Étretat's breathtaking cliffs.
This audio recording is part of a free smartphone tour of Monet at Étretat, now on view at the Seattle Art Museum. Tune in to this and other letters Monet wrote while in Étretat, when you visit the exhibition at our downtown location.
Waves at the Manneport, 1885
"After another rainy morning I was glad to find the weather slightly improved: despite a high wind blowing and a rough sea, or rather because of it, I hoped for a fruitful session at the Manneport; however, an accident befell me. Don't alarm yourself now, I am safe and sound since I'm writing to you, although you nearly had no news and I would never have seen you again. I was hard at work beneath the cliff, well sheltered from the wind, in the spot which you visited with me; convinced that the tide was drawing out I took no notice of the waves which came and fell a few feet away from me. In short, absorbed as I was, I didn't see a huge wave coming; it threw me against the cliff and I was tossed about in its wake along with all my materials!

My immediate thought was that I was done for, as the water dragged me down, but in the end I managed to clamber out on all fours, but Lord, what a state I was in! My boots, my thick stockings and my coat were soaked through; the palette which I had kept a grip on had been knocked over my face and my beard was covered in blue, yellow etc. But anyway, now the excitement is passed and no harm's done, the worst of it was that I lost my painting which was very soon broken up, along with my easel, bag etc. Impossible to fish anything out. Besides, everything was torn to shreds by the sea, that 'old hag' as your sister calls her.

Anyway, I was lucky to escape, but how I raged when I found once I'd changed that I couldn't work, and when it dawned on me that the painting which I had been counting on was done for, I was furious. Immediately I set about telegraphing Troisgros to send me what's missing and an easel will be ready for tomorrow . . . I send you all my love and hug all the children for me, remember me to Marthe. To think I might never have seen you again." November 27, 1885.

– Claude Monet
Image: Waves at the Manneporte, ca. 1885, Claude Monet, French, 1840–1926, oil on canvas, 29 × 36 ½ in., North Carolina Museum of Art, Raleigh, Gift of Ann and Jim Goodnight, 2016.8.5, image courtesy of the North Carolina Museum of Art