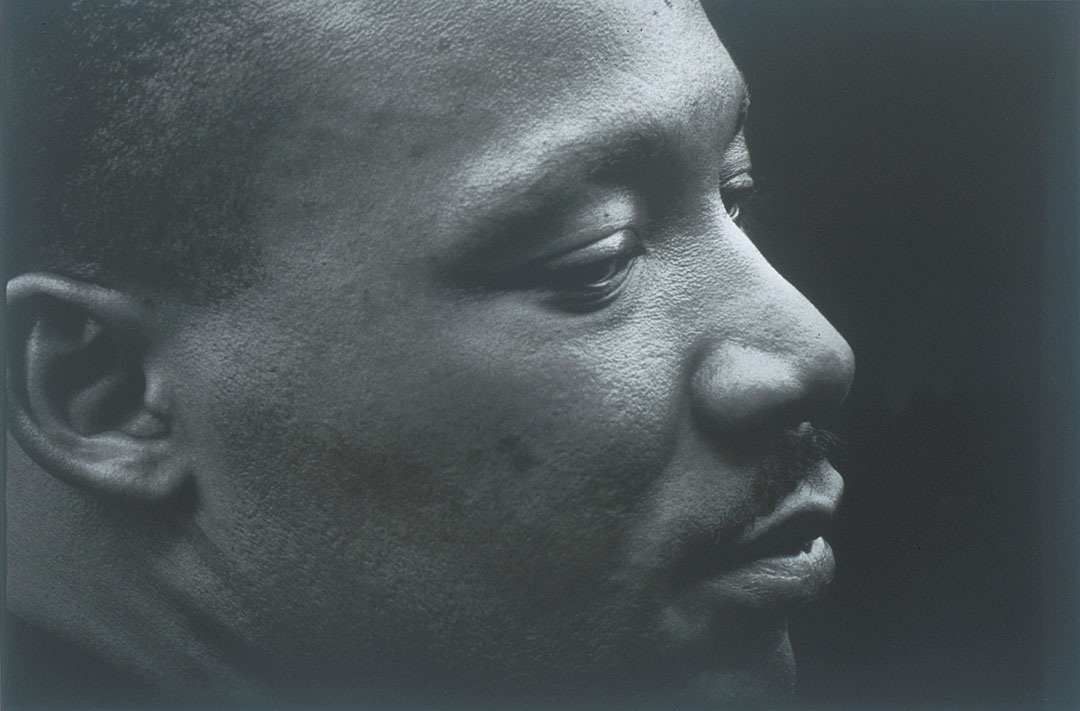 This black and white photograph, taken by photojournalist Dan Budnik in 1963, is one of a series that Budnik had hoped to publish in a Life magazine photo-essay. His subject is none other than Dr. Martin Luther King, Jr., photographed minutes after delivering a speech that would forever be defined by four indelible words: "I have a dream."
The image is unrelenting is its focus, framing Dr. King's face so that he takes up over half of the composition. King, glancing down and to the side, bears a calm demeanor—stoic and pensive. Surely he would have been surrounded by a large group of friends and colleagues, or even a crowd of fellow activists, but Budnik denies us any context in which to situate King. Without the title of the photograph, Dr. Martin Luther King Jr. after Delivering His "I Have a Dream" Speech, August, 1963, we would have no way to know that this image portrays him after one of the most important speeches in American history.
King's "I Have a Dream" speech is arguably his most famous, but in the spirit of honoring his legacy and rhetorical dynamism, I share below an excerpt from his Nobel Peace Prize acceptance speech, given one year after this photograph was taken, in 1964.  King's continued call for racial equity, social justice, and religious tolerance—delivered with unfettered optimism—is, I believe, an urgent and important message for our present time:
I accept this award today with an abiding faith in America and an audacious faith in the future of mankind. I refuse to accept despair as the final response to the ambiguities of history. I refuse to accept the idea that the "is-ness" of man's present nature makes him morally incapable of reaching up for the eternal "ought-ness" that forever confronts him.

I refuse to accept the idea that man is mere flotsom and jetsom in the river of life unable to influence the unfolding events which surround him. I refuse to accept the view that mankind is so tragically bound to the starless midnight of racism and war that the bright daybreak of peace and brotherhood can never become a reality.

I refuse to accept the cynical notion that nation after nation must spiral down a militaristic stairway into the hell of thermonuclear destruction. I believe that unarmed truth and unconditional love will have the final word in reality. This is why right temporarily defeated is stronger than evil triumphant.

I believe that even amid today's motor bursts and whining bullets, there is still hope for a brighter tomorrow. I believe that wounded justice, lying prostrate on the blood-flowing streets of our nations, can be lifted from this dust of shame to reign supreme among the children of men.

I have the audacity to believe that peoples everywhere can have three meals a day for their bodies, education and culture for their minds, and dignity, equality and freedom for their spirits. I believe that what self-centered men have torn down, men other-centered can build up. . . .

This faith can give us courage to face the uncertainties of the future. It will give our tired feet new strength as we continue our forward stride toward the city of freedom. When our days become dreary with low-hovering clouds and our nights become darker than a thousand midnights, we will know that we are living in the creative turmoil of a genuine civilization struggling to be born.
– Elisabeth Smith, Collection & Provenance Associate
Image: Dr. Martin Luther King Jr. after Delivering His "I Have a Dream" Speech, August 1963, 1963, Dan Budnik, gelatin silver photograph, 11 x 14 in., Gift of Getty Images, 2000.34 © Artist or Artist's Estate