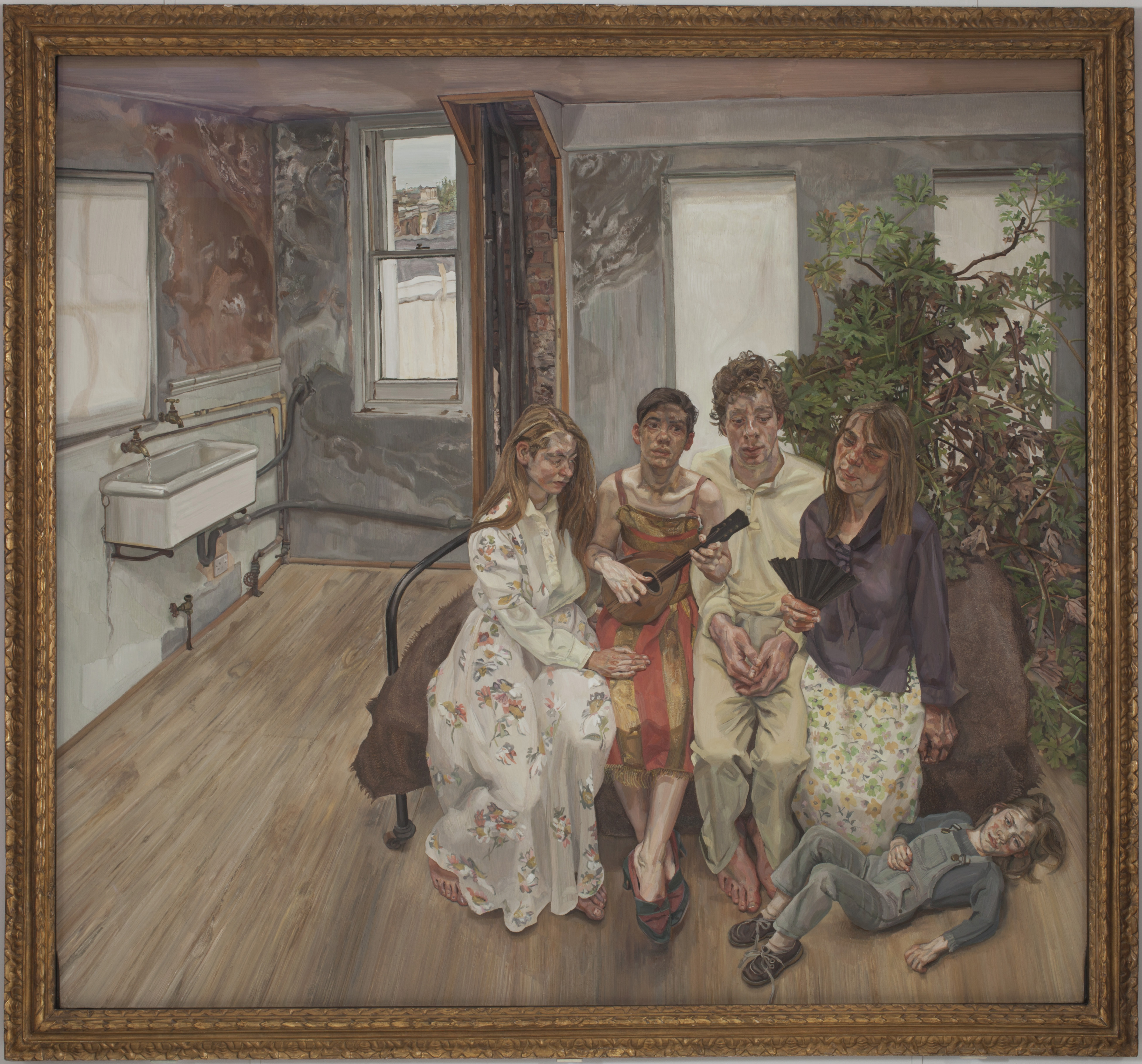 SAM News
Every week, Jasmyne Keimig of the Stranger looks closely at one artwork that's "Currently Hanging." Last week, she focused on Large Interior, W11 (after Watteau) by Lucian Freud, now on view at SAM as part of an iterative single-painting show honoring Paul Allen, A Cultural Legacy.
"There's a stiltedness to the scene, a sense of uneasiness between the figures, that betrays a certain uncomfortable and strange family dynamic."
Out goes hot girl summer, in comes hot arts fall. Seattle Magazine's fall arts preview recommends Flesh and Blood: Italian Masterpieces from the Capodimonte Museum, the "throbbingly dramatic" major exhibition opening October 17.
Local News
Gallery watch! Jasmyne Keimig shares the good news on Slog: the J. Rinehart Gallery officially has "a physical space, baby."
Real Change's Lisa Edge talks with Osa Elaiho, whose work is included in a group show at Columbia City Gallery. Music and family are what inspire the artist's mixed-media paintings.
What a dump: Crosscut's Brangien Davis visits the Recology CleanScapes recycling facility and meets its two current artists-in-residence.
"Just as WALL-E surfs the garbage heaps for treasures to take home — a bobblehead dog toy, a golden trophy, a hinged ring box — artists in residence roam the space with an eye out for intriguing items — a toy gun, a set of new knives, the detritus from an entire bachelorette party."
Inter/National News
Artnet's Taylor Defoe profiles Ivory Coast-based artist Laetitia Ky, who "makes unbelievably inventive sculptures with her hair."
Following the devastation of Hurricane Dorian on the Bahamas, the Pérez Art Museum Miami and partners are collecting urgently needed supplies.
The New York Times' Holland Cotter on the long, viable career—and sudden spotlight, with two major museum solo shows this fall—of Betye Saar.
"Because it's about time!" she says. "I've had to wait till I'm practically 100."
And Finally
Here's a way to donate to those affected by Hurricane Dorian.
– Rachel Eggers, SAM Associate Director of Public Relations
Image: Large Interior, W11 (after Watteau), 1981–1983, Lucian Freud, British, 1922–2011, oil on canvas, 73 x 78 in., Paul G. Allen Family Collection, © The Lucian Freud Archive/Bridgeman Images.