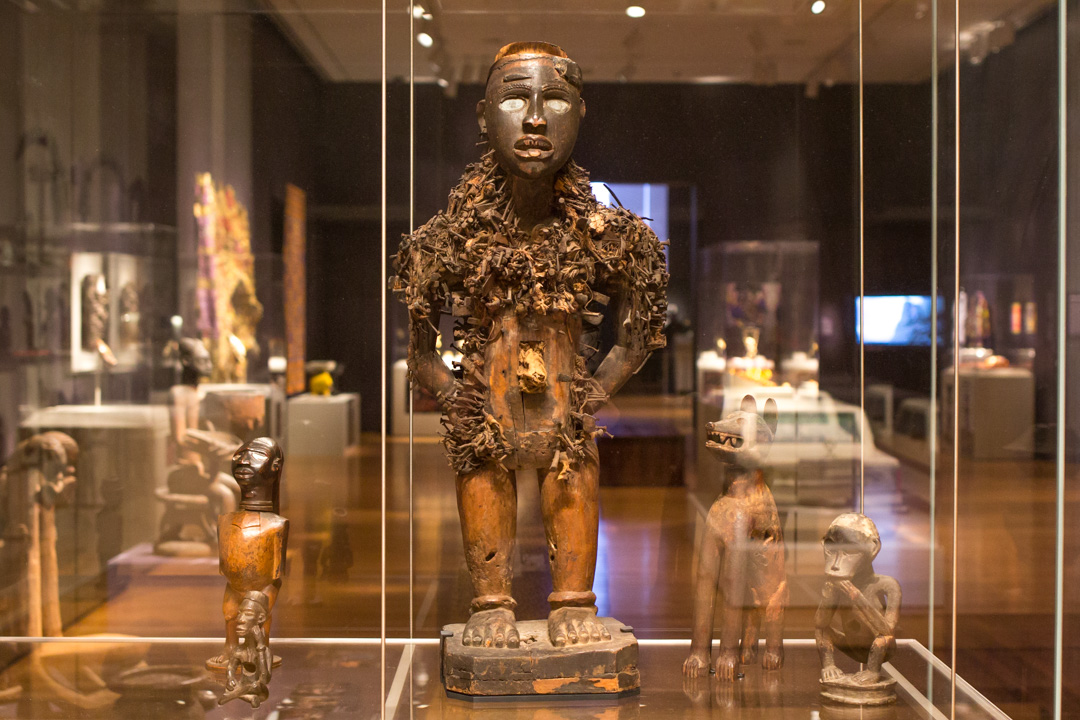 SAM's Congolese Standing figure (Nkondi) meets and enraptures visitors in our African art galleries. Beads, feathers, and knots of string secured to the wooden figure with countless iron nails lend him a startling and uncomfortable presence. Why has he been on the receiving end of this aggressive, symbolic gesture of driving nails?
Across the country, in exhibitions at great museums like the Smithsonian Institution's National Museum of African Art, the National Gallery of Art, the Cleveland Museum of Art, San Francisco's de Young Museum, the Wadsworth Atheneum, and the Philadelphia Museum of Art, the Nkondi has confronted viewers with his own appearance—and with wrong assumptions about his purpose.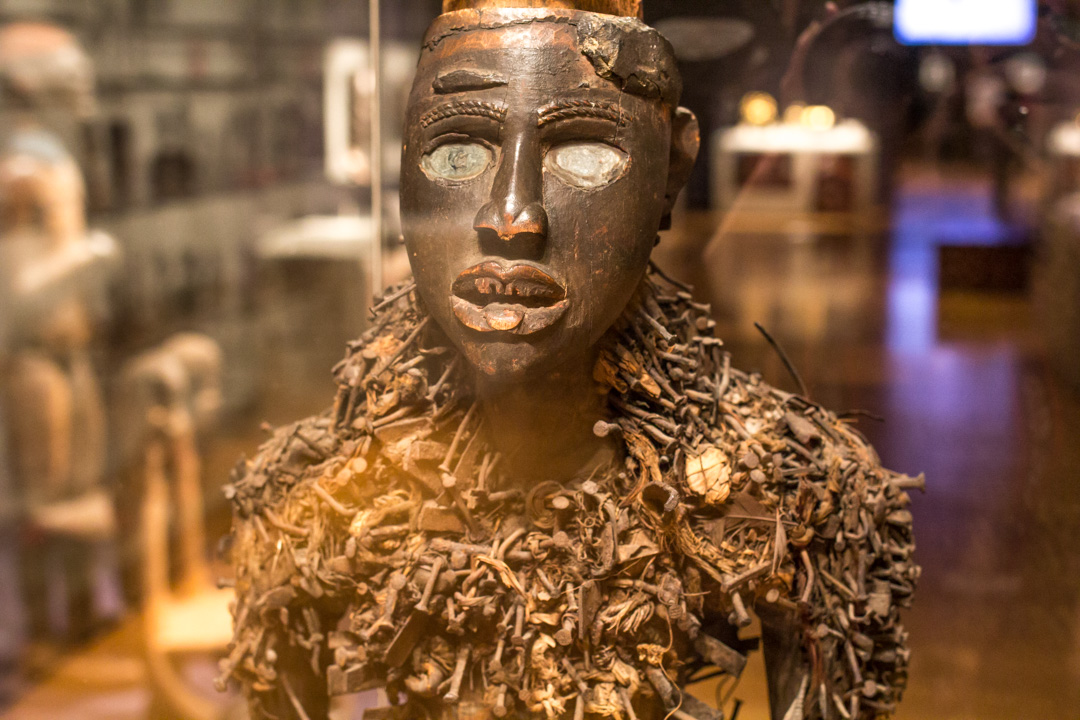 Not only has he been exhibited extensively, the Nkondi has an interesting provenance. He was collected by Merton Simpson (1928-2013), one of the most significant dealers of African and tribal art in the second half of the 20th century. Interestingly, Simpson first opened his gallery—Merton D. Simpson Gallery—in the early 1950s in order to support what he considered his primary work: painting. An artist for life, Simpson served in the Air Force and was asked to paint General Dwight D. Eisenhower, which he did, earning $100 for his effort. Simpson became part of the New York Abstract Expressionist school, crossing paths with artists like Jackson Pollock and Robert Motherwell, who would critique Simpson's paintings in the frame shop where Simpson worked. Later he joined the politically focused Spiral Group of artists, which also counted Romare Bearden among its members.1
No slight to Simpson's visual art, his accomplishments as a dealer of traditional African art surpassed what he did in painting. When Simpson passed away in 2013, a New York Times obituary reflected on his incomparable taste and expertise, his success and renown as an art dealer, and the significance of his doing so as an African American. Heinrich C. Schweizer, then head of the African and Oceanic art department at Sotheby's, remarks that "Over the course of the '60s and '70s Simpson became the most important dealer in the US in this field . . . Worldwide, you could say he was one of the two or three leading dealers, and certainly a powerhouse in the US, and this was especially remarkable for an African-American, who began doing this in the time of segregation." The same article quotes an equally admiring Lowery Stokes Sims, the highly respected retired Curator Emerita at the Museum of Arts and Design: "When I worked at the Met I would go to the gallery and see some of the most incredible African art I'd ever seen in my life. It was really showstopping. And occasionally he'd show his own work . . . For an African-American who came up in the art world in the 1970s, he was truly one of those unsung pioneers, crucial in establishing our place in the art world."2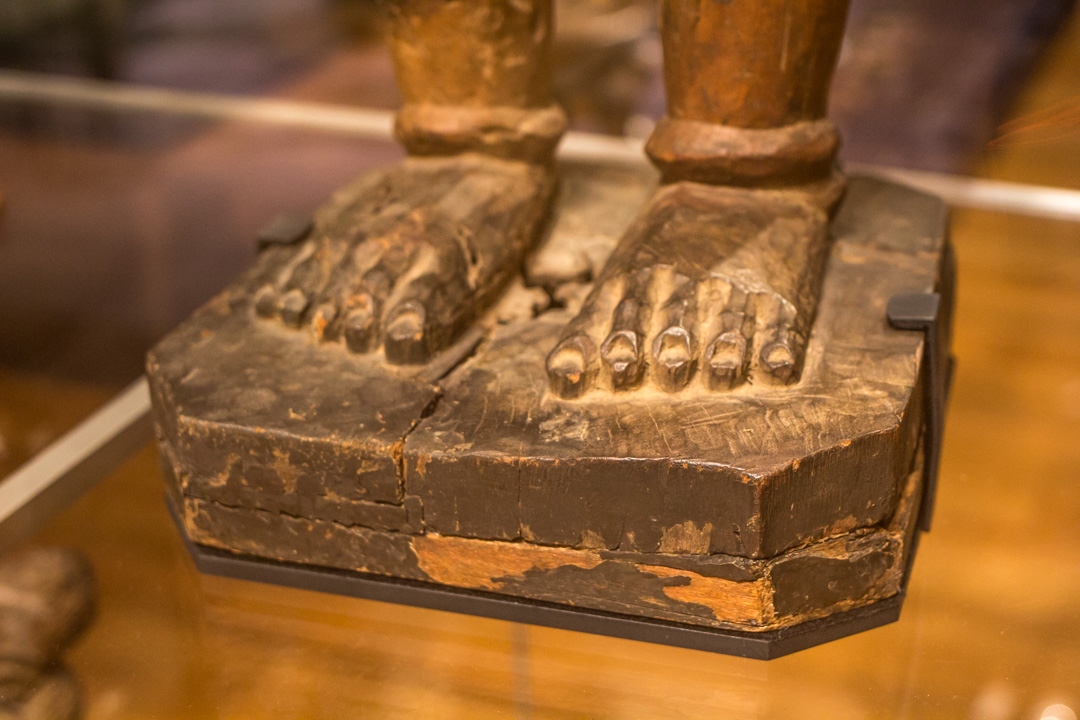 SAM's Nkondi was purchased from Simpson in 1968 by another exceptional collector of African art, Katherine White, whose transformational 1981 gift—of which the Nkondi was part—forms the core of the museum's African collection.
Since the Nkondi has arrived at SAM, the museum has been telling his true story and deconstructing "fetish" myths about him. Congolese advisor Fu Kiau Bunseki has offered critical insights on the Nkondi's role as a sign of authority, and as a hearer and keeper of agreements. Check out the SAM website for rich insights on the thoughtful symbolism that informs each element of this memorable figure.
–Jeffrey Carlson, SAM Collections  Coordinator
1 Oral history interview with Merton D. Simpson, 1968 November, Archives of American Art, Smithsonian Institution
Image: Standing figure (Nkondi), Congolese, wood, iron, fiber, beads, string, glass, feathers, chalk, 31 11/16 x 13 3/8 x 8 11/16 in. Seattle Art Museum, Gift of Katherine White and the Boeing Company, 81.17.836, Photos: Natali Wiseman.