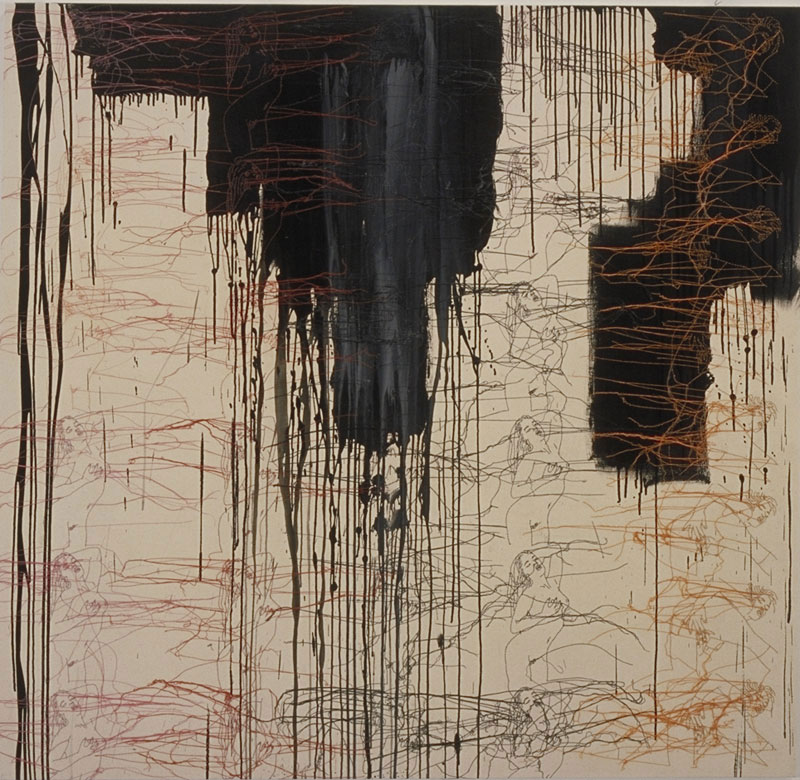 Egyptian artist Ghada Amer is best known for works like Black Series: Couleurs Noires, where embroidered female nudes emerge seductively from zones of applied and dripping paint. Not readily apparent at first glance, her canvases draw inspiration from photography: The female forms in her work are drawn from pornography, traced onto an abstractly painted canvas, and then embroidered. She leaves the embroidery threads uncut, securing them to the canvas with gel; these trailing threads add an additional sense of "painterliness" to the image.
Amer's work is inherently confrontational—not just in displaying to the viewer perhaps disturbing imagery, but playing with the dichotomies of pornography vs. art, abstraction vs. figure, and photography vs. painting.
This painting is installed as part of Elles: SAM – Singular Works by Seminal Women Artists, which remains on view through 17 February.
…
The first Members Art History Lecture of 2013 will take place tomorrow (Wednesday), 16 January, at 7:00pm in the Plestcheeff Auditorium, first floor, SAM downtown.
Barbara Brotherton, Curator of Native American Art, will discuss Together Again: Nuxalk Faces of the Sky with her colleague Jennifer Kramer, Curator of Pacific Northwest Art, Museum of Anthropology, University of British Columbia.
Black Series: Couleurs Noires, 2000, Ghada Amer (Egyptian, works in America, born 1963), acrylic, embroidery, and gel medium on canvas, 68 x 70 in., Gift of the ContemporaryArtProject, Seattle, 2002.5, © Ghada Amer. Currently on view in Elles: SAM – Singular Works by Seminal Women Artists, Modern and Contemporary art galleries, third floor, SAM downtown, through 17 February.