Object of the Week: Mirror with the Judgment of Paris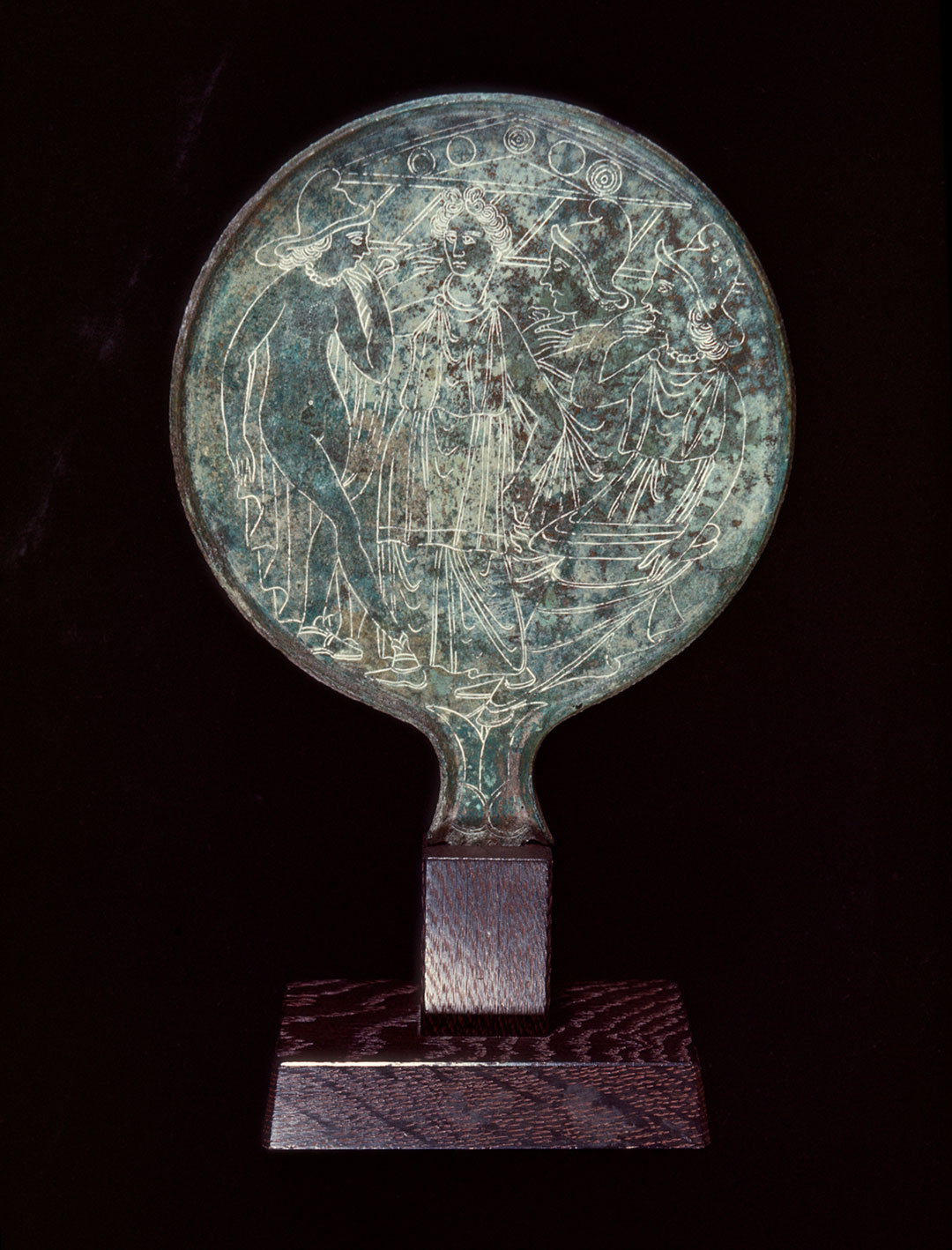 Homer's paired stories of The Iliad and The Odyssey have fascinated artists and creators for centuries, generating art, literature, and music. One such artwork, The Judgement of Paris, is an Etruscan piece from around the 4th–3th centuries BCE, and is currently on view at the Seattle Art Museum.
This ancient work illustrates the critical moment that ultimately led to a 10-year war that ravaged the Mediterranean. Deftly etched into the back of a circular mirror, a riveting scene leaps out: four figures tangle with one another, three clad in traditional Greek garments with delicate folds and drapery, and one almost nude (save for a few accessories). This nude woman on the left, the goddess Aphrodite, faces the other three as they each raise their hands to their mouths­­—in shock at her attire or, possibly, at the decision that has just been made in this scene.
The figure hidden behind the remaining two clothed women is Paris, a young man ordered by Zeus, the king of the gods, to determine the most beautiful goddess. Each of the three goddesses represented here—Hera, Athena, and Aphrodite—offer him a bribe. Hera swears to make him a king, Athena promises wisdom and bravery in battle, and Aphrodite pledges the world's most beautiful, albeit married, mortal woman: Helen. Paris's fateful decision to align himself with Aphrodite and sail with Helen to Troy would eventually enable the deeply destructive Trojan War of which Homer wrote.
I find this scene quite interesting due to its historical and cultural references, but also for its touch of irony. Used for numerous occasions, ranging from funerals to weddings, mirrors in Etruscan culture feature mythological moments that deal with physical appearance, specifically "any tale in which vanity or comeliness gained its rewards."[1] Although Paris' choice did reward him a love affair with Helen, it also caused one of the longest and most famous sieges in literary history. This seductive tableau—simultaneously puzzling and inviting—raises questions surrounding sexuality, fidelity, and appearance in classical cultures.
– Emma Ming Wahl, SAM Curatorial Intern
Mirror with scene of the Judgment of Paris, 4th–3rd century B.C., Etruscan, bronze, 10 3/8 x 7 in., Eugene Fuller Memorial Collection, 48.36
[1] Nigel Spivey, Etruscan Art (London: Thames and Hudson Ltd., 1997), 77.